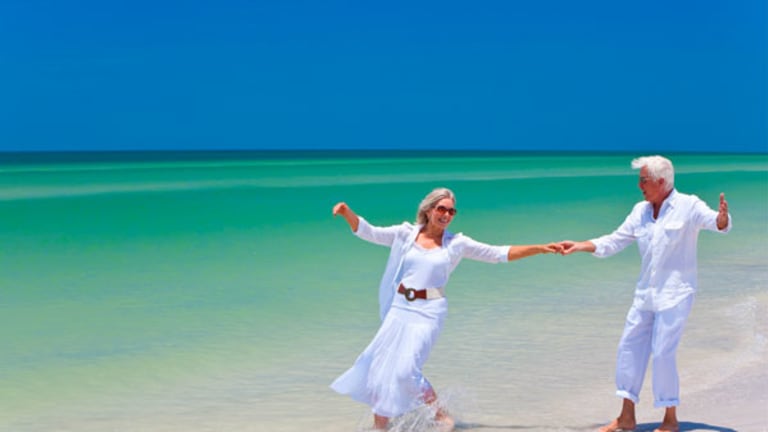 12 Post-Retirement Costs Many Underestimate
From health care to cars and roof repairs, retirement savings don't always fully consider all expenses.
From health care to cars and roof repairs, retirement savings don't always fully consider all expenses.
BOSTON (TheStreet) -- Cars, home appliances and the rising cost of college tuition are among the savings-depleting expenses many of those in, or approaching, retirement may not be adequately preparing for.
Many do not "do a very good job of is estimating what they will spend in retirement," says Steve Johnson, a Boston area financial consultant for
Charles Schwab
(SCHW) - Get Report
.
Retirees or those about to retiree may think they've covered the costs of future health care -- but have they budgeted for 30 years of exponential increases in prices? And what about in 11 other spending categories?
"People often vary on the extremes," he says. "We'll have clients who saved their entire life and have a very large nest egg but are always fearful about spending that. Then, conversely, you have those who really want to maintain the lifestyle they had in their 40s and 50s but don't have enough money. A lot of people don't have a target of how much they are rally going to need in retirement, and they really don't have a plan."
Health care
and long-term care needs are expected by many, but often underestimated given their exponentially rising costs.
Housing
is another expected expense that may be under-assessed.
Property taxes
, and how they will increase over the years, need to be part of the equation. An aging house, coupled with Mother Nature's fury, can mean-larger-than expected
maintenance and repair bills
.
"This has been a brutal winter. There have been a lot of storms, and people are now forced to add to their housing expenses in terms of costs for damage that has occurred because of the ice and the snow," Johnson says.
Utility costs
are another rising expense that may not get enough consideration, as illustrated by the current, unforeseen spike in oil prices.
"If people do their budgeting, they might go look at how much they spend on utilities,
food
and various expenses," says actuary
, author of
Recession-Proof Your Retirement Years: Simple Retirement Planning Strategies That Work Through Thick or Thin
(Rest-of-Life Communications, 2009). "They forget they are going to be retired for 20 to 25 years or more. They are probably going to need one or two more cars during that time; they might need to replace the roof, or the washing machine might go out. All these unexpected, but big, things can happen. Look back over the past 20 years. How many cars did you buy? How many washing machines did you need to replace?"
Travel costs
also add up, especially for retirees who base their plans on how much they used to get away while working. With more free time, there may be more desire to head to the airport and visit scattered family and friends.
Family matters can also drive up future costs, especially for grandparents who want to help out with a grandchild's college expenses. Many older people, years removed from worrying about tuition bills, may not appreciate fully how expensive education has become.
"It is not just college. We are seeing more and more parents choose private schools as well and looking for help from the grandparents," Johnson says.
Broader economic forces may be impossible to specifically and accurately predict, but they still need to be considered as part of a retirement strategy.
For example,
inflation
, current and projected, has a major impact on retirees living on a fixed income, Vernon says. A recent study by the
found that, compared with other planning activities, only 72% of preretirees and 55% of retirees are calculating the effects of inflation on their retirement planning.
Only 5% of preretirees have a planning horizon to or beyond their life expectancy, and few individuals look 20 years or more into the future when making important financial decisions, the study says. Compounding inflation and savings concerns, 39% of preretirees and 36% of retirees withdraw money from their savings as needed with no set plan.
"Right now, people think inflation is down," he says. "But look back 20 or 30 years -- did we have periods of high inflation? Well, yeah, and if you are going to be retired
for that long you will have periods of high inflation and periods of a
recession
again. All you have to do is look back 30 years and count how many meltdowns we've had."
Even lacking a crystal ball, there are some adjustments that can be made as part of a retirement strategy to be better prepared by the curveballs life and the marketplace throw at you.
Johnson says reducing debt, in particular a mortgage, is an important starting point.
"People in our industry sometimes say it is better to invest than pay down your mortgage, but we've seen the probability levels of enjoying a successful retirement go up really dramatically for those who have little debt compared to those who are paying down mortgages and have other forms of debt," he says.
Having some cash on the sidelines for those unexpected expenses "adds up across the board and allows people to have much better peace of mind," Johnson adds. "We suggest that people have at least a year in cash for their living expenses and then, for those in retirement, having an additional one to three years liquid in instruments such as Treasurys or CDs. Even though they are not paying anything at this point, it is important that people have that on the side."
Vernon says many people project expenses only five years or so into the future when they need to be thinking in terms of up to a three-decade time horizon.
"When they are working, a lot of people live paycheck to paycheck," he says. "As long as the monthly paychecks meet their mortgage and other bills, you are OK and you don't have to think out too far. But once that working paycheck goes away, then what? Then you need to start having a
longer time horizon. It is just foreign thinking to a lot of people, but nevertheless that's what they need to do."
He suggests consulting with a financial adviser or at least using one of many retirement calculators available online to help get a grip on expenses and ultimate cash needs.
As a simple rule of thumb, he suggests looking back at income and expenses over the years, estimating how much income you will need annually above and beyond Social Security. Multiplying this number by 20, 25 or 33 offers some basic scenarios as to what your total nest egg needs to be -- the lower number more indicative of those retiring later, the largest relating to those concerned about passing on assets to their heirs or charity.
-- Written by Joe Mont in Boston.
>To contact the writer of this article, click here:
Joe Mont
.
>To follow the writer on Twitter, go to
.
>To submit a news tip, send an email to:
.
RELATED STORIES:
>>The Scary Plight of Going Broke in Retirement
>>The Good, Bad and Ugly of Inflation for Seniors
>>Professional Women Worry About Retirement
Get more stock ideas and investing advice on our sister site,