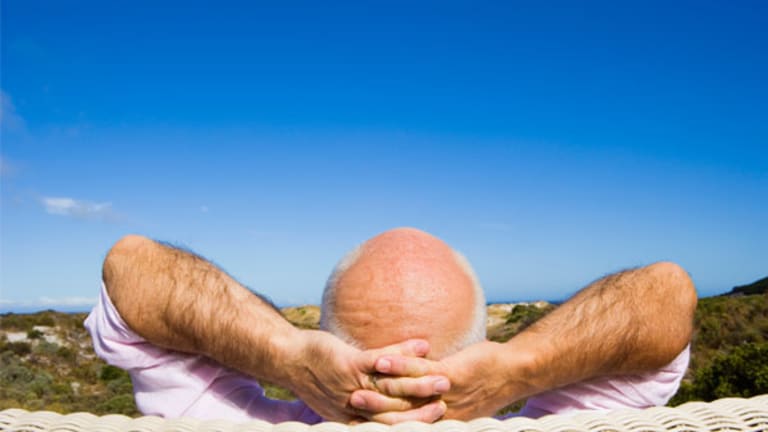 10X Income Touted for Retirement Savings
Lincoln Financial's Facebook forum will draw upon a study of retirees to discuss savings goals, formula.
Lincoln Financial's Facebook forum will draw upon a study of retirees to discuss savings goals, formula.
BOSTON (MainStreet) -- When it comes to retirement planning, a familiar (and often daunting) question is how much you need to save.
As part of during National Save for Retirement Week, Lincoln Financial Group (Stock Quote: LNC) is hosting an hourlong open forum Thursday, Oct. 20, at 12:30 p.m. ET on retirement saving on its Facebook site. Its retirement plan specialists will answer questions in real time, and savings targets are likely to be among the hot topics.
Anna Gauthier, strategic communications director at Lincoln Financial, will come armed to the chat with its recent Retirement Power study, a look at the savings profiles and behaviors of more than 4,000 respondents, including in-depth analysis of a subgroup of 1,179 retirees.
According to research by Hearts & Wallets, a firm that analyzes retirement market trends for the financial services industry that is cited in the study, only 11% of leading-edge baby boomers (ages 53-64) have saved at least $500,000, even though only 30% of the same group expected to have any income at all from a traditional defined-benefit pension plan. It also found that 50% of respondents consider retirement planning -- including how much to save -- to be "difficult" or "very difficult."
Using the study, Lincoln is suggesting that people should aim to have a savings baseline of at least 10 times their annual income at retirement. In greater detail, the assets-to-income metric it suggests should be calculated by dividing the sum of an individual's current investable assets (minus nonmortgage debt) by their current annual pretax income.
According to Gauthier, 10X is a baseline goal that can serve as a "talking point and conversation starter" for retirement planning. Personal financial planning is still necessary, as retirement income needs will vary from one individual to another.
Among respondents to Lincoln's survey, only 11% of retirees have reached the targeted 10X level of savings, something its experts see as a call for individuals to get more serious about setting an assets-to-income ratio as a basis for their retirement planning.
Gauthier says the study's focus on current retirees -- and what they have done right or wrong -- can offer valuable and believable insight.
"All of our tips, actions and behaviors that come out of the study are based on what those folks actually did," she says, adding that what often "fueled their success" validates common advice.
Gauthier is hopeful the Facebook forum will also give younger people a chance to join in a conversation about retirement planning -- something they all too often avoid.
"Especially in their younger years, when employees are faced with the option of signing up for a retirement plan, they think, 'Oh well, its so far away, I can't even begin to think about it,' or they think it is entirely too complex. But the steps people [in the study] took during their saving years are very simple, intuitive steps. We need to be demystifying the whole thing."
It is also important, for young and old alike, for retirement planning to be exorcised of its fear factor.
"You see these commercials where there is this fellow carrying around a $3 million number and I think that scares you," she says.
Lincoln's 10X metric, she stresses, is ultimately part of an evolving and escalating savings target because it correlates to increases, or decreases, in your income.
"The number does grow as your salary grows," Gauthier says. "It is not like you are sitting there at 24 with some hypothetical algorithm that says you are going to have to get $3 million saved by the time you retire. It is a score that moves with you."