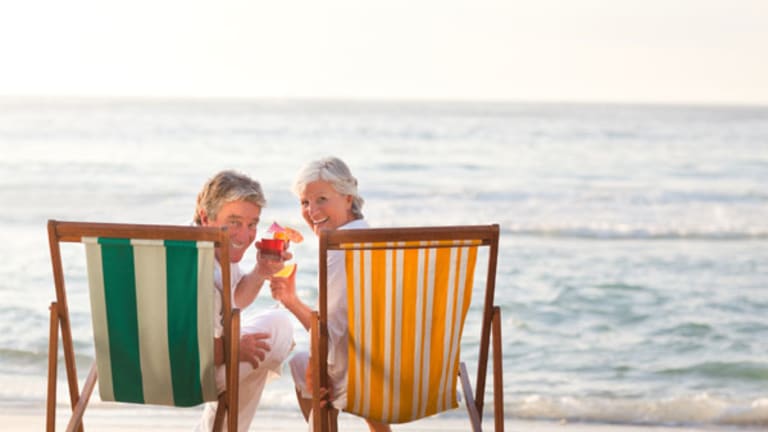 10 Cities Where You Can Retire Without A Car
The whole point of retirement is not going to work anymore, so why stay stuck in traffic like a commuter?
NEW YORK (MainStreet) -- The whole point of retirement is not going to work anymore, so why should retirees keep braving traffic like commuters?
A fixed retirement income can transform car payments, auto insurance and weekly gas fill-ups from costly necessities to huge drains on the finances. If your stores, medical services, entertainment and transit options aren't all within walking distance, a change of scenery may be able to help cut costs a bit.
Neighborhood ranking site Walk Score has kept track of neighborhood density and convenience for the past couple of years and has helped real estate firms such as
Zillow
(Z) - Get Free Report
and Trulia pair retirees and other homebuyers with neighborhoods that make the most sense for their budget and lifestyle.
If downsizing the empty nest, ditching the car and diving into vibrant, tightly packed city life are on a retiree's agenda, Walk Score recommends the following 10 cities as potential destinations. They scouted out locations within a five-minute walk of grocery stores, public transportation and
Zipcar
(ZIP) - Get Free Report
rentals and came up with some great places across the country to go car-free:
Walk Score:
66.3
Transit Score:
50
The near-ubiquity of buses everywhere but the fringe outer neighborhoods makes Portland a pretty easy place to move without a car, but the rail-laden neighborhoods in the city's center are the strongest argument for ditching the wheels. Neighborhoods such as the Pearl, Downtown and University Heights within the Free Rail Zone get free streetcar service throughout the city's core. That puts movies, restaurants, supermarkets and even
Powell's Books
within striking distance without having to pay a dime. The Max light rail line isn't free, but it extends rail reach a bit farther into the Northwest, Goose Hollow, Buckman, the Lloyd District, Hollywood and much of the North along Interstate 5.

Next>
Walk Score:
64
Transit Score:
57
Just turn off that episode of
The Wire
for a second and hear us out. Baltimore doesn't have a whole lot of neighborhoods that fit the bill, but if you follow the 100 line northwest of the Inner Harbor there are some gems. South and west of Johns Hopkins University near Druid Hill Park has great rail access, lots of grocery stores and other amenities and tons of ZipCar access courtesy of the surrounding universities. Mid-Town, Belvedere, Mount Vernon, Federal Hill and much of the area around the harbor are right near both everyday items and entertainment that doesn't require much driving out of local residents. Catch an O's game, grab a Loose Cannon and enjoy the view.

Next>
Walk Score:
72.5
Transit Score:
57
This is news to exactly nobody. This city was practically built around retirees, and about 1% of the population lives in car-dependent neighborhoods. That warm weather lets folks walk the city for the overwhelming majority of the year and the subway system and bus system that functions like light rail along the Miami-Dade busway help get folks from here to there pretty easily. Like Portland, Miami also has free transit thanks to its elevated Metromover. Retirees lucky enough to live in Downtown, Brickell, Park West and Omni can enjoy the free ride, but even folks in Overtown and Allahpattah don't need a set of car keys to get around.

Next>
Walk Score:
73.7
Transit Score:
59
The ferries make for some picturesque background, but it's the city's bulked-up light rail and buses that have made living in town a sweet dream. Already dense neighborhoods in Pioneer Square, Belltown, South Lake Union, Capital Hill and North Beacon Hill have benefited from added rail service, while Freemont, Ballard and the university district are eagerly awaiting their rail spurs. Sure, the rail will get you to Pike Place Market and down to the waterfront, but it's getting a lot more useful for mundane tasks such as grocery getting as well.

Next>
Walk Score:
74.3
Transit Score:
65
The neighborhoods near Lake Michigan are packed with enough amenities to make them easily car free, but it's the Chicago Transit Authority's bus and subway system that keeps cars parked away for months. About 4% of residents in the extreme West and South of the city still need a car to get anywhere, but folks in Wrigleyville, Lincoln Park, Bucktown, Wicker Park, Old Town, North Center and just about anywhere along the city's expansive rail lines don't need the hassle.

Next>
Walk Score:
74.1
Transit Score:
68
The city's most walkable neighborhoods in Center City, the Old City and along the riverfront near Penn's Landing are pleasant enough, but the combination of easy transit access and building amenities such as markets, shops, bars and restaurants are bringing folks into Fishtown, Northern Liberties and South Philadelphia. Except for the extreme northeast, southwest and northwest corners of the city, about 95% of the city is accessible easily by means other than a car. Transit ridership still has a way to go before it catches up to other cities along the Northeast Corridor, but retirees are joining young newcomers in places including Manayunk and Kensington to take advantage of a city where the options are growing and the options for getting there are ample.

Next>
Walk Score:
73.2
Transit Score:
69
The city can be tough on drivers, but D.C. residents in Dupont Circle, Logan Circle, Downtown, Foggy Bottom, Mount Vernon Square, Columbia Heights or the U Street Corridor have their entire world within walking distance. Thank the Metro's buses and subways, which take 410 million riders off the road a year. Also thank the city's designers, who made it easy for ensuing generations to cluster amenities around that system's stops by making the city's center the focus of all its transit needs.

Next>
Walk Score:
79.2
Transit Score:
74
When your city's commerce is built on horse-drawn wagons carrying goods from port, it doesn't pay to spread things out. Neighborhoods such as Back Bay, Beacon Hill, the South End and Fenway don't succeed just because they're teeming with Massachusetts Bay Transit Authority trains, but because they don't take a whole lot of time to navigate and tend to have stuff like groceries, restaurants, shops and bars in close proximity. Even more far-flung neighborhoods such as Jamaica Plain and South Boston have multiple transit options while still keeping residents within striking distance of a Red Sox game, the theater district and summer waterfront strolls along Boston Harbor and the Charles River.

Next>
Walk Score:
84.9
Transit Score:
80
San Francisco didn't take cars into account when it was built and hasn't had much use for them since. Cars weren't around when it was incorporated in 1850 or when it was rebuilt after the 1906 earthquake, and protesters didn't see why such a small and transit-heavy city needed freeways running through it during the 1950s. Is it hilly? Yes, but 17 of its neighborhoods still rank among the most walkable in the country. Most are accessible via Bay Area Rapid Transit or the San Francisco Municipal Railway. San Francisco takes great pride in the fact that in everything its residents need are in the neighborhoods around them. Retirees looking to kick it up a notch by hitting street fairs, gallery openings, shows, Giants games or even tourist spots on the wharf or Telegraph Hill won't have to expend a lot of energy doing so.

Next>
Walk Score:
85.3
Transit Score:
81
The bad news? It costs a lot to live here. The good news? You're retired and don't have kids to support anymore or a mortgage to keep up with. Sure you could blow everything you have and live like Woody Allen or Yoko Ono in an apartment by Central Park or live a revisionist, Dylanesque life in a Greenwich Village brownstone, but it doesn't have to be nearly so costly. Neighborhoods in Queens and east Brooklyn have all the access to Manhattan you're looking for without the rent. If you want to live up at the tip of Manhattan island in Inwood, that still gives you a Manhattan subway line and views of the Hudson without taking such a big bite. The point is you wouldn't need a car for any of it and could still collect Playbills, become a member of the Met (pick one), walk the High Line, hit Chelsea gallery openings or head to Knicks, Nets, Rangers, Yankees or Mets games with the money you're saving. Live a little.
-- Written by Jason Notte in Boston.
>To contact the writer of this article, click here:
Jason Notte
.
>To follow the writer on Twitter, go to
.
>To submit a news tip, send an email to:
.
RELATED STORIES:
>>10 Great Convertibles For Summer 2012
>>10 Best Cars For Spring Sightseeing
>>10 Used Cars To Check Out Before Buying New
Jason Notte is a reporter for TheStreet. His writing has appeared in The New York Times, The Huffington Post, Esquire.com, Time Out New York, the Boston Herald, the Boston Phoenix, the Metro newspaper and the Colorado Springs Independent. He previously served as the political and global affairs editor for Metro U.S., layout editor for Boston Now, assistant news editor for the Herald News of West Paterson, N.J., editor of Go Out! Magazine in Hoboken, N.J., and copy editor and lifestyle editor at the Jersey Journal in Jersey City, N.J.