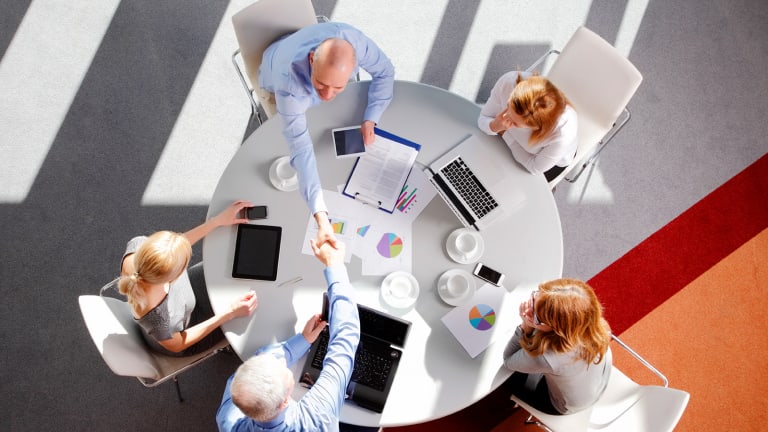 10 Best Part-Time Jobs for Retirees
Tons of people are 'un-retiring' and going back to work. Here's what you can do.
Tons of people are "un-retiring" and going back to work. Whether it's for the extra money or the mental engagement, many retirees are re-entering the workforce.
And employers are thrilled about it. These new candidates have decades of experience, are willing to roll up their sleeves and already know all the soft skills needed to do business today.
In addition, most retirees are coming back part-time, which employers love, because then they don't have to pay out benefits.
Still, "the average American has saved less than $50,000 for retirement," says Lisa Featherngill, a member of the American Institute of CPAs Personal Financial Planning Executive Committee.
So before you boomerang back to work, consider of the following:
1. Your tax rate may change. If you are adding to your income, your Social Security benefits may become taxable or you may bump yourself into a higher tax bracket. So run that calculation so you are not caught off guard come tax time.
2. You can defer Social Security.
If you don't need the money, consider dealing your benefits. "Every year you delay adds 8% to your payout," says Featherngill. So if you want till 68, since full retirement is 66, you essentially will get 116% of your payout.
3. You need to brush up on your interview and tech skills.
Many interviews are done on Skype or over the phone these days, so you need to be comfortable with that. "And then go on YouTube, watch some videos and take online tutorials to learn the latest tech," suggests Monster Career Expert Vicki Salemi, career expert at Monster.com.
4. You really do have a lot to offer.
Stand tall. You really have a lot to offer. "And if there was some time between your last job and now - or if you got let go in a downsizing - its ok - it happens to the best of us," says Salemi. Just be honest. But maybe you traveled the world during that time. Let your prospective employer know because that all adds to your value.
5. It is time to follow your passion -- FINALLY.
You finally can pursue what you really love. So whether it's pets, plants or perfume - there are part-time jobs in all those fields. Go for it. The last thing you want to do though is add stress in retirement. So find a job that will make you happy. 
And thanks to the gig economy and telecommuting, there are a ton of great options now, but here are ten part-time retiree suggestions: