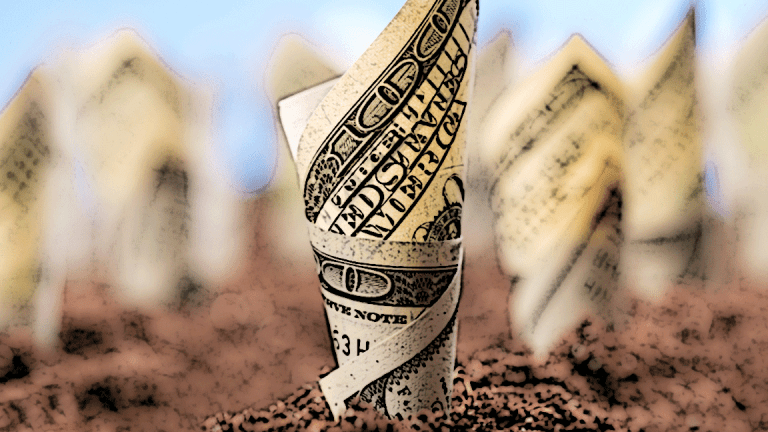 Three Ways to Make a Big Difference With Your Money
Adviser Scott Arnold says you can make a difference in your life and in the lives of others by thinking about where you bank, where you shop, and where you invest your money.
By Scott Arnold
Despite all the doom and gloom in our world, there are a bunch of incredible people doing good things around the world right now. You can become a financial force of good and make a positive impact with your money by examining where you bank, where you shop and how your money is invested.
Where Do You Bank?
Communities around the world are facing an unprecedented crisis -- rising seas, stronger storms, ruthless wildfires, and extreme temperatures. It's a crisis that, as science has indicated, is the direct result of our centuries-long reliance on dirty, dangerous fossil fuels.
The report Banking on Climate Change: Fossil Fuel Finance Report Card 2018 says that despite the urgency of climate change, 2017 was a year of backsliding by private banks.
Tracking 36 of the world's biggest banks, the report finds that the institutions funneled $115 billion into extreme fossil fuels in 2017, an increase of 11% from 2016. The single biggest driver of the increase in financing came from the tar sands sector, where financing grew by 111% from 2016 to 2017. The massive hike in bank support for tar sands to nearly $47 billion, led tar sands to overtake coal power as the most heavily funded extreme energy sector.
What can you do to help reduce funding of fossil fuel projects? Make sure you do business with a bank that doesn't fund these projects. The Banking on Climate Change report provides a list of the banks with the worst track records of funding fossil fuel projects as well as report cards for the major banks in each country. Look at the list and if you see your bank on the list or if they receive a low score on their report card, switch your banking business to a bank or credit union that does not fund fossil fuel projects or has a good score on their report card.
How do you find banks and credit unions that better align with your values? The banks most committed to supporting social and environmental missions generally prove themselves by becoming one or both of the following:
Where Do You Shop?
In recent decades, policy across the country has privileged the biggest corporations. Yet a growing body of research is proving something that many people already know: small-scale, locally owned businesses create communities that are more prosperous, entrepreneurial, connected, and generally better off across a wide range of metrics.
Five ways consumers and small businesses can benefit from shopping locally according to the Business Alliance for Local Living Economies:
Create more local jobs: Local businesses create most of the economic growth, employing about 77 million Americans and improving stability in communities.
Enhance diversity: Local businesses add to the diversity of products and services available to a community.
Strengthen local networks: Shopping at small businesses provides access to local expertise about what products and services work best in your geographic area.
Boost environmental sustainability: Shopping locally is also good for the environment. Consumers who walk to local town centers reduce their use of cars and buses. Similarly, buying from small businesses that source local products can reduce the environmental impact that national chains impose in their transportation of goods.
Increase real estate values: Neighborhoods served by successful small businesses see home values increase 50% on average.
How Is Your Money Invested?
What we invest in today will determine the world we live in tomorrow. All companies have not only a financial return, but also a social and environmental return. Whether intentional or not, businesses make an impact on their customers, employees, the community, and the environment. Some companies create value while others extract value. The only question is whether we - as investors - are going to take these non-financial returns into consideration.
An exciting and rapidly growing industry powered by investors who are determined to generate social and environmental impact as well as financial returns is called impact investing. This type of investing has two significantly incorrect perceptions - that it is only available to the wealthy and that impact investing generates lower returns than traditional investing.
You don't need to be among the wealthy elite to consciously use your money to earn a financial return and a positive social or environmental return. According to the US SIF Foundation's 2018 Report on US Sustainable, Responsible and Impact Investing Trends, as of year-end 2017, more than one out of every four dollars under professional management in the U.S. - $12 trillion or more - was invested according to SRI strategies.
In 2016, Deutsche Bank released aggregated evidence from more than 2,000 empirical studies to help answer the question of whether or not impact investing affects returns. The study focused on a company's Environmental, Social and Governance (ESG) score. The results show that companies with higher ESG scores than their peers tend to outperform their peers and have less downside risk over the long-term.
So, how do you transition your existing investments (IRA, 401(k), brokerage accounts, etc.) to an impact portfolio? Ask your current investment adviser. There are now plenty of investment vehicles from individual stocks and bonds to index and mutual funds that invest in companies that positively impact people, our planet and your portfolio.
If your current investment adviser is unable or unwilling to transition your portfolio for impact, it is time to find an adviser that will align your portfolio with your values.
About the author: Scott Arnold, CFP, has been in the financial services industry since 1998. He is the founder of IMPACTfolio, a wealth management firm that specializes in sustainable and IMPACT investing.