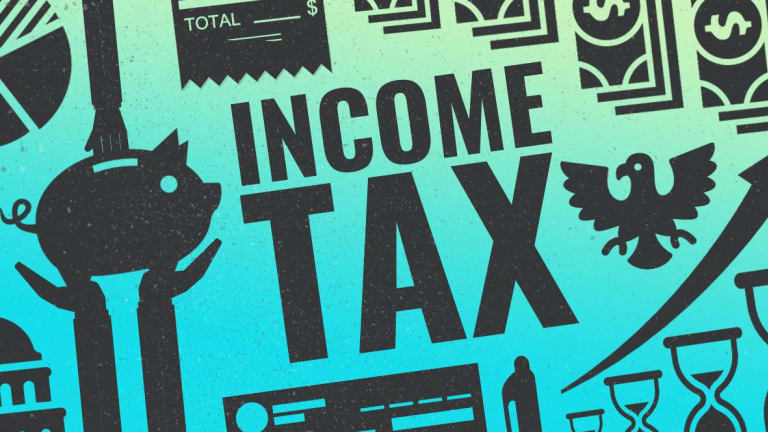 See Your Taxes Going Up? Consider a Roth Conversion
For some, RMDs may increase their future income tax liability. Adviser Jim Werner reviews the ins and outs of a Roth conversion.
By Jim Werner
If you expect your income or your taxes to increase in retirement, consider having a conversation about a Roth conversion with your financial professional or tax adviser.
For some people, required minimum distributions (RMDs) may increase their future income tax liability. We refer to this as a tax bump -- a period of time in the future where your taxes may increase due to an increase in income such as RMDs. The Roth conversion strategy may allow you to pay less taxes now than in the future, while enjoying future withdrawals that are not taxed.
Case study: Dennis and Karen, both age 66, have estimated their future RMDs. The RMDs will provide more income than is needed to cover their future living expenses. While they are looking forward to the income increase, they are not excited about paying additional taxes on their retirement savings.
The RMD is recalculated every year, based on an age factor and the value of the accounts as of Dec. 31 of the previous year. In other words, as the IRA accounts go up in value and you get older, the RMDs will increase. That's good for everyone involved -- you as the account owner, because you will get a raise in retirement. And good for the IRS, as it will tax you on the withdrawals.
RMDs are calculated individually, so the fact that Dennis and Karen are married has no effect on the RMD calculation. However, the RMDs will influence their federal income tax, as they do file a joint return.
In some cases, it may make sense to intentionally take a withdrawal before age 70½, even if the income is not needed. If RMDs will increase your future tax liability, consider making withdrawals from IRAs while your taxable income is lower.
Dennis and Karen have each saved $500,000 in their IRAs. If the accounts grow 5% per year, the future value of the accounts at age 70½ is estimated to be $607,000. (The 5% rate is for illustration purposes only, and is not intended to reflect the performance of any actual investment. Actual returns may be variable, and can be more or less than 5%).
The first year RMD would be $22,180. Future RMDs are expected to increase over the next 25 years, which means Karen and Dennis' taxes are likely to increase over time.
The distributions will always be taxable at the federal level. As New York state residents, Dennis and Karen have an annual exemption from New York state taxes on the first $20,000 of withdrawals from their IRA account. To help minimize their state and federal taxes, it makes sense for Karen and Dennis to begin IRA withdrawals prior to age 70½. On the state level, they can each take $20,000 per year without state tax. If they utilize this strategy over the next four years, they can each remove $80,000 from the IRA without any state tax. The $20,000 exemption will continue past age 70½, but once the RMDs begin, they will always be over the exemption amount. In cases like this, it may make sense to intentionally remove money prior to the RMD start date to capture more of the annual exemption. The strategy also allows them to pay lower federal taxes today, before the future RMDs have the potential to bump up their future taxes. Be sure to check with your local tax professional about a strategy that is consistent with your state tax rules.
If they need the money, it's theirs to spend. If they don't need it, a Roth conversion may be appropriate. The Roth option can provide future tax-free withdrawals, and Roth accounts do not have RMDs.
Other important items to know:
The strategies described here may not be applicable to all investments, situations, or clients. This article does not constitute advice. Please consult with a tax professional on this topic.
This example uses the Uniform Lifetime Table. This is to be used by all IRA owners except whose named beneficiary is a spouse more than 10 years younger than the owner.
When you convert or roll over funds from a traditional IRA to a Roth IRA, those funds are subject to federal income tax in the year that you transfer them (to the extent that the funds consist of deductible contributions and investment earnings). The tax can be paid from the amount converted, or be paid from a taxable account.
Although most states follow the federal tax treatment of Roth IRAs, you should check with a tax professional regarding the tax treatment of Roth IRAs in your particular state.
After age 70½, you are required to begin taking annual minimum withdrawals from your traditional IRAs. You cannot roll over or convert these RMD amounts to a Roth IRA. After age 70½, you can convert any amount once the RMD has been satisfied.
When you convert a traditional IRA to a Roth IRA, you're taxed as if you received a distribution, but with one important difference -- the 10% early distribution tax doesn't apply, even if you're under age 59½. However, the IRS may recapture this penalty tax if you make a nonqualified withdrawal from your Roth IRA within five years of your conversion.
If you've inherited a traditional IRA (or SEP/SIMPLE IRA) from someone other than your spouse, you cannot convert that traditional IRA to a Roth IRA.
It probably goes without saying, but you can't convert or roll over funds from a traditional IRA to a Roth IRA unless you already have a traditional IRA. If you have money in a 401k, 403b, or an employer sponsored retirement savings account, you must first rollover the value into an IRA.
A withdrawal from a Roth IRA (including both contributions and investment earnings) is completely tax free (and penalty free) if made at least five years after you first establish any Roth IRA, and if one of the following applies:
You have reached age 59½ at the time of the withdrawal, or
The withdrawal was made due to a qualifying disability, or
The withdrawal was made to pay for first-time homebuyer expenses ($10,000 lifetime limit), or
The withdrawal is made by your beneficiary or estate after your death. Important note: The five-year holding period begins on Jan. 1 of the tax year for which you make your first contribution to any Roth IRA. Each taxpayer has only one five-year holding period for this purpose.
If these conditions aren't met, your distribution is "nonqualified" and only the portion of a Roth IRA withdrawal that represents investment earnings will be subject to federal income tax (and a potential 10% early distribution penalty unless an exception applies). The portion of a Roth IRA withdrawal that represents your contributions (including amounts converted to or rolled over from a traditional IRA) is never taxable, since those dollars were already taxed. Roth IRA withdrawals are treated as coming from your nontaxable contributions first and from investment earnings last.
About the author: Jim Werner CFP, is a vice president with Halliday Financial. Halliday Financial is a full service, comprehensive financial planning and investment advisory firm in Glen Head, NY. Jim and his team specialize in helping union members, educators, and administrators make smart decisions with their finances. Securities-related transactions are managed by Halliday Financial's subsidiary, Halliday Financial, LLC, member FINRA and SIPC. The company only transacts business in states where it is properly registered, or excluded or exempted from registration requirements. Past performance may not be indicative of future results. Therefore, no current or prospective client should assume that the future performance of any specific investment, investment strategy (including the investments and/or investment strategies recommended and/or purchased by adviser), or product made reference to directly or indirectly in this article, or indirectly via link to any unaffiliated third-party website, will be profitable or equal to corresponding indicated performance levels. Different types of investment involve varying degrees of risk, and there can be no assurance that any specific investment will either be suitable or profitable for a client's investment portfolio. No client or prospective client should assume that any information presented and/or made available in this article serves as the receipt of, or a substitute for, personalized individual advice from the adviser or any other investment professional. Historical performance results for investment indexes and/or categories generally do not reflect the deduction of transaction and/or custodial charges or the deduction of an investment-management fee, the incurrence of which would have the effect of decreasing historical performance results.