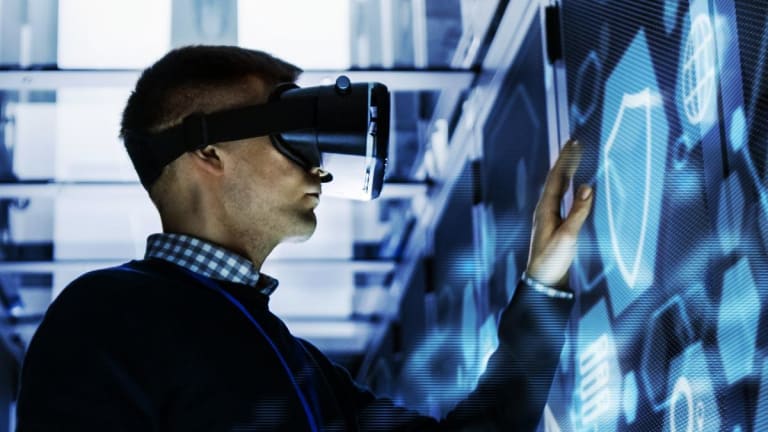 New Investments and Products for Retirement (Oct. 30 2018)
The following are new investments that those saving for or living in retirement might consider for their portfolios. This week: An ETF that focuses on augmented and virtual reality.
The following are new investments that those saving for or living in retirement might consider for their portfolios. This week: An ETF that focuses on augmented and virtual reality.
Defiance ETFs has launched The Defiance Future Tech ETF (AUGR), which is linked to an index managed by BlueStar Indexes. This ETF exposes investors to companies working with augmented reality and virtual reality. The BlueStar Augmented and Virtual Reality Index is a rules-based index tracking the performance of a group of globally-listed stocks of companies engaged in the research and development or commercialization of products and services related to augmented and virtual reality within one of the following categories: Gaming systems and video games; artificial intelligence, including machine vision and natural language processing; graphic processing units; cloud computing infrastructure; simultaneous localization and mapping; displays including holographic and adaptive interfaces; and sensors for depth perception and positioning.
Jonathan Masse, an investment strategist at Perigon Wealth Management, doesn't usually start due diligence until an ETF gets into the $50 million to 100 million range, however the firm is very supportive of the Defiance story and how the company was formed.
At first glance, he says AUGR "seems very reminiscent of the ETFMG Video Game Tech ETF GAMR, just at a lower fee about 65 basis points versus 82 basis points. Of note, GAMR has $131 million in assets.
Meanwhile, another expert had this to say. "As the ETF market continues to see the rise in thematic investing, a plethora of ETFs centered around disruptive technologies have come to market," says Alex Shepard, a founding partner at ETF Action in Denver. "The Defiance Future Tech ETF is another such ETF, and in order to survive in an ever-growing marketplace, you need to differentiate yourself."
Shepard says many future tech ETFs target artificial intelligence and robotics, however; AUGR has focused on augmented and virtual reality. "This not only incorporates exposure to trendy themes such as artificial intelligence and robotics, but other subsectors such as cloud computing and sensors/biometrics which also stand to benefit from the current technological evolution," he says.
From a holdings perspective, Shepard says AUGR includes recognizable names such as Apple AAPL, Advanced Micro Devices AMD and Sony SNE but the portfolio also includes many names that you won't find in a typical global core portfolio such as iShares MSCI ACWI ETF ACWI. "This may be attractive from a diversification perspective, and also can serve as access to those companies that are in the earlier stages of the thematic lifecycle," he says.
With a 79% concentration in tech, Shepard also says the placement of AUGR may not be the most suitable in a retiree portfolio, unless they were to trim some of their tech exposure elsewhere.
And for its expense ratio, Shepard notes that the management fee, at 65 basis points, sits slightly above broader disruptive technology products such as SPDR FactSet Innovative Technology ETF XITK (45 basis points) and ALPS Disruptive Technologies ETF DTEC (50 basis points) but below narrower themed strategies such as ROBO Global Robotics & Automation Index ETF ROBO (95 basis points) and Global X Robotics & Artificial Intelligence ETF BOTZ (68 basis points).
"The entrance of larger issuers into the thematic space may in time squeeze Defiance and alike to lower their fees," says Shepard. "Lastly, thematic investing is centered around long-term secular trends, such that a retiree's investment time horizon should be considered as we have learned that charts don't steadily climb up and to the right."
Got questions about the new tax law, Social Security, retirement, investments, or money in general? Want to be considered for a Money Makeover? Email Robert.Powell@TheStreet.com.