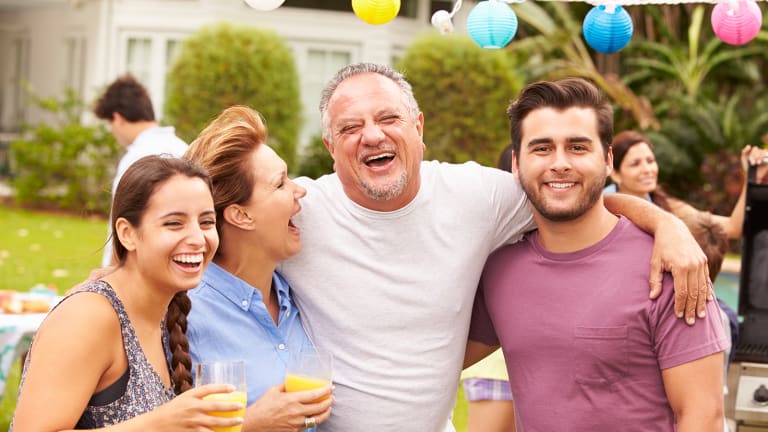 Is Caregiving Part of Your Retirement Plan?
Adviser Beth Blecker cautions that you may have planned for yourself, but your parents' and your adult children's circumstances could have a big impact on your retirement.
Adviser Beth Blecker cautions that you may have planned for yourself, but your parents' and your adult children's circumstances could have a big impact on your retirement.
By Beth Blecker
As a baby boomer with an aging mother, recently deceased father, working children, and grandchildren, my perspective about retirement has changed over the past 20 years. I am not only actively involved with my grandchildren, but I also have more responsibility for my elders than I had imagined.
My father turned 90 last April and was an active driver, including annual trips to Florida in the fall and back up north in the spring. But last year the drive became too overwhelming and my father arranged to fly to New York and have the car shipped. Why do I mention this example? Because my father died last July, after remaining active until the very end of his life, when heart disease caught up with him.
Why is this about retirement planning? Because more people are living into their 90s and beyond. Now I have an 85-year-old mother, who although is in excellent condition, needs more of my time due to my father's passing. This includes more visits to Florida in the winter to care for her, rather than to play tennis and relax.
While meeting with my clients, many reveal they are dealing with the challenge of caring for aging parents. In most cases it is not merely a financial issue, but also an issue of time management. If this is an issue for you, your parents need to be part of your retirement plan. This presents many challenges, as many from the Greatest Generation are reluctant to share their finances with or give up control to their children. But you must be willing to make the effort to help.
And since many boomers also have young adult children and grandchildren with whom they wish to spend time, this presents another obstacle in their retirement plan. Many boomers are worried about their children's finances and career prospects, as well as the ability of their children to afford college tuition for their grandchildren.
Where do you start? The first step is to design your plan. Understand your sources of income and how your assets will help supplement shortfalls. Know your expenses and liabilities. Most boomers underestimate their expenses, due to failing to account for helping family members.
Part of your retirement plan should involve creating an estate plan. Although estate taxes are not as big of an issue as they were 20 years ago, an estate plan is still important. Have you updated your beneficiary forms? Do you have wills and/or trusts? Do you have a healthcare proxy and living will? Do you have a durable power of attorney? Is it current and is it accepted by your financial institutions? These are issues with which a competent financial adviser can be of service to you.
Next, I will discuss problems I have witnessed clients experience during retirement, which relate to incapacity and death of loved ones. Although these are terrible circumstances, it is best to be prepared for the worst.
Incapacity means you or one of your loved ones are mentally or physically unable care for yourself or manage day-to-day affairs. Incapacity can result from serious physical injury, mental or physical illness, advancing age, and alcohol or drug abuse. Perhaps you completed a comprehensive estate plan and have all pertinent documents. But what happens if your 28-year-old daughter is driving home from work and ends up in a serious collision? Do you have the ability to carry out her wishes? Has your unmarried daughter thought to designate you to act on her behalf? Otherwise, you must go to the courts to have them appoint you as guardian. It is a public procedure that can be emotionally draining, time consuming, and expensive.
What if your elderly parent or child has not prepared a living will/healthcare proxy? Medical care providers may prolong their life using artificial means, which might be against their wishes. Given state-of-the-art technology, physicians can sustain their life for days or even weeks. Have you had a conversation about this topic with them? Is that what they would want? A living will/healthcare proxy allows you to approve or decline certain types of medical care, even if your loved one would die as a result of that choice. But since you already had that difficult conversation and planned in advance, you are carrying out their wishes.
Let's say death is not imminent, but there is a problem with permanent disability or incapacity. How do you handle your loved one's finances? Do you know their income sources, expenses, assets, and liabilities? Do you know where to locate vital information like health and life insurance policies? Are you able to handle the finances without a court guardianship procedure, because your loved one has designated you as power of attorney? Even if you have been named power of attorney, make sure you know whether it is accepted at the institutions handling your loved one's money and if it is up-to-date.
Although there are more scenarios I can go through to stress why acting as a caregiver must be incorporated into your retirement plan, I will mention only one more:
Your son-in-law dies in a terrible accident. Although your daughter has a wonderful career, her income and their assets are not sufficient to maintain her home and care for your two young grandchildren. How will this affect your retirement?
These tragic scenarios illustrate how important caregiving could be when designing your retirement plan. Retirement is not just about how much money you need to accumulate and a sustainable income strategy for yourself.
As we say at my office, "It's not just your money, it's your life." Make sure you not only have your own retirement and estate plan, but also a caregiving plan to deal with elderly parents and your children and grandchildren, in the event they find themselves in difficult situations.
About the author: Beth Blecker is a family wealth manager at Eastern Planning and a member of Ed Slott's Elite IRA Advisor Group. For more information about Ed Slott's Elite IRA Advisor Group, or to find a member near you, visit IRAHelp.com.