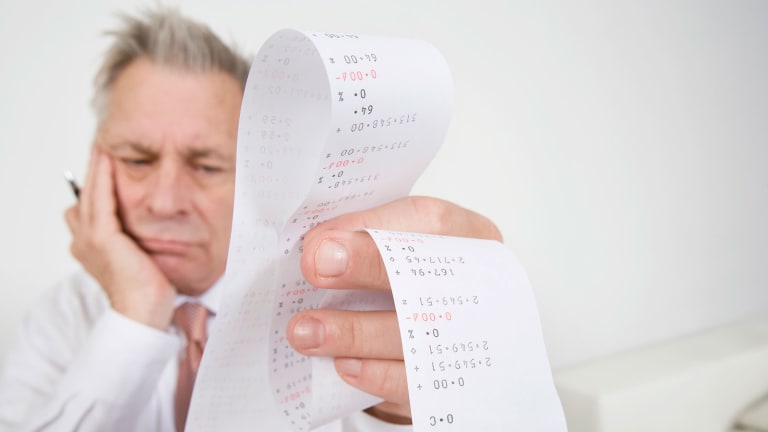 Get Your Financial and Estate Planning on Track
Adviser Joseph Piangozza details the process for establishing an effective financial and estate plan, including what to do and what to watch out for.
By Joe Piangozza
Is your financial plan on the right track? Hopefully you can answer in the affirmative. To be on the right track, you must be certain to cover the basics. This exercise is intended to help you do just that.
Let's start by examining how to get on the wrong track. Due to the technical nature of financial planning and investment advice, advisers and their clients often focus on the esoteric and subtle nuances of the planning process while neglecting to consider some of the most important fundamental components of sound planning. It's easy to get into the weeds and to believe that you have planned well when, in fact, you have not. While complex analysis is often necessary, and should not be avoided, it is easy to overlook the basics of sound financial planning.
Don't Short-Circuit the Planning Process
When engaging an adviser, many clients want to jump right into an analysis of their investments and recent investment performance. A rush to judgment on "How are we doing?", based on recent performance often leads to critical planning errors. The assumption that actual holistic planning has occurred based upon an investment rate of return is not accurate. It can short-circuit the planning process. It is wise for advisers and clients alike, when planning, to be certain that all the essential bases are covered prior to focusing on the investments.
A good place to start the planning process is by determining that the appropriate legal documents have been constructed by a competent attorney, and that a careful registration and beneficiary designation review has been conducted. In the absence of the appropriate legal documents, and the proper beneficiary designations, a seemingly well-constructed and executed investment plan may fail to attain important client objectives and may result in excessive taxation, potential litigation and other unintended consequences. Let's do a quick review of the basics, starting with the will.
The Will
A last will and testament is a legal document whereby you determine how your property will be distributed to your heirs after you die.
A number of important decisions are made when creating a will in addition to gifting. For example, selecting the executor or executrix who is charged with administering the provisions of the will is of great importance. The selection of an executor/executrix should be largely based on two important factors: the individual's ability to perform the tasks required and a willingness on the part of the administrator to faithfully execute the wishes of the deceased as he or she intended. The administrator of the will should be an individual who will honor your wishes as expressed in the document.
Frequently, the decision to appoint the administrator of the will is based upon criteria unrelated to the job's requirements. The administrator selected should be able perform certain tasks such as working with an attorney; assisting with probate; managing tax filings; potentially overseeing a brokerage portfolio and bank accounts; paying bills; managing estate distributions; and at times, potentially making decisions in the face of diverse opinions and/or disagreements among the beneficiaries.
Being the will's chief administrator is not an honorary position, it's a job. Make your selection with great diligence.
It is important to understand what a will does, and what it does not do. Clients are often under the misconception that a will determines all post-death distributions. It typically does not. Individuals with IRAs, Roth IRAs, qualified workplace pension plans, life insurance, transfer on death accounts and annuity policies can select their beneficiaries independent from the will. Once beneficiaries are named, the designated beneficiary election will supersede the will, except in the rarest of circumstances.
There are potential advantages to stating a direct beneficiary, rather than having the estate listed as the beneficiary. For IRAs, pension plans, or for investments that have deferred income, using a will as the beneficiary may have unintended adverse tax consequences, and may trigger a tax at the trust or corporate rate rather than at the personal income tax rate. Using the estate as beneficiary has the potential of eliminating the "stretch IRA" and may hasten the taxation on the beneficial assets.
Making a beneficiary election is important. It should be done with forethought, diligence and professional advice.
Joint accounts with rights of survivorship transfer the assets to the surviving owner upon the death of one of the joint tenants as a matter of law. Joint accounts are not controlled by the will. Frequently, the use of a joint account with rights of survivorship can lead to a positive outcome. However, there are instances when a joint account with rights of survivorship may not be the optimal solution, especially when advanced estate planning is needed due to estate or inheritance tax concerns. Selecting the type of account to be established should be done with legal counsel as part of the estate planning process.
Power of Attorney
A power of attorney is a legal document whereby you designate a person or persons to administer to your affairs while you are alive but unable to do so. A person who has the power is known as the attorney-in-fact. The attorney-in-fact may act on your behalf for a short period of time (perhaps due to an illness or injury), or more typically for an extended period. Should you become incapacitated, if you do not have a power of attorney, you or your loved ones may have to go to court to have a guardian (who is a stranger) appointed to take care of your affairs. This is not, in our experience, an ideal circumstance.
Managing Your Medical Affairs
There are three legs on the legal stool. We've discussed the first two -- the will and the power of attorney. The third leg of the stool is managing your medical affairs: Having a statement of your wishes through a living will; and appointing an agent or agents to manage your care in accordance with your stated directives when you are unable to is accomplished through the use of a healthcare proxy. These documents help ensure that you are cared for in the manner that you desire. Without a living will and/or a healthcare proxy a court may have to be your medical decision-maker.
When to Consider a Trust
The decision of whether to create a trust is complex. There is no cookie-cutter approach to this matter. There are many types of trusts. Trusts can be created inside a will, or outside of it. They may be revocable or irrevocable. Trusts may be created with legacy concerns in mind, or as devices to eliminate or minimize estate and inheritance taxes, or to protect assets from long-term care needs.
Your personal circumstances, health status, family situation, special family needs, net worth, desire to leave a legacy, your desire to avoid or reduce potential inheritance and estate taxes, and numerous other factors will determine if you should consider a trust, as well as the type of trust that you might consider.
An adviser, working with an attorney, who clearly understands your personal circumstances and your objectives, can best discuss whether you should consider a trust; and if you should, what type of trust you should consider. Trusts are created for different reasons, and your state of residence may impact your decision-making relative to trust creation. You will need an attorney to create a trust.
Back to the Basics for Legal Documents
Let's get back to basics. Most of the prospective clients we meet already have a will. For those who do not, if they die intestate (without a will), their state of residence will direct their beneficial interests.
Make sure you have a will and that it reflects your current wishes. We strongly suggest that you create your will with an attorney. This should not, in our opinion, be a "do-it-yourself" project.
Select an executor or executrix who has the ability to administer to the requirements of handling post death assets and the various tasks required as an administrator.
Periodically review your will. If your personal circumstances have changed (marriage, divorce, death of a beneficiary, new children or grandchildren, etc.) you might want to change your will.
See an attorney to create a power of attorney and periodically review the document. Again, it is important to select a capable person to oversee your financial matters. Often, having co-administrators complicates the management of a person's affairs.
Be certain that your medical concerns and desires are incorporated into your living will and health care proxy.
If you move to another state, meet with an attorney from your new state of residence to review/modify/redraft your legal documents as necessary.
Don't make the decision as to whether you need a trust at a seminar. Conduct your investigation with a qualified professional who understands your personal needs and circumstances.
If you create a trust and it needs to be funded - then fund it. Trusts created outside of a will that need funding, and are not funded, serve no purpose. As advisers we often see prospective clients who have gone through the trouble and expense of creating a trust that needs to have assets placed in it, only to leave it unfunded.
Receiving an Asset as a Named Beneficiary
Previously referenced was the fact that many types of investments, insurance and annuity products, have stated beneficiaries. The fact that probate is not typically required for the distribution of these assets does not make the tax concerns less complicated when transferring the assets to the beneficiaries.
This is especially true when it comes to distributing or rolling over IRAs, qualified workplace pension plans and tax-deferred annuity policies. It is likely that these assets have only been partially taxed, or perhaps they have never been taxed, or they have tax-deferred income embedded in them. Typically, the income accrued is subject to ordinary income tax once distributed. Making a decision as to whether a qualified asset should be rolled over to an IRA is complex. There are clearly advantages and disadvantages to doing a rollover. The option elected will have consequences. Again, consult with a CPA and an adviser who has your best interest in mind when reviewing your options.
While receiving a beneficial gift might seem easy, the IRS rules are complex. Upon inheriting an asset, a determination must be made as to whether the asset has deferred income embedded in it; or if upon distribution the entire asset is taxable. The IRS provides methods to avoid large taxable events if the rules are followed.
For many investors, the goal is to "stretch" the asset and its taxation over long periods of time. However, if executed incorrectly, the IRS may determine the error to be "fatal." Such an event typically results in significant taxation along with the possibility of interest and penalties.
When inheriting an asset with deferred income, discuss the matter with an adviser and consult a CPA prior to choosing a distribution option.
Outliving Your Assets
Outliving your assets is one of the greatest fears for retirees. It's a fact that about one in three couples will have a spouse that will live to age 95. Insurance companies have created life insurance policies that will provide for a guaranteed death benefit to age 115.
The possibility of extraordinary longevity alters the investment planning process.
A client who is age 70, and expects to live for about 10 years, will invest differently than a client of the same age who believes his or her assets must last another 20, 25, or more, years. For many retirees the possibility of a substantially longer life has altered their approach to investing and increased the fear of running out of money.
Over long periods of time, investing in equities has typically outperformed bond-based investments and bank accounts. However, making a decision about asset allocation, and the amount of risk a portfolio should have, is very personal. It is a serious matter. In fact, it may be the most significant investment decision an investor can make. Choosing a risk budget that is inappropriate for you may cause you to sell when the market is down, or buy when it is up, thereby perfecting selling low and buying high -- the antithesis of smart investing. Select an asset allocation that is right for you and that you can live with. However, be aware that the cost of living may exceed the income produced solely from conservative instruments.
If you are in reasonably good health, prepare for longevity. Following the investment rule book that your parents used may not be the best option for you. Work with a qualified investment adviser to determine your risk budget and an appropriate asset allocation that is right for you.
As investment advisers, it is our belief that clients would be wise to follow these simple rules when selecting investments:
Do not purchase a highly commissioned product.
Do not purchase a product with a contingent deferred sales charge.
Do not purchase a product that can't be resold easily.
Do not purchase a product that confuses you or that you do not understand.
Beware the Minefields
Prospective clients often come to us holding investment products that are hard to liquidate. They may have no secondary market, be thinly traded, or have the issuer as the purchaser of last resort. In such cases, selling the investment may require the owner to accept a deep discount on price.
Other products contain a contingent-deferred sales charge, which is a fee charged by the issuer when the owner makes a withdrawal greater than that allowed by the issuer. These charges are not uncommon -- they can be part of heavily advertised products, offered by well-known firms. While the articulated benefits (otherwise known as the sales pitch) of such products may seem attractive, many have complex features that can be difficult to understand.
Further complicating the matter, the investor's circumstances may change. In the event an investor needs cash, has a family emergency, or wants to transfer assets, then products that do not have a painless exit strategy can present an obstacle in the future. Thinly-traded, complex products that cannot be readily converted to cash, or that have penalties on withdrawals, should probably be avoided in the first place.
Once the basics are covered, and the minefields avoided, then you will be prepared to embark on a meaningful investment planning process. But before you start this worthwhile endeavor, be certain that you have the basics covered... then you will be on the right track.
About the author: Joseph Piangozza and the representatives of Total Financial Advisors, LLC and Total Financial Systems Inc. are not accountants, tax advisers, or legal counselors. None of the entities referenced herein give tax or legal advice. Clients should seek the advice of a tax adviser or attorney. Total Financial Advisors, LLC is a SEC Registered Investment Advisory Firm with its principal place of business in the State of New York. Selecting the appropriate asset allocation varies from person to person and is subject to individual risk tolerance. No portion of this article should be construed or relied upon as legal advice, nor should it be construed, in any manner whatsoever, as the receipt of, or a substitute for, personalized individual advice from an attorney, CPA or from any other tax or legal professional.