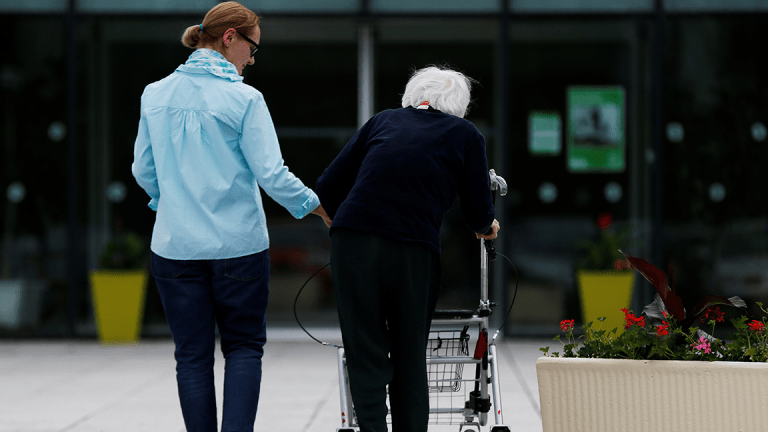 Get Started on Your Long-Term Care Planning
Adviser Marty Reid says long-term care planning is a critical goal to include in your financial plan.
By Marty L. Reid
While retirees are aware of the various types of investment risk, ample attention must also be given to healthcare risks. Most retirees experience at least one unexpected financial shock, and this may result from the need of long-term care during the latter years of retirement. Statistics indicate that seven out of 10 people over the age of 65 will need some type of long-term care support. This risk heightens due to neither traditional insurance nor Medicare providing custodial care when needed. In addition, Medicare only provides limited skilled nursing care under certain conditions. For these reasons, long-term care planning is a critical goal to include in your financial plan. This article seeks to offer you a step-by-step approach.
Designate your long-term care planning as a separate financial goal.
While a projected 2.50% inflation rate for your basic retirement expenses is reasonable, estimates indicate that long-term care expenses will increase by 4.50% per year. So consider including long-term care as a separate financial goal in your retirement plan. Also keep in mind that while on Medicare, healthcare are expected to increase be 5.3% each year.
The long-term care benefit kicks in when you are unable to perform two of the activities of daily living (ADLs) that include eating, bathing and hygiene, dressing, grooming, and continence. Cognitive impairment, such as Alzheimer's disease, may also trigger the benefit.
Purchase your long-term care insurance before retirement.
As you get older, you face the risk of insurability, namely, that your coverage is denied due to health reasons. Underwriting may also increase your premiums due to health conditions. From age 50-59, 13.9% of those who apply for long-term care insurance are denied. For those between ages 70-79, the denial rate increases to 44.8%.
On average, individuals purchase long-term care insurance at age 60. When offered as an employee benefit, workers purchase at age 50. If you purchase long-term insurance through your employer, determine if the policy is portable and if your spouse or partner is eligible. Also, do some comparison shopping. In some cases, insurance companies may offer less expensive policies when either spouses or partners purchase long-term care insurance.
If you are employed by the federal government, you can purchase long-term care insurance through the Federal Long-Term Care Insurance Program. In addition, residents of some states may be eligible for a State Partnership Program that links Special-Qualified (SP) long-term care policies provided by private insurance companies with Medicaid. However, these policies have strict low-income requirements.
Having your long-term care coverage in place before retiring is optimal. The prudent advice of the sage is worth remembering: "Purchase long-term care insurance when you are healthy."
Select the features of your long-term care policy.
Although long-term policies are comprehensive, you have some flexibility in choosing your coverage.
The Elimination Period: This feature allows you to self-insure up to a certain number of days during which time you cover your long-term costs. You can lower your premium by increasing its length. The elimination period may last from thirty days to half a year or even longer.
The Daily Benefit: The long-term care benefit is calculated on a daily basis. You must also select your benefit period, e.g. three years, five years, or unlimited. For example, a policy with three years of coverage and a daily benefit of $200 would provide a total benefit of $213,600 ($71,200 X 3). A higher benefit and a longer benefit period increases the cost of the policy. Long-term care costs vary by geographical location.
Pooled Benefits: When spouses or partners purchase a long-term care policy, they may be able to consolidate the benefit. For example, if the husband and wife each have a benefit of $150,000, their combined benefit totals $300,000. Each can draw from the pooled benefit when necessary.
Home healthcare: These services include personal care, skilled nursing, and various types of rehabilitation therapy. Some insurance companies allow you to determine the percentage amount of these services covered by your policy. By covering less than the total amount (for example, 60% of expenses), you decrease the premium. However, most people prefer to have 100% of these expenses covered to reside in their home as long as possible.
Waiver of premium: As a standard feature of most policies, the insurance company does not require you to continue to pay premiums once the benefit begins.
Assisted living facilities, referred to as residential care facilities or alternate care facilities.
Alzheimer Special Care facilities
Nursing home care, referred to as institutional care. Semi-private and private rooms are available. Staying in a nursing home is the most expensive form of care that you may incur.
Inflation option: To keep up with rising costs, long-term care policies offer either a simple or compounded interest rider that increases your benefit amount over time. There is an additional cost for this feature. For a helpful overview, consult A Shopper's Guide to Long-Term Care Insurance, rev. ed., (Kansas City: National Association of Insurance Commissioners, 2013). Along with establishing standards and regulatory support for the state-governed insurance industry, the NAIC provides helpful resources and information for consumers at their website.
Non-forfeiture option: Some states require policies to include this option, which provides continuation of coverage if the policy lapses. This feature may provide a reduced paid-up policy, which means that you receive a lower benefit, e.g., a daily benefit of $200 reduces to $175. Another alternative is a shortened benefit policy in which your benefit period decreases, e.g., three years to 1.5 years. The extended term policy continues your coverage for a designated period, e.g., the next five years, after which your coverage ends. Keep in mind that the amount of coverage that you retain is determined by the total of your previous payments. Finally, the return of premium rider refunds all or a portion of premiums paid when the policy is dropped, contingent upon how many years premiums were paid. This rider is very expensive and usually not recommended.
Estimate the costs of your long-term care expenses during retirement.
Risk management involves preparing for the unexpected, and long-term care insurance mitigates the risk of depleting your retirement assets due to unforeseen expenses. Since 2004, Genworth's Cost of Care Survey has provided the foundation for long-term care planning. Being aware of the costs and the various types of custodial care can assist you in determining your optimal amount of coverage.
According to the Genworth study, the 2018 annual median costs are as follows:
Homemaker services : $48,048 (assumes 44 hours per week)
Home health aides: $50,336
Adult day care: $18,720
Assisted living facility: $48,000
Nursing home, semi-private room: $89,297
Nursing home, private room: $100,375
Planning for the worst-case scenario would require a policy that covers the cost of nursing home care. According to statistics provided by the federal government, individuals age 65 and older have a seventy percent chance of needing some type of long-term care up to a three year period. Notwithstanding inflation, a daily benefit of approximately $245 ($89,297 ÷ 365 days) -$275 ($100,375 ÷ 365 days) with a three year benefit period would provide adequate coverage.
Keep in mind that this is only an illustration and that your actual experience may vary. To estimate long-term care expenses in your geographical area, you can use Genworth's calculator.
Review your tax planning strategies.
For 2018, if you itemize your deductions, medical expenses that exceed 7.5% of your adjusted gross income (AGI) may be deducted. Medical expenses include amounts paid for long-term care services and limited amounts paid for long-term care insurance. For 2019, the threshold increases to 10% of AGI, according to IRS Publication 502 (2018), Medical and Dental Expenses. Consult your tax adviser to make sure that you take full advantage of possible deductions.
Tax provisions allow you to pay long-term care premiums from a Health Savings Account on a tax-free basis. If you have a high deductible health policy (HDHP), you can make a one-time contribution to your health savings account from a traditional or Roth IRA. Rollover amounts are determined by the maximum allowable contribution levels for the health savings account. For 2018, the contribution levels are as follows:
$3,450 Individual
$6,900 Family
$1,000 Catch-up provision for age 55 and older
The health savings account (HSA) provides tax-deferred growth and could provide additional savings in paying for your long-term care expenses during retirement. Consider reviewing this strategy with your tax adviser.
Long-term care planning is a critical part of your retirement plan. Like most insurance, long-term care insurance is a complex product that leaves you with many choices in structuring your coverage. Consider consulting a Certified Financial Planner to help you determine what the best fit for your financial situation is.
About the author: Marty L. Reid, Ph.D., CFP, is president of Reid Financial Consulting. Disclosure: Registered representative of and securities and investment advisory services offered through Cetera Advisor Networks LLC, a broker/dealer & Registered Investment Adviser, Member FINRA/SEC. Reid Financial Consulting, 214 South Academy St, Lincolnton, NC, 28092 and Cetera Advisor Networks are unaffiliated. Neither Cetera Advisor Networks LLC nor any of its representatives may give legal or tax advice. While the resources for this article were taken from reliable sources, recommendations are only of a general nature. Consequently, individuals should address the circumstances of their financial situation with their financial adviser.