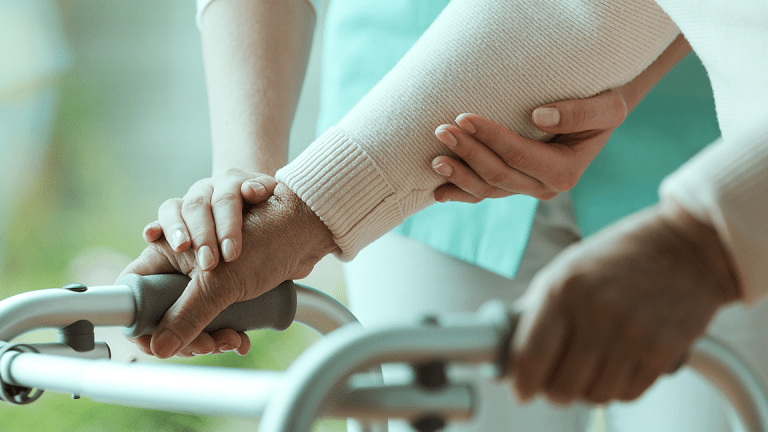 Confronting Long-Term Care Costs
Adviser Kenneth Waltzer breaks down long-term care needs and services, and ways to plan for your future.
By Kenneth Waltzer
Long-term care costs are more variable and far less predictable than standard medical costs. They are sometimes very large, sometimes zero, and rarely covered by health insurance other than long-term care policies, which are becoming both more expensive and harder to obtain.
How much you might pay for long-term care depends on whether or not you will need care and, if you do, what type and for how long. About half of people are lucky enough to incur no monetary cost for long-term care. Another 25% will spend less than $100,000; however, about 15% can expect to pay more than $250,000 on long-term care.
Breaking Down Long-Term Care Services
What exactly, is long-term care? It falls into two separate, but often overlapping, buckets:
Services for someone who needs help with two or more activities of daily living (ADLs): bathing, dressing, toileting, transferring (getting out of a bed or chair), continence, and eating
Services for someone with severe cognitive impairment who requires ongoing supervision for safety reasons.
Long-term care can be divided into temporary or ongoing. Temporary long-term care is episodic and lasts only weeks or months. Examples include rehabilitation after a hospital stay or recovery from an injury or surgery. Hospice care arising from a terminal medical condition is also temporary because death is imminent (usually within 6 months). Most temporary long-term care is covered by Medicare.
Ongoing long-term care lasts many months or years. The most common condition requiring ongoing long-term care is dementia; stroke, Parkinson's disease, and osteoarthritis are other common reasons for needing long-term care. Once started, ongoing long-term care generally lasts for the rest of the person's life.
Long-Term Care Costs Can Vary Dramatically
The cost of paid long-term care varies by type of service. According to the Genworth 2018 Cost of Care Survey, the median annual cost ranged from about $18,720 for adult day care to over $100,000 for a private nursing home room. Homemaker services average $48,000 per year and consist of assistance with cooking, cleaning, and errands. Home health aides provide hands-on personal care (not medical) care at around $50,000 per year.
Adult day care centers, which provide social and support services in a protected setting and may also provide personal care, meals, and transportation, are available in some communities.
An assisted living facility can be an alternative to nursing home care, providing personal care and some health services. It costs about the same as a home health aide at about $48,000 per year, but can be more cost effective because it can provide 24-hour-a-day coverage rather than the 44 hours a week on which the home health aide estimate is based. Many people, however, prefer to stay at home and are willing to pay more for the ability to do so.
Nursing home care is the most intensive (and expensive) type of long-term care, providing round-the-clock personal care, room and board, supervision, medication, therapy, and rehabilitation.
Long-term care costs also vary both by region and within a given region, and can also vary greatly by provider. For example, a private room in a high-end nursing home can cost 50% more than the average for a particular area. Detailed cost data for 440 metro regions is available in the Genworth 2018 Cost of Care Survey. You can use this information for budgeting purposes, but if you prefer a particular facility you should contact it directly for pricing information.
Not all long-term care services are paid. Family, friends, and neighbors often provide unpaid care. The National Care Planning Council estimates that informal caregivers represent about 20% of the population. A typical caregiver is a daughter in her forties with a full-time job, who provides about 18 hours per week of unpaid long-term care. Of course, men and both older and younger individuals also provide unpaid care.
The need for long-term care varies by gender. While only about 40% of men will use paid long-term care, more than half of women can expect to need it. Women also are more than twice as likely to need paid long-term care for more than five years. This is not because men are healthier than women; quite the opposite. Elderly men are more likely to be married than older women because men die sooner. As a result, 65% of informal caregivers are women.
As Medicare does pay for certain episodic long-term care services, the vast majority of those who need long-term care will have at least a portion paid by Medicare. However, there are limitations on what Medicare pays. It covers only about 10% of long-term care costs for most people. Most people who need long-term care will need to find funding elsewhere.
The payer of last resort is Medicaid, which pays about one-third of long-term care costs and covers about one in three people who use paid long-term care. To qualify for Medicaid one must, with some notable exceptions, deplete all other assets. This means that for affluent retirees, any extended period of paid long- term care will likely need to be paid out of pocket. However, there are a few Medicaid planning strategies that can be used even by wealthier individuals.
How Do You Plan for Long-Term Care Costs?
Although the majority of retirees face only modest long-term care costs or none at all, there is a real possibility of an extended and expensive long-term care need. It's the uncertainty around the likelihood, size and timing of this potential expense that drives planning around long-term care.
Individuals and families typically fall into two different groups when it comes to long-term care expenses:
Those for whom a large long-term care expense of $250,000 or more would be financially devastating; and
Those who can fund such large expenses out of personal assets, but are concerned about depleting these assets before they can be inherited by the next generation.
Those in either of the above groups should consider the following:
Unpaid care options: Do you have a spouse, child, or friend who is available, able and willing to provide support, at least for a portion of your care? Any unpaid help you can secure will reduce your total long-term care spending. Such care is also generally provided at home, which is where most people prefer to live when possible.
One very important issue to keep in mind regarding unpaid care, however, is the toll it can take on the caregiver. Higher levels of stress, anxiety, depression and other mental health effects are common among people who care for an older relative or friend. A large proportion of caregivers have symptoms of depression, with over 25% meeting the criteria for major depression. And elderly spouses who experience caregiving-related stress may have an elevated mortality rate. In addition, middle-aged women caregivers may need to decrease work hours, pass up a job promotion, take a leave of absence, switch to part-time employment, quit their jobs or retire early.
Thus, if you are planning on significant unpaid care, make sure that the potential caregivers are up to the task and aware of the potential consequences.
Acceptable types of care: What options are available in your area? Would you be content using them? Is there an adult day-care center, for example? Would you prefer a private room in a nursing home?
Which expenses go away? Long-term care costs may substitute for some other expenses. Will you no longer need a large travel budget? Will a nursing home stay replace other housing costs? Although long-term care can be expensive, you should be concerned with the incremental cost over and above previous expenses rather than the absolute cost.
Take advantage of Medicaid: Although intended mainly for people of modest means, a catastrophic long-term care event can deplete even significant assets. For this reason, you should understand Medicaid rules well before you might need long-term care. Even wealthy individuals can potentially benefit from Medicaid through careful planning, including regular gifting and being aware of exempt asset rules. And it's a myth that only sub-par facilities take Medicaid; many high-end nursing homes will accept Medicaid from current patients who were previously private pay. If you think that Medicaid may be part of your long-term care planning, you should consult with an elder law attorney.
One other item to consider is your personal likelihood of needing long-term care. Do you have a family history of dementia or a parent or sibling who needed extended long-term care? Do you have a condition, such as Parkinson's or progressive arthritis, that might require long-term care? A particularly high or low likelihood of requiring extended care might influence which methods you choose to fund such care, including the necessity of (and your ability to qualify for) long-term care insurance.
Sources of Funds for Long-Term Care
Once you've gone through the scenario analysis suggested above, you'll have a sense of the magnitude of the expenses to plan for. You'll then need to consider how to meet these potential long-term care costs.
Sources of funding include:
Financial assets: The largest source of long-term care funding, particularly for individuals with significant assets, is private out-of-pocket spending. Your retirement plan might include an explicit contingency to pay for long-term care if the need should arise. In this case, your assets will serve both as a source of annual income and as a reserve for large, unexpected expenses such as long-term care expenditures and other health care costs not covered by insurance. The risk of depending solely on assets for these expenses is two-fold: they may be insufficient to cover necessary expenses, and depleting them will eat into your legacy goals of leaving assets to your heirs.
Your home: Home equity can be part of your contingency reserve for nursing home or assisted living stays. In addition, your home is an exempt asset for Medicaid purposes in most states, sometimes enabling the non-institutionalized spouse to continue living there while the other lives in a nursing home paid for by Medicaid. If you are widowed or single, selling the house to pay for long-term care expenses is a frequently-used option.
Annuities: Single premium deferred annuities or qualified longevity annuities may be worth a look for some couples, less as a source of long-term care funding, but instead as insurance for the surviving spouse. Any guaranteed source of income to supplement Social Security for a surviving spouse can lessen the severity of a low-probability, high-cost long-term care event that depletes assets.
A newer type of annuity includes enhanced, tax-free payments for long-term care. In addition to providing a partially-taxable income stream in later life, these annuities can offer a tax-free income stream to cover long-term care, sometimes at a multiple of the regular income stream. One downside of these annuities is that their return can be very low, even negative. They are definitely not for everybody.
Second-to-die life insurance: For those with sufficient assets to fund long-term care but who prefer to preserve them for future generations, second-to-die life insurance can provide a relatively inexpensive way to replenish these assets. In this scenario, long-term care costs are paid out of liquid assets, while the life insurance pays out to heirs when the second spouse dies.
Long-term care insurance: There is no shortage of insurance agents willing to sell you a long-term care policy. But buyer best beware. These policies can be expensive, especially if purchased when you are older, and premium increases on the order of 40% or more are not uncommon. Their benefits can also be capped to the point where their payments only cover a modest portion of your long-term care costs. Fortunately, the industry continues to evolve and there are now hybrid policies that partner with Medicaid or include a life insurance death benefit. Some of these latter policies can be attractive, but each one needs to be carefully analyzed to make sure it fits your situation.
Long-term care costs can be substantial, but if planned for and managed intelligently, don't need to bankrupt or frighten you. They can be calmly viewed and just another contingent expense that lends itself to thorough advance planning.
About the author: Ken Waltzer, M.D., MPH, AIF, CFA, CFP is co-founder and managing director of KCS Wealth Advisory, LLC, a registered investment adviser based in Los Angeles with over $200 million in assets under management. He has worked full-time as a wealth manager since 2004, having previously been a practicing physician and medical entrepreneur. He started studying finance and investing for his own account in 1975 and has managed other people's money since 1997. Ken realizes that investing, like medicine, is both science and art. He combines the latest in capital markets theory with behavioral finance, informed by the insight and intuition that comes from 40-plus years of active investing. As in the doctor-patient relationship, he aims to help each client understand his or her financial prescription and stay on track toward a healthy financial future.