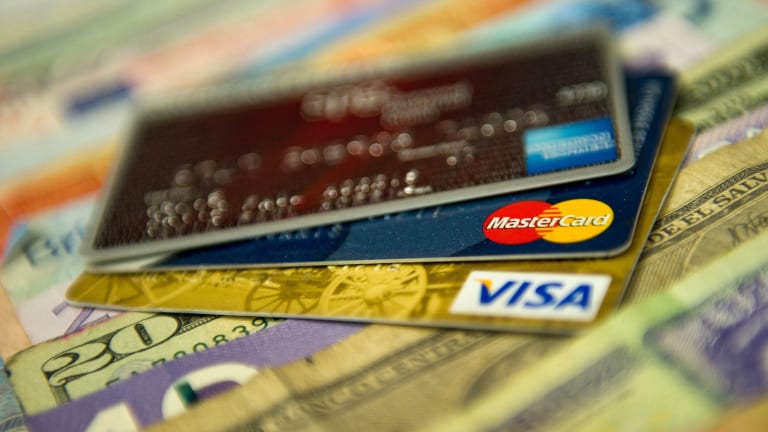 New Retirement Research (March 11, 2019)
Here are some of the latest reports, surveys, and studies related to retirement, including research into how we pay off our credit cards, abuse in nursing homes, and long-term care.
A special invitation just for Retirement Daily subscribers:
Want to learn more about planning for and living retirement from the best, including the nation's top IRA expert, Ed Slott, and Robert Powell, the editor of Retirement Daily? If so, then sign up to attend TheStreet's Retirement Strategies Symposium on April 6 in New York. As a benefit of your subscription to Retirement Daily, you're eligible for our lowest priced ticket -- $99. That's a $100 savings off the general admission price of $199. You can see the full agenda at our conference website, but Retirement Dailysubscribers need to click on this link to get their discounted tickets.
Here are some of the latest reports, surveys, and studies related to retirement, including research into how we pay off our credit cards, abuse in nursing homes, and long-term care.
How Do Americans Repay Their Debt? The Balance-Matching Heuristic Most people know that the most efficient way to pay down credit card debt is to pay off the debt with higher interest rates first. We may know it, but that's not how we seem to always do it. The authors of this paper have studied credit card repayments using linked data on multiple cards from the United Kingdom. In that work, they showed that individuals did not allocate payments to the higher interest rate card, which would minimize the cost of borrowing, but instead made repayments according to a balance-matching heuristic under which the share of repayments on each card is matched to the share of balances on each card. In this paper, How Do Americans Repay Their Debt?, they examine whether these results extend to the U.S. using a large sample of TransUnion credit bureau data. These data do not provide information on interest rates, so they could not examine the optimality of payments. However, they observe balances and repayments, so they could examine balance-matching behavior. Their analysis finds that Americans also repay their debt in accordance with a balance-matching heuristic.
SSRN: Measuring Risk Preferences and Asset-Allocation Decisions: A Global Survey Analysis
The researchers use a global survey of over 22,400 individual investors, 4,892 financial advisers, and 2,060 institutional investors between 2015 and 2017 to elicit their asset allocation behavior and risk preferences. They find substantially different behavior among these three groups of market participants. Most institutional investors exhibit highly contrarian reactions to past returns in their equity allocations. Financial advisers are also mostly contrarian; a few of them demonstrate passive behavior. However, individual investors tend to extrapolate past performance. They use a clustering algorithm to partition individuals into five distinct types: passive investors, risk avoiders, extrapolators, contrarians, and optimistic investors. Across demographic categories, older investors tend to be more passive and risk averse.
More of the latest retirement-related research:
SSRN: A Retrieved-Context Theory of Financial Decisions
U.S. Senate Committee on Finance: Not Forgotten: Protecting Americans From Abuse and Neglect in Nursing Homes
Center for Retirement Research at Boston College: Why Has Poverty Declined for Widows?
AARP Public Policy Institute: Section 1332 State Innovation Waivers: Understanding Federal Law and Guidance
National Bureau of Economic Research: Political Parties Do Matter in U.S. Cities ... For Their Unfunded Pensions, The Roots of Health Inequality and The Value of Intra-Family Expertise, Household Responses to Transfers and Liquidity: Evidence from Social Security's Survivors Benefits and Employer Concerns and Responses to an Aging Workforce
Urban Institute: Has Society Gotten Older or Younger? Why Conventional Wisdom is Largely Wrong
U.S. National Centers for Health Statistics: Long-term Care Providers and Services Users in the United States, 2015-2016
U.K. Department of Work and Pensions: Automatic enrolment: qualitative research with newborn employers - interim report
Kaiser Family Foundation: Potential Changes to Medicaid Long-Term Care Spousal Impoverishment Rules: States' Plans and Implications for Community Integration
U.S. Governmental Accountability Office: Advance Care Planning: Selected States' Efforts to Educate and Address Access Challenges
Urban Institute: How Do Lifetime Social Security Benefits and Taxes Differ by Earnings?
Commonwealth Fund: Market Concentration and Potential Competition in Medicare Advantage
AARP Public Policy Institute: Home- and Community-Based Services Beyond Medicaid: How State-Funded Programs Help Low-Income Adults with Care Needs Live at Home and Defraying High Out-of-Pocket Health Care Costs: The Medical Expense Tax Deduction
SSRN: Retirement and Socioeconomic Characteristics of Aged Veterans: Differences by Education and Race/Ethnicity
SSRN: Rethinking Automated Investment Adviser Disclosure
Got questions about the new tax law, Social Security, retirement, investments, or money in general? Want to be considered for a Money Makeover? Email Robert.Powell@TheStreet.com.
A special invitation just for Retirement Daily subscribers:
Want to learn more about planning for and living retirement from the best, including the nation's top IRA expert, Ed Slott, and Robert Powell, the editor of Retirement Daily? If so, then sign up to attend TheStreet's Retirement Strategies Symposium on April 6 in New York. As a benefit of your subscription to Retirement Daily, you're eligible for our lowest priced ticket -- $99. That's a $100 savings off the general admission price of $199. You can see the full agenda at our conference website, but Retirement Dailysubscribers need to click on this link to get their discounted tickets. Subscribe for full article
Get Access to Our Exclusive Content
Already subscribed? Log In