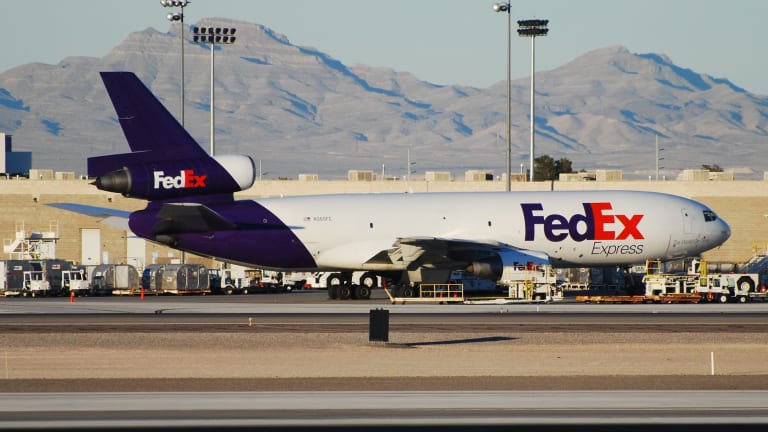 Here's the latest from the world of retirement-related news: Bipartisan bills could make big changes for retirees, age milestones for retirement benefits, and, from FedEx, a different sort of retirement story.
FedEx's venerable "Joey" retires after more than 91,450 flight hours: FedEx Express' Aircraft N365FE, a nearly 50-year-old airplane affectionately known as "Joey," has been retired after flying more than 91,450 hours. The logistics company is updating its fleet to improve fuel efficiency and reduce operating costs. According to a story in the Commercial Appeal, "Grizzled FedEx Express veteran Joey has retired after nearly 50 years flying. Joey, last flew to Victorville, Calif., from Memphis on March 29 to join other retired FedEx Express planes."
SmartBrief/The Commercial Appeal
Bipartisan bills propose big changes for retirement plans: Bipartisan bills introduced in the House and Senate aim to make sweeping changes to help Americans save for retirement. Experts weigh in on the bills' provisions, including raising the age for required minimum distributions and the potential elimination of stretch IRAs.
SmartBrief/ThinkAdvisor
How to decide on offering a retirement plan: There are four types of 401(k) plans, and it's important for businesses to select the right type for its employees. Jennifer Post explores the different types, how to decide if offering such a plan is right for your business and what the future may hold as a national retirement crisis looms.
SmartBrief/Business News Daily
Which fund to fund first: 401(k) or IRA? Deciding which retirement account to contribute to first can create "a classic chicken vs. egg dilemma," write law experts William Byrnes and Robert Bloink. They discuss the rules for 401(k)s and IRAs and how to decide where to allocate funds.
SmartBrief/ThinkAdvisor
Important age milestones for retirement benefits: Certain age milestones, such as reaching 50, have implications for retirement planning. Here is a timeline that explains benefit eligibility and other considerations.
SmartBrief/U.S. News & World Report
Target-date funds gaining popularity as retirement investment: Despite a brief setback in the 2008 financial crisis, target-date funds are popular as a tool for saving for retirement or college expenses. Experts are divided on whether that is something to celebrate.
SmartBrief/The Wall Street Journal
Understanding the role of behavioral economics in retirement planning: Many people tend to feel lost during the first few years of retirement, which Robert Laura of SYNERGOS Financial Group attributes to a failure to "apply a reflective approach to the non-financial aspects" of their lives. He explains how this and other aspects of behavioral economics can affect retirement planning.
SmartBrief/Financial Advisor online
Researcher: Longevity annuities improve retirement security: Olivia Mitchell, a Wharton professor of business economics and public policy, analyzed the financial consequences for two people aged 66, one with the option of buying deferred longevity income annuities and one without. "The bottom line is that people with the access to the deferred annuities are substantially better off, especially in the latter part of their lifetime from, say, age 85 or 90 on," she says.
SmartBrief/Knowledge@Wharton
How a rainy-day fund now benefits retirement later: Only about half of working Americans have rainy-day funds that would provide liquidity for up to three months, according to a recent survey. Such funds can be key to retirement, as having an alternative to borrowing from 401(k)s or IRAs in an emergency can help avoid a series of mistakes that retirement-fund tapping can trigger.
SmartBrief/Barron's