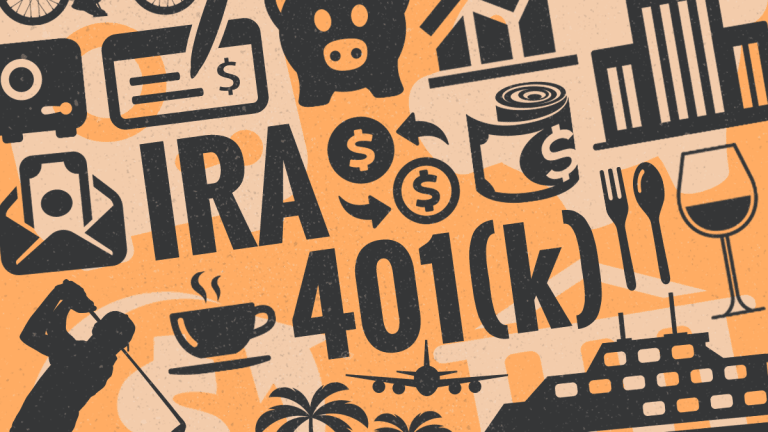 Briefing: Latest Retirement News (Aug. 29 2019)
Here's the latest from the world of retirement-related news: Employees are investing more in their 401(k)s, advisers reveal their most-asked retirement planning questions, and why it makes sense to delay retirement.
Here's the latest from the world of retirement-related news: Employees are investing more in their 401(k)s, advisers reveal their most-asked retirement planning questions, and why it makes sense to delay retirement.
IRI briefs NAIC working group on retirement crisis: Jason Berkowitz, the Insured Retirement Institute's chief legal and regulatory affairs officer, presented IRI's research on the retirement crisis to a meeting of the National Association of Insurance Commissioners' Retirement Security Working Group. Two key problems he identified are that some workers lack any sort of retirement savings and that those who do have money set aside do not have enough nor a plan for converting those savings into lifetime income.
SmartBrief/InsuranceNewsNet Magazine
Employees are investing more in 401(k) accounts: Data from Fidelity Investments analyzing more than 30 million 401(k) accounts show almost one-third of account-holders increased their rate of savings last quarter, with an average contribution rate of 8.8%, and an employer average of 4.7%. Increased employer focus on saving, plus auto-enrollment programs, have contributed to the boost in employee investment.
SmartBrief/Human Resource Executive
Survey: 52% of people tap retirement savings early: A survey of 1,029 Americans by MagnifyMoney found about 52% of people have taken money out of their retirement savings early for reasons other than retirement. Survey data showed 23% of respondents said they took an early withdrawal to pay a non-medical debt, while 17% used the money for a down payment on a home.
SmartBrief/PlanSponsor Online
How to guard retirement savings from economic trouble: Here are six tips to protect retirement savings from market fluctuations or a recession. Start by developing a financial forecast.
SmartBrief/U.S. News & World Report
EBRI: Plan auto portability could cut retirement shortfalls: The automatic rolling over of retirement plan balances to a new plan when a worker leaves a job could reduce retirement savings shortfalls for all age groups, according to analysis by the Employee Benefit Research Institute. Over 40 years, partial auto portability could increase funds accumulated for retirement by $1.5 trillion, EBRI found.
SmartBrief/PlanAdviser Online
What it takes to reach $1 million in retirement savings: Here is a guide to how much money you would need to make to reach $1 million in retirement savings by putting away 10% of your salary every month.
SmartBrief/CNBC
Proposed hardship distribution changes could affect 401(k)s, 403(b)s: Proposed changes to the hardship distribution regulations for 401(k)s and 403(b)s mean plan sponsors need to review their administrative practices and participant communications, attorneys Samantha Kopacz and Samuel Parks write. Among the proposed changes are the elimination of the six-month suspension rule and plan loan requirements, and modifications to hardship distribution expenses.
SmartBrief/JD Supra
Advisers reveal most-asked retirement-planning questions: This slideshow features the top 11 questions financial advisers get from clients. They include questions about savings, spending and the right age to retire.
SmartBrief/ThinkAdvisor Online
Why it makes sense to delay retirement: People unsure about the timing of retirement can benefit from working an extra year. This can help them make sure they are ready and shore up finances.
SmartBrief/U.S. News & World Report
Lawmaker: Workers need retirement help that SECURE Act offers: Now that economic growth has put Americans back to work, they need the retirement preparation support that would be provided if the Senate passes the Setting Every Community Up for Retirement Enhancement Act, which was already passed by the House, according to Rep. Ron Estes, R-Kansas. "By passing proposals like the SECURE Act that would encourage more companies to offer retirement options and automatic enrollment, retirement security can go from pipe dream to reality for millions of Americans," he writes.
SmartBrief/Investment News
How to manage money in retirement: Retirement requires a new approach to finances, one in which retirees focus on generating income from their wealth instead of seeking growth at all costs. Using a bucketing strategy to set money aside into three categories -- "now," "soon" and "later" -- can be helpful.
SmartBrief/Kiplinger Online
Labor Dept. advances proposal to digitize 401(k) info: The Labor Department sent a proposal to the Office of Management and Budget last week to implement the electronic delivery of 401(k) information. Industry groups say the transition to digital statements could result in potential savings of more than $500 million per year for the 401(k) industry.
SmartBrief/Financial Adviser Online