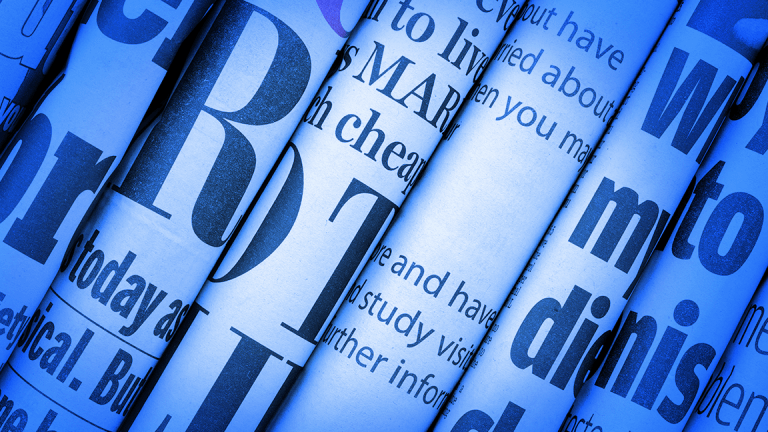 Briefing: Latest Retirement News (Feb. 6 2020)
Here's the latest from the world of retirement-related news: Retirement annuities, portfolio diversification, and healthcare costs in retirement.
Here's the latest from the world of retirement-related news: Retirement annuities, portfolio diversification, and healthcare costs in retirement.
SECURE Act eases path for retirement annuities: The annuity safe harbor in the Setting Every Community Up for Retirement Enhancement Act of 2019 is likely to increase acceptance of annuities and other guaranteed income tools in retirement plans but it is difficult to know how long that will take, according to Sri Reddy, senior vice president in the retirement and income solutions unit of Principal Financial Group. "We don't know what the marketplace will accept, or what it will demand," he says.
SmartBrief/BenefitsPro
More 401(k)s offering retirement income options: More 401(k) plan sponsors are offering income tools such as annuities, managed payout funds and managed accounts. And some financial firms are wrapping annuities into their target-date funds to provide participants with a guaranteed source of monthly income in retirement.
SmartBrief/The Wall Street Journal (Tiered subscription)
Diversification key for long retirement: Risk and tax diversification are important in preparing for a long retirement, writes Brian Madgett of New York Life. He recommends people consult with a financial adviser to craft the best possible retirement plan.
SmartBrief/Kiplinger
How advisers can help clients plan for retirement healthcare: Health care and medical costs could reach $285,000 for a 65-year-old couple that retired last year, according to figures from Fidelity. Some ways advisers can help clients manage these costs include encouraging them to save money in health savings accounts and using fintech tools to ease planning.
SmartBrief/ThinkAdvisor
Financial wellness programs can help employees retire on time: Employers and employees are affected when workers delay retirement, but having a financial wellness program is a good way to help on-time retirement, writes Kris Alban of iGra. While financial wellness programs can encourage people to save and provide education on investing and budgeting, they should go beyond financial literacy to focus on behavior change, Alban says.
SmartBrief/BenefitsPro
Advisers can help clients decide when it's time to retire: There are no specific landmarks that tell people when they are ready to retire, writes Robert Laura, president of Wealth & Wellness Group, so financial advisers need to provide those. Telling clients it's OK to be nervous about retirement and providing them resources such as newsletters or articles can help them with the transition, Laura writes.
SmartBrief/Financial Advisor
A guide to withdrawing retirement funds: When you retire, you might have a mix of tax-deferred, taxable and tax-exempt accounts from which to withdraw money. Knowing when to tap each type of account can maximize assets.
SmartBrief/Forbes
Annuities among products essential to retirement savings: Financial security in retirement requires more than pensions and retirement savings plans, according to a draft work plan prepared by the National Association of Insurance Commissioners' new Retirement Securities Working Group. It also involves "annuities and life, health, disability, and long-term care insurance coverage," the document says.
SmartBrief/ThinkAdvisor
Retirement plan loans are alternative to hardship withdrawals: The Bi-Partisan Budget Act of 2018 makes it easier to take hardship withdrawals from qualified retirement plans, and the impact so far has been an increase in the number of people doing just that. An alternative is taking a loan from a retirement plan, which may help limit retirement income loses as up to 90% of borrowers repay the debt with interest.
SmartBrief/Benefits Pro
Americans plan for retirement amid expectations of increased longevity: Many Americans, particularly members of Generation Z, expect to live longer than their parents, raising questions about how they will pay for retirement. Here is a look at where different generations expect retirement funds to come from.
SmartBrief/CNBC
Report says half of Americans not prepared to save for retirement: A report by the Longevity Project finds that half of Americans are not prepared to save for retirement and don't have confidence in the current retirement system. The report also finds that only 16% of Generation Z respondents see Social Security playing a major role in retirement, while 28% believe family support will play a bigger role.
SmartBrief/Financial Advisor
Buckets can keep stock losses from decimating a retirement portfolio: The timing of a stock market drop can greatly affect a retirement portfolio, with losses earlier in retirement being particularly harmful, writes adviser David Nicholas. To mitigate the effects of a market downturn, he advises relying less on stocks for income in retirement and segmenting money into three "buckets" -- one for liquidity, one for income and one for growth.
SmartBrief/Kiplinger