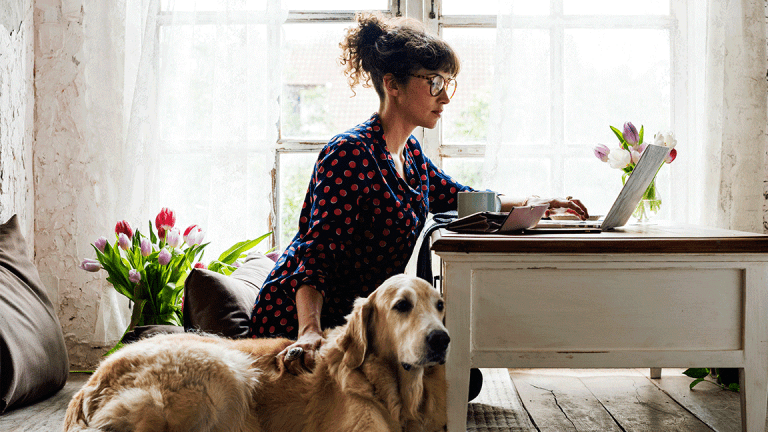 You Can Start a Valuable Business for Under $5,000 -- Here's How!
Author and entrepreneur Allan Thomas Chiulli says the retirement years may be a great time in life to take an idea or hobby and build a business around it.
By Allan Thomas Chiulli
Sometimes we hear about a new company and think "What a great idea!" We may even reflect on different ideas that we have had, but never had the chance to run with. Our life commitments -- mortgages, kids' college, illnesses and family responsibilities -- always take priority and can dampen the opportunity for any such ideas that we once had or still have.
But, now, with retirement, we have more flexibility. An idea, a need that cries out for a better solution, a special skill or a hobby that you love can become a new business. For example, Michael Kittredge turned a love of candle making into Yankee Candle, Debbi Fields turned her cookie-making hobby into Mrs. Fields, and believe it or not, William Harley and Arthur Davidson turned their motorcycle hobby into the internationally famous Harley-Davidson brand.
Still, becoming an entrepreneur does not mean your new company has to be big: You can give private tours of your beloved hometown or you can make and sell beautiful bracelets on Etsy.
New Web-Based Ecosystem of Service Providers to Startups
The other thing is that it once took a lot of capital to start a business. Yes, that is still true for some businesses, but the digital age has created a new web-based ecosystem of service providers to startups that has dropped the cost of starting a new business by several orders of magnitude.
Here's the bottom line: What once cost millions of dollars can now be accomplished, in many cases, for less than $5,000. Most of the web-based businesses in this startup ecosystem already do what you want to do: Sell information and skills, over the web, to people who need them and are willing to pay for them. Some of these services you may use only once, while others you may use as needed or almost continuously.
The Key Question
Given this opportunity, the key question for a retiree to consider is: What do I know and/or love that is valuable and that others will pay for? This could be professional knowledge, business acumen, hobby, skill or favorite pastime. Of course, this could also be a great idea that solves a pressing problem.
In the digital age, people will pay for information that is presented in a clear, logical and straightforward manner. The reason is simple: Everyone is too busy to waste time trying to do or learn something without any way of knowing what is correct, what is valuable, where to begin and how to proceed.
In particular, information-based and mail order businesses are inexpensive to start and have an attractive advantage: They can scale up very quickly. The result is that if you know more or are better at something than everyone else, and that information is valuable to a group of other people, there is no reason you can't create an online course for coaching or some other knowledge-sharing or skill-based business.
Once you have, or while you are developing, your idea, let's peek into your entrepreneurial future by examining the four stages of creating your new startup along with some great online resources in the startup ecosystem to help you:
Stage 1: Forming the Business
The first step is to create a company as a sole proprietor, partnership or limited liability corporation (LLC). If this decision is not clear to you, here's a quick overview at The Balance and Legal Zoom. You should also check to see if your desired name is available through your Secretary of State's website.
Once your path is clear, you can easily create your company using a service like Rocket Lawyer or Legal Zoom. If you still have questions, both services offer attorneys at a low hourly rate or you can use Legal Shield. As you form your business, you will pay state fees and for a service agent (often free for the first 6 months) as well as a small fee to the website. These websites can also provide you with inexpensive downloadable legal agreements, such as an independent contractor or an LLC operating agreement. For most startups, these online legal services work just great!
If you are unsure about a name or URL, Naming Force uses crowdsourcing to help pick the winner. GoDaddy is a great place to check the availability of and to buy website URLs (Note: Finding an available URL is often quite challenging!) and they help you with the ICANN registration (the international non-profit that controls URL ownership).
Also, you should check if your name or slogan is available on a national basis. You can search for trademark availability using "TESS" at the U.S. Patent Office.
Recognizing the inherent uncertainty in any startup, long business plans are becoming less common as more startups rely on a one-page, nine box Business Model Canvas. A sample is available at Strategyzer and Canvanizer.
Lastly, if you need to raise capital, crowdfunding is available through Crowdfunder, iFundWomen, GoFundMe and Seed Invest.
Stage 2: Building the Brand
Every company needs a brand, including name, logo, colors and business cards. A quick way to grab a company name, .com URL and logo is to visit Brandroot. They have 25,000 combinations available for purchase, with about half under $2,000 while Logojoy uses AI (artificial intelligence) to create new logo suggestions for you.
The whole process of creating branding and graphics is much easier in the digital age. You can easily create designs for logos, social media postings, presentations and more using Canva while thousands of free downloadable images are available at Pexels. Also, anyone starting a new business should spend a few minutes familiarizing yourself with Fiverr. At Fiverr, you can hire a specialist to help you with almost any type of marketing and branding project, including logo design, business card design, writing, editing, proofreading, brochures, web design and layout, video creation and editing and much more.
If you are unsure about which picture to use of yourself, Photofeeler uses crowdsourcing to give you valuable feedback on your options while Vistaprint makes it easy to get business cards printed.
A website sits at the core of any modern business. The good news is that website creation is now so easy through the free and low-cost options available at Wix and Weebly that almost anyone can create a great website containing vibrant colors, images, videos and text.
Both services offer free and low-cost website design templates that allow you to drop your content into buckets and modify the colors and fonts to your liking. These templates also provide "responsive design", meaning that your website will automatically adapt to the different display requirements of a desktop, laptop, tablet or smartphone. This eliminates a huge headache as you no longer need to maintain separate websites for each type of device. My advice: Please pick and use a template!!!
If your data needs are greater than a website, you can also look at the Cloud providers, who often provide free Cloud credits to startups. The leading Cloud providers are Amazon, Google and Microsoft Azure.
Stage 3: Marketing the Business
A staple of marketing in the digital age is the use of automated Marketing software, which provides a consolidated system and database for your customer relationship management (CRM), email campaigns, landing pages for selling your product and subscription billing. These include Ontraport, Keap (formerly Infusionsoft), ActiveCampaign, Marketo and Zoho.
These systems also tie into payment services for processing credit card and mobile payments through Stripe, Square and Clover. Meanwhile, Mailchimp and Survey Monkey offer free and low-cost email and online survey capabilities.
Coordination among your team members is critical and project management software like Trello and Basecamp make this process easy. Online communications may also be addressed through team collaboration software such as Slack and Skype.
Airtable is a new and amazing resource...think of Excel with a true database for images and videos as well as the organizing and tracking of tasks and events. Meanwhile, Toby helps you organize those dozens of browser windows you may have open at any given moment.
Social media is a critical part of marketing in the digital age. As such, social media management software is critical and Hootsuite and Buffer offer free and low-cost options. Link shortening is available for free at Bitly while webinars are easily hosted through Zoom and GoToWebinar.
If more sophisticated software capabilities are needed, open source (free) software is available at GitHub and Red Hat.
Stage 4: Operating the Business
Word processing, spreadsheet and presentation software is available through Microsoft Office and Google Docs along with online backup and document sharing. Files can be distributed to others through these services or through Dropbox (which also backs up and syncs files across all your devices) and Box.
Office space no longer requires a long lease that drains your resources. Besides working from home (as many do), you can use an incubator such as Capital Factory or co-working spaces in your area. These services offer desk space, Internet access, business services and often, free coffee and snacks on a low month-to-month basis. If you pay a little more, you can add a mailbox and small office. Local options abound here, so please check out the incubator and coworking options in your local area.
Accounting can be handled through free or low-cost services, including Wave Financial, QuickBooks, FreshBooks or ZipBooks. Part-time or one task only "gig" workers can be hired at Freelancer.
Bringing it all Together
This may be a great time in your life to take an idea or hobby and build a business around it. After all, you have energy, enthusiasm and a lifetime of business acumen and experience. Your knowledge, skills and passion are incredibly valuable assets. So, if this path makes sense for you, the above resources may be exactly what you need as, if you do not know of them, you can spin your wheels for a long time while wasting valuable time and money-and the task may not be done right.
The great news is these, and other resources like them, are easy to use, usually free or low-cost and do a great job. You now have a path to do exactly what the title of this article promises: You can start a valuable business for less then $5,000.
Retirement is a great time in your life and now, in the digital age, there is no reason for you to hold back on starting that business that you always wanted. Good luck!
About the author: Allan Thomas Chiulli is the author of "Winning in the Digital Tornado" which provides an easy path for everyone to prosper in the digital age. He is also the co-founder of DigElearn, an online digital learning membership experience. Both resources empower people wanting to protect and strengthen their career amidst changing technology.