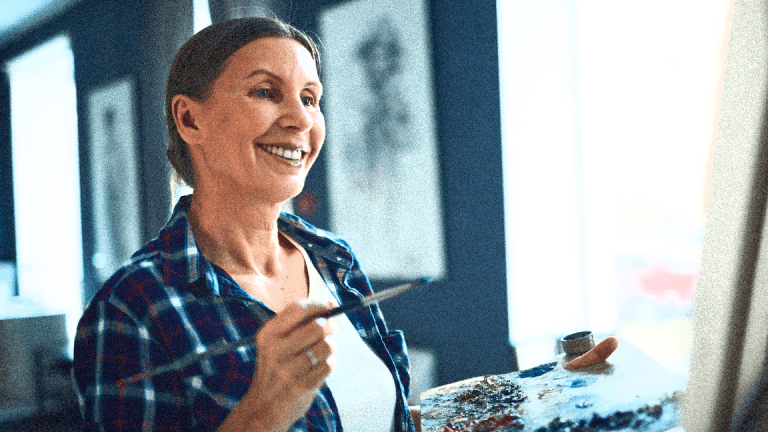 The Sabotage That Keep Us From Financial Independence
Adviser Lynn Ballou outlines the obstacles we put in our own path, and how to overcome them.
By Lynn Ballou
Since the early '80s I've had the privilege of working with women and their families, currently as a financial adviser, and previously as both a tax professional and financial adviser. I really enjoy the conversations we have discussing the challenges women face and the solutions we craft and then successfully implement. Because caretaking is in our DNA, much of the work women need to do involves creating a money road map for themselves.
Yes, we'll explore side-trails and visit destinations that differ from our original intent. However, having a road map that can be revised as frequently as needed, provides a sense of stability and focus that would otherwise not be attainable. I'd like to share with you some of the most important roadblocks on that map that women face in their planning for financial independence and what to do as these challenges arise.
Over-Gifting to Family
It seems that more and more frequently our adult kids move home for a variety of financial reasons. And what do we do? We let them in for no rent, free food, and no responsibilities. I understand wanting to assist adult children. But to help them launch and become their own independent selves, and so that we can still retire successfully ourselves, we must set boundaries. Even if your adult child can only afford to give you $300/month toward food and utilities, that's $3,600/year that you can use to put away in your retirement or other savings vehicle.
An Emergency Fund
You need an emergency fund and you need to define what that means and stick to it. Trust me, it's not that hip designer handbag that just went on sale. It's the engine in your car blowing up, unplanned house repairs due to storm damage, or maybe appliances breaking down unexpectedly. Having a defined emergency fund is a master key to unlocking a safe financial future. And when you use it, you must replenish. Cut discretionary spending and use those savings until you've restocked your emergency reserves.
Living Without a Budget
Living without a budget is like trying to lose weight without sticking to a food plan. If you are successful, and you probably won't be, it's a happy accident. There are innumerable self-help online budget sites, but maybe you work best with some human guidance. Most women seem to achieve far greater results when they work with others vs. a pure computer approach. Even a hybrid plan is great --- do some work online and then review with a planner. Reach out to a Certified Financial Planner.
Over-Gifting to Charities
If we give too much away, then who will take care of us? Don't become the future recipient of largess from the charities you support today. If you are charitably inclined, make gifting a line item in your monthly or annual budget. Track what you give throughout the year so that during the holidays you don't double down when you can't really afford to, by over-gifting to charities you've already supported within your means. For those with limited resources, give more time and less money. And don't feel guilty. If we all do what we can, it adds up and matters greatly.
Your Inner Voice
That "I deserve this" internal chat we have with ourselves? Of course you do it - we all do. But what you deserve more than anything else is fiscal sanity and security. And the ability to take care of your true financial needs yourself. Try this simple exercise: Before you buy anything, ask yourself: "Is this a need or a want?" Need? Then ask yourself "Am I buying this for the best possible price?" If not, find a better deal. Want? Then your question to yourself becomes "Is it in my budget and at this price?" If not, step away.
Because women enjoy sharing their journeys with other women, it's time for us to have these honest conversations with our circle of family and friends. The support we will receive and provide to others is remarkable. Whether it's at book clubs or family gatherings, be the brave, forward-thinking one to bring up the money talk. It could be as simple as suggesting to friends and family that you not buy expensive birthday and holiday gifts for each other. Or suggest a potluck dinner more often instead of eating out at restaurants which not everyone can really afford. Most of us are friends with women of all financial walks in life. Let's be supportive and sensible and open to those different journeys and let's be open to reaching out for professionals to help us along the path to a successful financially secure life.
About the author: Lynn Ballou is a Certified Financial Planner and Regional Director for EP Wealth Advisors' Lafayette, Calif. office. In her role as CFP Board Ambassador for the Bay Area she enjoys speaking and writing about the importance of comprehensive financial planning, especially for women and their families. You can learn more about her at her website. The review, assessment, and opinions expressed in this column are limited to and in association with general financial planning subjects. They are intended to introduce the reader to general financial planning topics. This column should serve as a tool that can assist readers in the development of subsequent discussions with a financial planning professional, tax adviser or attorney as appropriate regarding each reader's own unique circumstances and goals.
A special invitation just for Retirement Daily subscribers:
Want to learn more about planning for and living retirement from the best, including the nation's top IRA expert, Ed Slott, and Robert Powell, the editor of Retirement Daily? If so, then sign up to attend TheStreet's Retirement Strategies Symposium on April 6 in New York. As a benefit of your subscription to Retirement Daily, you're eligible for our lowest priced ticket -- $99. That's a $100 savings off the general admission price of $199. You can see the full agenda at our conference website, but Retirement Dailysubscribers need to click on this link to get their discounted tickets.