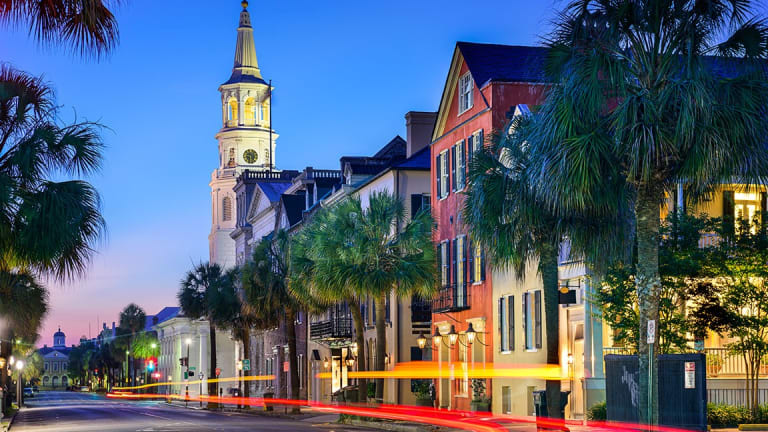 Some of the Prettiest U.S. Towns to Retire In
Are you dreaming of retiring to a quaint town on a lake or beach? Maybe a historic, walkable college town or a charming village nestled in the mountains?
Are you dreaming of retiring to a quaint town on a lake or beach? Maybe a historic, walkable college town or a charming village nestled in the mountains?
Of course, there are so many pretty towns in the U.S., and narrowing it down to a list might be an impossible task. We culled through John F. Brady's TopRetirements.com, which offers a database of more than 1,000 retirement communities, to find the ones he and his readers suggest.
Beauty is in the eye of the beholder, so some methodology has been applied. TopRetirements considers towns with the most obvious characteristics that make a town particularly attractive. These include: a town square or green, pleasing architecture, interesting streets, plenty of parks and the appeal of a college campus or a beautiful natural setting.
Most of these are towns that have a reputation and the resources to be reasonable places to retire from a housing and services viewpoint. However, while many of them are affordable, budget was not a factor here, so some of these places can be expensive. But dreaming is free, and maybe if you boost your 401(k) contributions...
Based on the lists at TopRetirements.com, here are some of the prettiest towns in America to retire.
Portsmouth, N.H.
This small, old town of just over 20,000 in eastern New Hampshire has beautiful homes and buildings constructed during the colonial era, all laid out along cobblestone streets. Portsmouth is located near the mouth of the Piscataqua River, and is popular with tourists and retirees both.
Annapolis, Md.
With a population of about 40,000, Annapolis is a good retirement town for those who can afford it. It sits just inland on the Severn River from Chesapeake Bay. The capital of Maryland, Annapolis is one of the country's oldest, most distinguished, and charming towns. If you like historic buildings and antiques, this is the place.
Charleston, S.C.
With beautiful architecture, pastel homes, a waterfront, and extensive history, Charleston is one of the prettiest towns in the U.S. Its streets are lined with majestic oaks draped with Spanish moss, it has five downtown squares and a number of parks, and the area has many harbors, wetlands and rivers.
Santa Barbara, Calif.
Santa Barbara has a long main strip of historic old buildings and parks ending at the ocean. The homes are beautiful, and so are the surrounding hills and wine country nearby. A nice place to retire, if you can afford it: the median home sales price here is over $1.1 million, according to Trulia.
Savannah, Ga.
This coastal Georgia city is known for stately oaks with Spanish moss, manicured parks, horse-drawn carriages, cobblestoned squares and antebellum architecture. It has a reputation for friendly locals. 
Galena, Ill.
Galena has many beautiful, well-preserved homes and buildings in the French Colonial and Victorian styles of architecture -- 85% of the structures are listed on the National Register of Historic Places. It has rolling hills and lots of opportunities for year-round outdoor recreation, and is a popular tourist destination, hosting over a million visitors each year.
Breckenridge, Colo.
This ski town, 9,300 feet above sea level on the western slope of the Continental Divide, started out as a gold mining town, and has the charming architecture as a result. With its year-round natural beauty, outdoor enthusiasts will love it here not just for the winter sports but the summer wildflowers, hiking, fly-fishing, mountain biking and white-water rafting.
Eureka Springs, Ark.
This Victorian resort village in the northwest corner of the state has steep, winding streets and well-preserved Victorian-era homes that give it an historic ambiance. Many of the buildings are built with local stone. Undulating streets rise and fall with the topography in a 5-mile long loop.
Homer, Alaska
This small fishing and resort town of about 4,000 is a paradise for outdoors lovers. The 4.5-mile glacial moraine that juts into Kachemak Bay is the seasonal center of Homer, and crowded with docks, restaurants, and stores. The town is surrounded by snow-capped mountains.
Solvang, Calif.
This small town of about 14,000 people in the Santa Ynez mountains of Southern California was founded by Danish settlers, and features faux windmills, gingerbread homes and real Danish bakeries. The beautiful scenery includes golden grassy mountainsides dotted by oaks, and vineyards and orchards.
For the complete gallery, with stunning photos of all the towns on the list, see These Are Some of the Prettiest American Towns to Retire in.