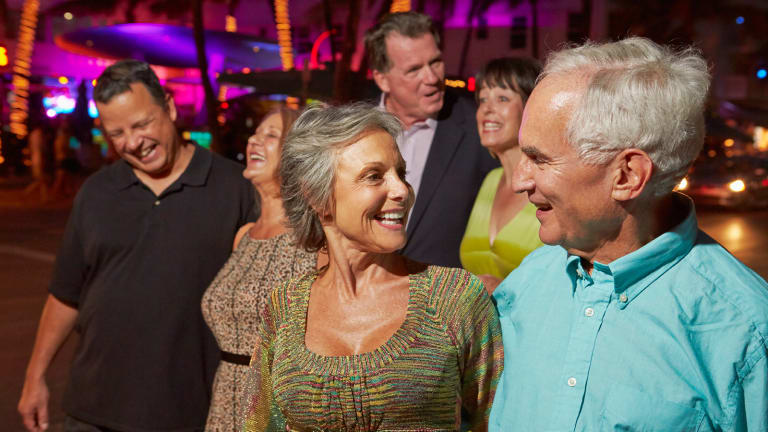 Social Connections Are Critical for Wellbeing At All Ages
This is the third in a four-part series from adviser Jeannette Bajalia about "Elder Orphans," in which she analyzes the challenges we face as we age -- often on our own -- from finances to housing and quality of life.
Editor's note: This is the third in a four-part series from adviser Jeannette Bajalia about "Elder Orphans," in which she analyzes the challenges we face as we age -- often on our own -- from finances to housing and quality of life.
By Jeannette Bajalia
I'm sure it's no surprise to anyone that loneliness and isolation have a direct correlation to healthy aging and total wellbeing. One individual I have admired and tried to emulate with regards to serving men and women is Mother Teresa, or more recently, St. Teresa of Calcutta, who said it most clearly, "Loneliness and the feeling of being unwanted is the most terrible poverty."
I experienced this in my caregiving journey with my mother, who lived to age 93, and a great aunt, who lived to age 100. As they journeyed through their later years, I saw a deterioration of their mental, emotional, and physical health when they were not mobile enough to engage in social and family activities like grocery shopping, going out to eat with friends, or something as simple as having a cup of coffee with neighbors.
In my financial planning firm, I see healthy seniors and not-so-healthy seniors at various life stages. One common trend I observe: Those who are actively engaged in life with abundant social activities, with family and friend support systems, and who live in active community lifestyle settings, are healthier, happier, and engaged in life. But it's not easy to do when you're navigating your senior years as a solo. And, as you get up in years, your network of friends may shrink and you deepen your isolation due to loss of social connections. It becomes a "most terrible poverty" and requires serious attention.
Recently, Time Magazine published an article with the headline, "One in Three Seniors is Lonely." It reported that loneliness and social isolation are growing public health concerns. It noted that studies have long connected loneliness to a range of health issues that threaten longevity and wellbeing, including health threats such as heart attacks, strokes, depression, anxiety, and early death. We were divinely created to be in relationships with one another and the extent to which you can maintain healthy relationships with others will determine how healthy you're going to be throughout your life stages.
This is particularly important if you are living your retirement life as a solo. You must build a life plan to stay engaged in social activities that are purposeful, in alignment with your values and needs, and most importantly, enable you to maintain your total wellbeing which I define as mental, emotional, physical, and financial fitness.
Resolving the issue of loneliness and isolation as an elder orphan can be accomplished with a housing option, as discussed in the second column of this series. You could move into a retirement community or other co-housing option that brings enormous opportunity for socialization with other residents, allowing you to build lifelong relationships.
Any solution to reduce loneliness is personal. Often, when I'm in a consultation with a widow, or unfortunately, a woman who at age 70 is ending up in divorce, I often ask, "What are you going to do to transition into the next phase of your life to maintain your health and wellbeing?" Sadly, I get a blank look.
But this must be answered so you can build the costs associated with staying socially active into your life plan. Doing nothing is not an option if you want to hold on to your health. Consider this question as you consider options for staying active and engaged: What is the underlying cause of your loneliness, depression, anxiety, isolation? Your answer may be a health-oriented one, or it could be a mental or emotional one. Get help from a licensed geriatric mental health counselor to nail down the root cause. Remember, lack of resolution of these root cause reasons is impacting your health and wellbeing and you're inviting serious health concerns.
Read the two earlier columns in this series:
Maintaining Independence with Creative Housing Options
Emerging Aging Trends and How to Get Ready to Go It Alone
So, how do you eliminate isolation and loneliness? Or, putting it in a more positive light, how do you increase your social connections to improve the overall quality of your health? Here are some thoughts and suggestions I often offer:
Find a purpose that is unique to your God-given gifts and talents. One of the primary criteria for maintaining health and wellbeing beyond the age of 90 is a sense of purpose. Winston Churchill said it best, "It's not enough to have lived. We should be determined to have lived for something." A life without purpose is the onset of isolation and health issues.
For many younger boomers who have an interest in volunteering, consider "adopting" an elder orphan. There are so many very senior men and women who are living alone that could benefit from a visit from a neighbor, or perhaps simply inviting them over for dinner or taking them out to a social event, a movie, a lunch.
Research your community's senior activities. There are many websites that make it easy to connect with others with similar interests. One is MeetUp, where you can participate in or even start your own group. Other resources may be provided by senior recreation centers in your area. Many walking groups are springing up for seniors. Reach out to them and find some activities that you can engage in that keep you active and healthy.
Reach out to churches and other faith-based entities because they do have resources they can connect you with.
Social media is an amazing resource, particularly a private Elder Orphan Facebook page which I joined. I find it quite helpful in connecting and offering support to others in similar situations. Connections are made through this but caution and prudence need to be exercised with social media - never give out financial information or personal contact information on social media. There are over 9,000 members on Carol Marak's Elder Orphan Facebook page and they offer many ideas on maintaining social connections.
Get a pet. Research has consistently reported that people with a dog or cat had lower resting heart rates and blood pressure than non-pet owners. Also, studies show that people with a dog or cat had a lower risk of heart disease and less stress. Many memory care centers and hospital systems have pet therapy programs that allow volunteers with therapy trained dogs to visit patients.
Read Jeanette Pavini's column: A Boomer's Best Friend.
I saw the reality of this with my aging family members. When I hired a caregiver, the caregiver brought her dog Pablo, and while my mother never had pets, that little Pablo was a godsend to my mother and stood by her side and wouldn't leave her, often putting a smile on my mother's face in the midst of enormous pain. Animals provide a sense of comfort and support. Studies by the National Institute of Health illustrate the value of pets and pet therapy on total wellbeing.
Make social interaction as much a priority as eating three well-balanced meals daily. It must become a priority to avoid isolation. It's easier to sit at home and focus on your emptiness or aloneness rather than getting off the couch, getting dressed, and having lunch with a friend, doing a bit of volunteer work, or simply going out for a walk around the neighborhood.
I recently visited Dr. Frances Kinne, one of the interviewees in my book. She turned 102 this year. She told me she gets up every day, still puts makeup on, and gets dressed, ready for anything the day may bring. She lives alone but makes sure she stays engaged in life daily and even still speaks for various groups. What does she speak about? Staying active and continuing to serve others.
Join groups or clubs such as photography, bird watching, or other interests consistent with yours, to meet like-minded individuals you can cultivate relationships with. Join gyms that cater to seniors and functional aging to keep you active and enjoying fitness relative to your interests and abilities. And finally, don't rule out country clubs or community centers you can join for membership fees that will get you connected with others and increase your opportunity for socialization.
These ideas are simply a few suggestions that will enable you to focus on the opportunities available to reduce social isolation and keep you active in the game of life - whether you're 70, 80, or beyond 90. Would you rather live your later stages of life with vibrant health and wellbeing, or contribute to the elderly sick statistics? The choice is essentially in your hands with the support of trusted individuals you can engage to help you sort through the most appropriate strategies and tactics specific to your personal interests and desires.
In the last column in this series, I'll discuss strategies and solutions to ensure your financial resources don't run out before you run out on life. You'll need a fully integrated plan to ensure you can fund, with confidence, the appropriate housing arrangements, the funds you need to self-care and the funds you'll need to engage in appropriate social connections. The ball is in your court - there is no reason to live life in isolation even if you find yourself navigating as a solo.
About the author: Jeannette Bajalia is the president and principal adviser of Petros Estate & Retirement Planning, where she has designed and implemented some of the most innovative estate planning solutions for clients and their families. She is also the founder and president of Woman's Worth, where she has specialized in the unique needs facing women as they plan for their retirement. She is an Investment Advisor Representative with Petros Advisory Services, LLC, a registered investment advisory firm. She is an Ed Slott Master Elite Advisor, a published author, a radio host, and has also appeared as a guest on various TV programs.