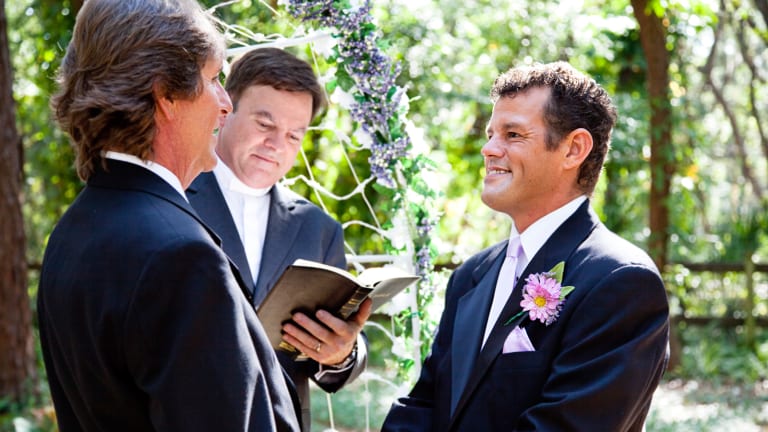 Long-Term Care Planning for Same-Sex Couples
Adviser Bob Mauterstock highlights long-term care planning strategies and challenges for same-sex couples.
By Bob Mauterstock
A few years ago I delivered a presentation at an assisted-living residence in a community that had a significant lesbian and gay population. My program was focused on planning for long-term care needs. To start the conversation I posed a question to the audience: "What is your greatest fear of getting old?"
A woman in the front row responded almost immediately. "My greatest fear is being alone, with no one to take care of me. I don't have any children and I really don't have a relationship with my family. They haven't talked to me in years, not since I told them I was gay. I don't have anyone."
Several people in the audience shared similar feelings. Many have struggled with discrimination and the stigma of being different for many years. They have often lost touch with their families and friends when they chose to come forward and share their feelings.
Some of those who have found happiness and security are those who have reached out and formed lasting same-sex relationships. I talked to two couples recently who have been together more than 20 years. In both cases they found life together very challenging initially. They were denied any recognition as spouses for many years. But on May 17, 2004 the state of Massachusetts legally recognized same-sex marriage and both couples were married.
When I met with each couple I asked them questions regarding their preparation for the challenges of aging. In each case it was clear to me that they had thought about this issue a lot and had done extensive planning as a result. I was quite surprised. I had asked the same questions of many heterosexual couples over the years when I had an active financial planning practice. I was often amazed at most couple's casual attitude toward long-term care planning. Many of them didn't really want to deal with the topic at all.
But not these couples. In both cases they had completed durable powers of attorney and healthcare proxies for each other. They had wills that made their intentions very clear. They had made provisions for their siblings, and nieces and nephews at their death. They had separate bank accounts and did not interfere with each other's financial affairs.
I was curious to discover why they been so thorough in their planning. Their answers were very similar. One of them shared: "We worked so hard to get together, we are determined not to let some random circumstances tear us apart." Each had seen parents who had not prepared well for getting old. One told of her father's resistance to doing any planning and its impact on the family when he died.
In each case one of the spouses was dealing with serious health issues. The younger member of one couple had been challenged with MS for many years. But it didn't stop her. She and her partner still had a very active social life and she plays golf with the help of a special golf cart. The older member of the other couple had a history of cancer and was taking chemo orally to keep it at bay. These challenging health issues had brought them together and made their relationships even stronger.
These couples both took advantage of the fact that Massachusetts was the first state to approve same-sex marriage in 2004. On June 26, 2015 the U.S. Supreme Court established that same-sex marriage was legal in all 50 states. Now same-sex couples throughout the country can benefit from these changes in the law.
Same-sex married couples can now gift or pass an unlimited amount of assets or property to each other without needing to use any gift or estate tax exemptions. Before the law changed, any transfer of assets in excess of $15,000 was considered a taxable gift under gift tax laws.
A spouse with a low Social Security benefit is able to select his or her spouse's higher benefit at the time of that person's death. If the partners were not married, each one of them could only collect the benefit based on their own salary.
Married same-sex couples with retirement accounts have significant advantages over unmarried couples. When one of them dies, the surviving spouse can combine their deceased spouse's IRA with their own through a tax-free rollover. Non-married domestic partners can be beneficiaries of their partner's IRA but they must transfer them to a separate inherited IRA which has different, more complicated rules.
But there are some changes that may not benefit married same-sex couples. If one of them dies, the surviving spouse is responsible for paying the deceased spouse's medical expenses. If they weren't married, the surviving partner would have no responsibility to pay their partner's medical expenses.
If one of the partner's is seriously ill and needs ongoing custodial care, the costs for a nursing home or assisted-living residence can be very high. In some states it may cost $8500 to $10,000 per month. It is very possible that the ill partner may run out of funds.
Medicaid coverage offered through a partnership between the states and the federal government is available to those persons with liquid assets of $2000 or less. If the individual is married the assets of the healthy spouse may be taken into account to determine Medicaid qualification. And some of the healthy spouse's assets may be required to pay for the ill partner's care. If same-sex couples are not married, the healthy partner has no responsibility to support their partner financially to qualify for Medicaid.
It is important for same-sex couples to review their situation to make future financial plans. But certainly marriage has had a major impact on their planning.
Read, from the University of Texas at Austin Population Research Center, Same-Sex Couples Devote More Attention to End-of-Life Plans than Heterosexual Couples.
About the author: Bob Mauterstock, CFP®, is the author of Passing The Torch, Critical Conversations With Your Adult Children. His websites: www.giftofcommunication.com and www.plan4lifenow.com.