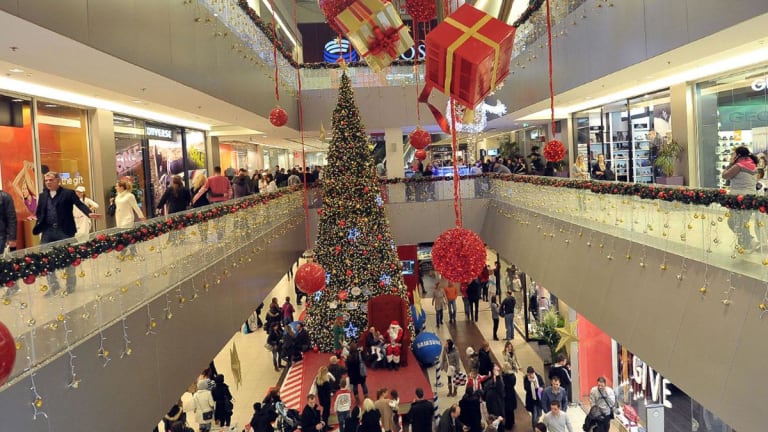 Happier Holidays: How to Keep a Lid on Your Spending
Jeanette Pavini has some great money-saving tricks to enjoy the holidays and avoid ringing in the new year with a pile of debt and regret.
For many folks, it feels like we're entering the season when all we do is spend money. So it's all the more important that consumers empower themselves with the tools they need to save money, get the best value and get a handle on holiday spending.
Between gifts, parties and travel, you need to be careful or the only thing you'll bring into the new year is debt. Here are some ways you can take control of your spending as opposed to letting circumstances, lack of planning and impulse take control of you and your money.
Do a complete financial forecast. Set a budget for expenses such as gifts, travel, parties, holiday wardrobe, shipping packages and even postage stamps for cards. Once you have that list, price everything out and total it up. If you are over the amount you can afford, see where you can cut back. Usually the amount you spend on gifts is a good place to start. Having this knowledge and a plan in place before the spending season gets underway is the first step to saving money.
Save your receipts for a price adjustment. If you make a purchase and that item goes down in price within a certain period of days (usually 10-14 days), larger stores will usually offer to give you back the difference between what you paid and the new sale price. I have saved thousands of dollars doing this. Most stores just need you to bring in the receipt to get your refund. This is an especially good tip for this time of the year when prices keep going down as we get closer to Christmas.
Use coupons to save online. You should always look for a coupon code before you make any online purchase. There are thousands of codes you can find on everything from clothes to travel. It takes a minute to check and the savings can be well worth it.
Use a rebate sites like Rakuten which allows you to make purchases and receive a rebate. It adds up and if you are going to be shopping, why not get some money back?
If you are making an electronic purchase find out if the store is selling any open-box items. These are items that were either floor samples or a return, so they are in like-new condition but usually drastically marked down in price. Just make sure they offer a warranty and a return policy if there is a problem.
Book your holiday travel now. Waiting until the last minute for holiday travel can mean two things: higher prices and less of a selection. Traveling on the actual holiday can reduce your airfare. This works particularly well if you are traveling from the East Coast to the West Coast and want to arrive for Thanksgiving dinner. An early morning flight on Thanksgiving morning will get you there in time to help with the cooking.
We usually spend the most money as the end of December approaches. Set up an automatic transfer now for $50 a week to go into your savings account. This way by the time the middle of December rolls around, you have an extra stash of cash.
For wardrobes, look to resale shops. You can find the best deals on party dresses and outfits for the entire family. I am a big fan of resale and consignment shops. The secret to saving: Shop now before the best deals are gone!
If you are going to be shipping packages, the earlier you send the more you will save. If you wait until days before you need the packages to arrive, you will end up paying rush delivery fees. 
Finally, and probably most importantly, remember the holidays are about family, friends and time together. Don't get caught up in the financial stresses that often take away from enjoying the holiday season.
About the author: Jeanette Pavini is a two-time Emmy Award winning consumer reporter and author of more than 10,000 money-saving stories. She is a columnist for The Street's Retirement Daily, and a contributor for various news outlets including The Today Show and Hallmark Channel's Home & Family. Her work has appeared in The Wall Street Journal Weekend and USA Today. She was the chief consumer reporter for CBS 5 News in San Francisco where her money-saving segments became the backbone to her 30-minute consumer show.