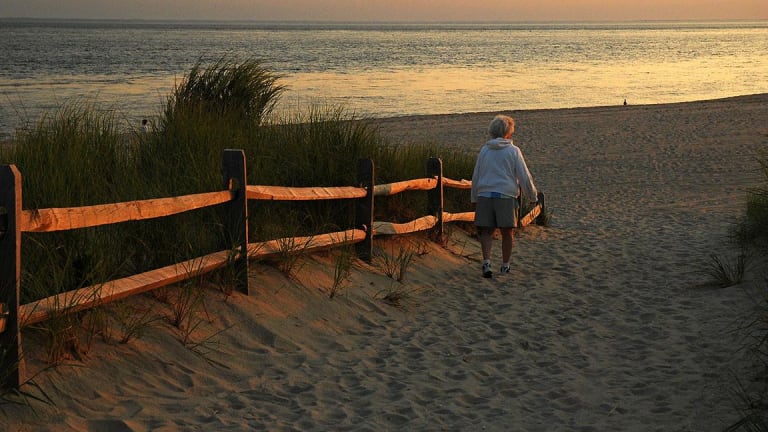 Doing What You and Your Aging Parents Need
Robert Powell looks at a recent study examining what adult children need to do to help their aging parents, and themselves.
Most adult children don't plan well for their parents' end-of-life. So says a recent report published by the Society of Actuaries' (SOA) Aging & Retirement Strategic Research Program. But the authors of that report, which represents a series of in-depth interviews with children whose parents were deceased at high ages, also say there are steps you can take to manage the progression from having relatively healthy parents to their eventual death.
There's No Magic Formula
The way you deal with your parent's end-of-life journey is likely to differ from that of other children, according to the report. People age differently, says Paula Hogan, founder and CEO of Hogan Financial, a Milwaukee-based financial planning firm. You might have to deal with sudden physical decline such as a fall, stroke, or heart attack, or harder-to-discern changes such as cognitive decline, or both.
"The shift of your parent taking care of you to you taking care of your parent feels daunting, even existential," she says. "It is a maturing experience and maturing experiences are usually hard-won."
Know this, however: Adult children a key source of help, says Anna Rappaport, chair of the SOA's Aging & Retirement Strategic Research Program.
It's Hard to Preplan
Most adult children do very little advanced planning, according to the SOA report. "Rather they reacted to situations as they occur," says Rappaport, noting that particularly in the case of cognitive decline, people may not react quickly enough and things go wrong before they react.
Why so little advanced planning? According to Hogan, there are many reasons: Your parents might feel disrespected if you try to preplan; you have no idea what you are getting into; and preplanning requires access to financial and medical information.
"Advisers tell their older clients -- your parents -- to talk with their kids about end-of-life preferences, pre-arrangements, finances and the like but parents often report it is the children who don't want to engage," says Hogan.
Her bottom-line advice: Don't be that adult child. Engage.
And, if your parents don't want to talk, Hogan suggests asking them this: "If you had a stroke tonight, where would I look in the house for information and how would I access it? And, would you at least tell me who is your accountant, attorney, and financial adviser?"
Point out, she says, that you can do a better job of carrying out their wishes if they would at least write down some directions and tell you where to find that paper.
Rappaport says more planning is needed for help. "Often neither side has considered the help that is needed, she says.
Rappaport's advice: Define triggers that will signal the need for help. "For example, if there is scratched paint or dents on vehicles, it is a signal that driving may be a problem, she says. "Failure to pay bills, open mail or balance checkbooks are also signals. It is very helpful if caregivers can agree with their parents or the people they are caring for on signals to watch for."
Another bit of advice: If you are the named successor agent for your parent, Hogan suggests looking for possible openings for communication. For example, if you are invited to go with your parent or parents to the accountant's office, at that meeting, ask if you and the accountant could be authorized to communicate with each other. "Just being able to talk with the accountant is a great way to start getting up to speed and having someone with whom you can collaborate on behalf of your parents," she says. "If that works, repeat with your parents' other advisers."
Question the Doctor's Advice
Adult children are unlikely to question their parent's doctor's advice, according to the report. "We are no longer in an era of the family doctor upon whose long-term, nuanced knowledge of the family, and professional wisdom, the family can rely," says Hogan. "Part of the job of the adult child is to help the parent navigate the medical system."
And there are lots of important choices. For example, how much care to get, figuring out whether drug interactions are causing a problem, making end-of-life choices. "These aren't factual decisions; they are very personal choices, best made by an informed person who understands and cares about the parent's preferences, not by the medical system," says Hogan.
Is the Legal Paperwork in Place?
The SOA study did not focus on legal steps and powers of attorney, but it's important that legal paperwork is in place, says Rappaport.
"Some situations require difficult healthcare decisions, where there are choices," says Rappaport. "It is important to think about those choices, and to designate a health care power of attorney when one is no longer able to make choices."
For the healthcare power of attorney, she says it is particularly important that this person will be able to advocate on behalf of the person they are helping. "Communication is critical," says Rappaport.
State statutes may provide a form for the healthcare power of attorney. However, there may be issues that go beyond those choices, she notes.
One resource: Compassion & Choices provides resources to help people understand end-of-life decisions and what is important to be included in legal documents and situations.
You'll Have to Take Over Your Parents' Finances
This is a big job, that can trigger challenging family issues, says Hogan. If there's a lot of money at stake, Hogan says hiring an independent trust company to pay bills and tend to health insurance reimbursement -- or perhaps even be the co-trustee -- can reduce a lot of pressure.
Care is needed in choosing who will help with finances, says Rappaport. "While family members are usually chosen, some are involved with financial exploitation," she notes.
You May Need Paid Outside Help
If you need outside help, consider hiring a geriatric care manager. A geriatric care manager, usually a licensed nurse or social worker who specializes in geriatrics, is a sort of "professional relative" who can help you and your family to identify needs and find ways to meet your needs, according to the National Institute on Aging. "Having a good one on your team is a God-send," says Hogan.
Rappaport agrees: "When decisions are needed about managing care and the family does not know what to do, they can turn to social workers and professional care managers," she says.
When shopping for a geriatric care manager, learn how they are paid. "Some are paid by facilities to direct potential clients to them, and so have conflicts of interest," says Hogan.
A Nursing Home May Be the Hardest Decision
According to Rappaport, the SOA's research showed that when care beyond what the family could provide was needed, decisions around such care were very difficult. "In some cases, regret was expressed that the person was not provided outside care earlier," she says. "It was particularly difficult to decide that someone should be placed in a nursing home. There were substantial challenges in evaluating various options for providing care. The cost of care and the possibility of support through Medicaid were major issues in some situations. Other research also shows that many individuals spend down assets when paid care is needed."
What's more, Hogan notes that the decision to move out of the home can't or won't be made by the parent. "And that leaves the child with the tough decision about whether, when, and how to intervene," she says.
Hogan's advice: Get help from a geriatric care manager who is in sync with your family's values and habits of communication.
Note, too, Hogan says, there is often a trade-off between safety versus dignity and independence. "People weigh that trade-off differently," she says. "We often see a boost in vitality when an older person finally moves out of their home of many years to a good retirement community."
But many older people live alone and loneliness is hard. And that's especially so if the family does not live close by and can't visit frequently. Hogan's advice: "Be early in hiring extra assistance and companionship for your parent as a supplement to the standard care offered by the assisted living or memory care facility."
Do Your Best
Helping a parent with end-of-life issues is a big job that requires an effective process, says Hogan.
And that might not be easy given that dealing with end-of-life issues is likely new territory for you and your siblings. According to Rappaport, the research suggests that some families work well together and others don't. And that could impact how well care is provided to the family, and the quality of life of the parent they were helping. "Where there are multiple family members, it is important for them to work together," she says.
Hogan's advice: "Spend some personal time thinking through what it means to be a fiduciary for your parent, what the desires are of your parent, and how you can help meet those desires."
Reflect, also, on the high value your parents likely put on having agreeable family relations and no animosity at this time. "Leave your emotionally needy 6-year-old self at home and think specifically about what you can contribute to getting tasks accomplished in a collaborative manner," she says.
Caring for Parents Is Very Stressful
Caregiving is extremely stressful, and that stress is compounded by how it runs in parallel with other big stressors in your life, including day-to-day life in any busy household and individual work life, says Hogan.
"Give yourself credit for what you are juggling," she says. "Cut yourself some slack. Give attention to self-care. Make sure you get breaks that are relaxing and refreshing for you, whether that is a pick-up basketball game or a daily walk in the park."
Look for ways to get help and advice and don't go it alone, says Hogan.
The findings in the SOA's Life Journey Study: A Report on 40 In-Depth Interviews in the United States and Canada With Adult Children of Recently Deceased Parents should be considered together with the findings of the age-85-and-over research already conducted by the SOA.
According to Rappaport, there are several studies on the age 85-and-over population that are summarized in Retirement Experiences of People Age 85 and Over report.
Also, the interviews are Phase 1 of a two-part study. The second part, a survey, will start later this year and will be completed and released next year.