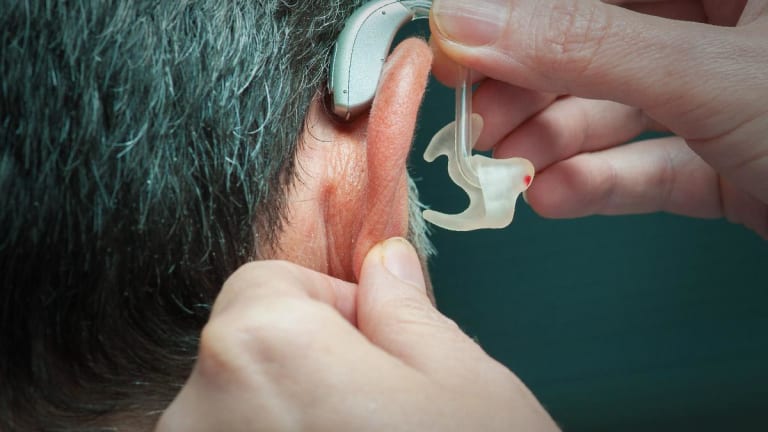 Sounds Good: Resources to Help With Hearing Loss
Jeanette Pavini rounds up resources and assistance to take good care of your hearing.
Listen up! According to research from the National Institute on Deafness and Other Communication Disorders (NIDCD), roughly one in three people between ages 64 and 75 in the U.S. experience hearing loss, as well as half of those over the age of 75.
Interestingly, hearing loss is not always brought on by the same factors. Sometimes there may be several conditions which contribute to hearing loss simultaneously. Having your hearing checked and making time for exams are necessary for an improved quality of life.
As I wrote in my last two Retirement Daily columns on vision (Keep an Eye Out for Good Vision Care) and dental care (Smile: How to Get Dental Care) you may have had great insurance -- and great hearing, eyesight and teeth -- while you were working, but it seems like the insurance benefits for these types of healthcare needs are disappearing just when we or our elderly parents need them the most.
Original Medicare does not cover all of the essentials when it comes to hearing loss. It doesn't cover hearing exams, or hearing aids and their fittings. Part B will cover ear-related tests to determine if an individual needs medical treatment for conditions other than hearing loss.
But again, as with vision-related coverage, it's important to check the specifics of your plan for special contingencies. If you contact Medicare to get information, make sure you get the name of the person you spoke with and take notes.
The National Council on the Aging offers some alternative solutions to help you keep your hearing in check:
Sertoma: This organization functions somewhat as a brokerage that helps the visually impaired with services across the United States. You can search by national or state sponsored programs by simply going to their website.
Help America Hear: This assistance program from the Foundation for Sight and Sound provides hearing aids to low-income persons.
Lion's Club: As they do with vision assistance, local chapters also offer programs which help distribute hearing aids to the needy. You can check to see if your chapter provides this service here.
Hearing Industries Association: this trade association is a representative of hearing aid technology in America. As such, they endeavor to make obtaining hearing aids easier for Americans, and provide a helpful guide for those who are looking for options.
The National Institute on Aging, part of the U.S. Dept. of Health and Human Services, provides lots of information on hearing loss in older adults, including signs, types and causes of hearing loss, how to cope, and devices to help with hearing loss. Check out this article.
About the author: Jeanette Pavini is a two-time Emmy Award winning consumer reporter and author of more than 10,000 money-saving stories. She is a columnist for The Street's Retirement Daily, and a contributor for various news outlets including The Today Show and Hallmark Channel's Home & Family. Her work has appeared in The Wall Street Journal Weekend and USA Today. She was the chief consumer reporter for CBS 5 News in San Francisco where her money-saving segments became the backbone to her 30-minute consumer show.