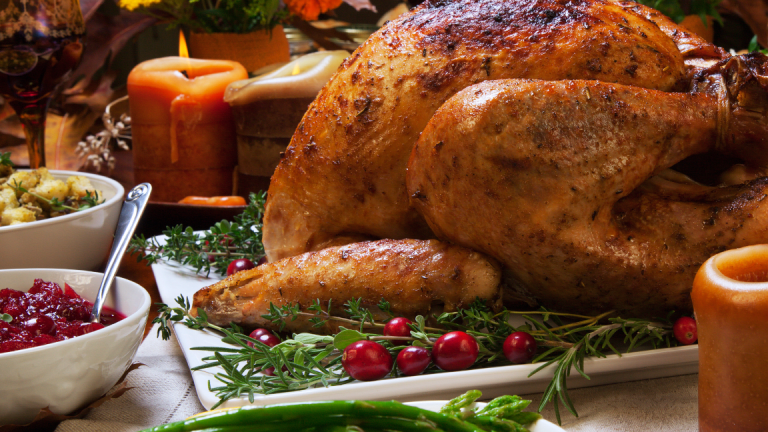 Secrets to Saving on Your Thanksgiving Feast
Jeanette Pavini has some timely tips on how to have a generous holiday feast without busting your budget.
Many of us are flocking to the grocery store right now in preparation for Thanksgiving dinner. If you're hosting, the costs can quickly add up. Here are a few tips that will help save you money so that you have a bit more to spend on those Black Friday deals.
One of the easiest ways to save money is to make sure you don't overdo it. Search online for a meat calculator. Enter the number of kids and adults, whether you're light or heavy eaters, and find out exactly how many pounds you will need. It will even tell you how much gravy and stuffing are necessary for the meal.
If you're only serving a few, don't feel obligated to buy the whole turkey, a turkey breast and maybe a drumstick will do the job. And don't worry, you can buy a bit more for leftovers.
Wine is one of those items that adds up very quickly. Stick to inexpensive bottles of wine and just pour into a decorative decanter. There are some great wines for under $10 these days, and a decanter just adds to the elegance of the table. Check out this list of great holiday wines for under $20 from Food Network.
Price matching can apply to turkeys, too. Ask you grocery store if they will match a competitor's price when you show their ad or coupon. Turkeys are often a "loss leader," meaning it's an item the store prices low and is willing to lose money to get you into their store.
Apply tried-and-true money saving strategies to your Thanksgiving meal. Start by building your menu around what is on sale at your grocery store. Then look for coupons from your grocery store site or app. Add to that coupons from the manufacturer's website and online coupon resources. Combining the advertised sales prices with coupons can slash your bill significantly. I have done this experiment in the past and found a savings of 40%.
Ask for a rain check if an item is out of stock. This means when the item is back on the shelves you will get the sale price even if the product is no longer on sale. And if the item won't be back in stock by Thanksgiving, you still need to eat in December so why not take advantage of those Thanksgiving deals?
Frozen fruits and vegetables are still full of nutritional value because flash freezing preserves the nutrients. So, compare prices in the fresh and frozen aisle for items like green beans and cranberries. You may save buying frozen in bulk, so if you're feeding a crowd, this could be the way to go.
Hit the outdoors to create your decor. Take a large, clear glass vase and fill it with small pine cones and colored leaves.
If you are serving a large group, ask people to bring their own containers to take home the leftovers.
More from Jeanette for the holidays:
Happier Holidays: How to Keep a Lid on Your Spending
Keeping the Happy in the Holidays: Avoid Credit Card Debt
About the author: Jeanette Pavini is a two-time Emmy Award winning consumer reporter and author of more than 10,000 money-saving stories. She is a columnist for The Street's Retirement Daily, and a contributor for various news outlets including The Today Show and Hallmark Channel's Home & Family. Her work has appeared in The Wall Street Journal Weekend and USA Today. She was the chief consumer reporter for CBS 5 News in San Francisco where her money-saving segments became the backbone to her 30-minute consumer show.