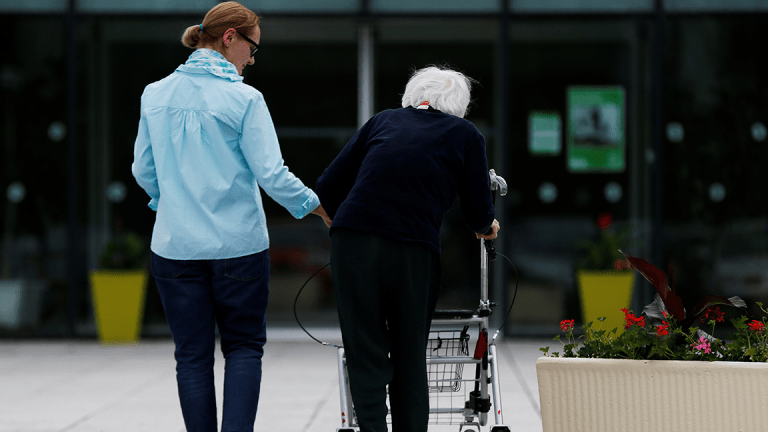 Finding Resources to Care for Our Aging Parents
Jeanette Pavini shares information and resources to help meet the needs of your aging parents -- and you.
For many of us boomers, caring for our aging parents is part of our everyday life. I am fortunate enough to have a sister and brother to help divide the responsibilities, but many people have to oversee their parents' care on their own.
Overseeing the care of an aging parent can come with a variety of concerns and responsibilities, not to mention stress. One of the first steps is to try to enlist other family members and friends to help with various aspects of care. It can be as simple as helping with laundry or dropping off a meal every other week. Don't try to do it all on your own.
Here are some other ways to ease some aspects of your parents' care:
Meals: Consider setting up a local meal delivery service. This serves several purposes. You have fewer groceries to buy, you don't have to worry about getting dinner to your folks, and appliances like a stove won't be used. Check within your parents' own community for special offers on delivery services at a low fixed price.
Medications: Some local pharmacies also offer delivery services for medications. This will take "pick up Mom's meds" off of your to-do list. Keep a list of your parent's medications with you and also with them (I find stashing the list in their wallet or purse a good place) so that it is accessible when they need it.
Transportation: If you are working or caring for a family of your own, finding the time to drive your folks around can be nearly impossible. Some taxi services have a flat rate of just a couple of bucks to take seniors to their destination. My mother-in-law lives in Michigan and uses a service like this. Other cities have services that pick seniors up and drop them back off at home if they are going to a certain activity or community function. If your parents need transportation for medical treatments such as chemotherapy, you can check with the hospital where they are receiving treatment, or ask their healthcare provider about support programs. The American Cancer Association offers their Road to Recovery program for rides in your area.
Hired Caregivers: Managing your parent's finances can become overwhelming, especially if you are looking into full-time care. I suggest you start investigating your options, even if the need is not immediate. This way, when you need the extra care, you won't have to make a rushed decision which can end up costing you. Asking friends for referrals is a good way to find reliable and affordable care. In some areas, there is a difference between "live-in" care (someone who lives with your parent and sleeps there) and 24\7 care (caregivers that do a rotation so that someone is awake all day and night). Always compare the rates between the two. Also, it can often be about the same amount of money to have someone there for 12 hours as it is for 24 hours.
And don't forget to work with your parents and a good financial adviser to make sure estate planning and matters of financial responsibility are taken care of, not only for your parents, but for your whole family.
VA Financial Assistance: If one of your parents served in the military, they both may be entitled to VA caregiver benefits. It is definitely worth the time to see if they qualify. Many veterans and their spouses are not aware of this benefit. And remember, the benefit extends to the spouse. There are other programs to help, just go the caregiver resources on the VA website.
Socialization: Several years ago, one of my mother's doctors gave us the best advice: Get her into some type of a community socializing group. This was the best medicine. It literally changed her life. She became more social, made new friends and engaged in new activities. It can be difficult to find several days a week to spend with our parents, but finding a community center or senior center group can be a game-changer. Check with your local church, community centers and park & recreation organizations for resources.
It can be overwhelming trying to manage your life and your parents. Be sure to take time for yourself whenever possible, and again, ask others for help. Most hospitals offer caregiver support groups at no charge. It can be a great place to not only talk and get ideas, but helpful in finding resources that work for other families.
About the author: Jeanette Pavini is a two-time Emmy Award winning consumer reporter and author of more than 10,000 money-saving stories. She is a columnist for The Street's Retirement Daily, and a contributor for various news outlets including The Today Show and Hallmark Channel's Home & Family. Her work has appeared in MarketWatch, The Wall Street Journal Weekend and USA Today. She was the chief consumer reporter for CBS 5 News in San Francisco where her money-saving segments became the backbone to her 30-minute consumer show.