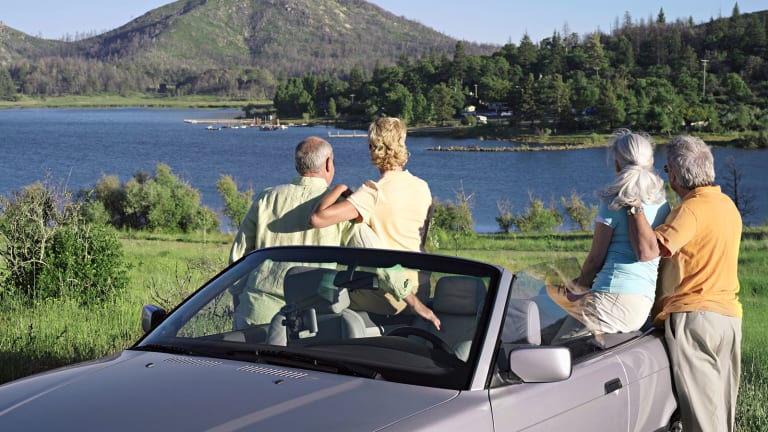 Car Safety: Fill 'er up With a Smart Emergency Kit
Whether it's for a long road trip or a little trip to the grocery store, Jeanette Pavini has the list of things you need and want to have in your car for all kinds of emergencies.
It's back-to-school season, and the weather soon will be changing from sunny and warm to cooler and wetter. Now's a great time to check your car and supplies for your own safety and convenience.
When I was growing up I would watch my father as he cared for our family car. But it wasn't just the engine he cared for, it was also what he kept in the car. Dad's car would have what you need if ever you found yourself in a bind. We don't usually think about those things until we are far from home and in need. Here are a few ideas to help keep you prepared when you are on the road.
Medical necessities: Have a first-aid kit in the car at all times. Make sure it includes a current triple antibiotic ointment and that any bandages are not so old that they are dried out. Have disinfectant and purified water in case you need to rinse a cut. Keeping a small kit in the glove compartment and a larger one in the trunk is a good idea. If you or someone in the family takes a critical medication it's wise to have a small supply on hand in the event you are stuck somewhere and need to stay on a medication schedule.
Emergency Items: Jumper cables are a must as are a good flashlight and flares. Check your spare tire regularly to make sure it is properly inflated and secure. Keeping a portable cell phone battery charger in the car is helpful if your battery in both your cell phone and auto are dead. And I have a whistle in my car in case I need to get someone's attention and am unable to yell for help. And of course, you must carry your car registration and proof of insurance. I also keep my roadside assistance information, including the phone number, in the glovebox.
Personal care items: Having a travel toothbrush and toothpaste as well as facial wipes can come in handy should you have somewhere to go but no time to get home to get ready. Keep a brush and other toiletries stashed away should you decide to stay somewhere overnight at the last minute.
Winter prep: Keep road salts in your car for potential help on an icy road. Kitty litter may also work. If you live in an area with snow, have those chains on hand. Icy windshields require a scrapper and a small broom. Storing a small shovel in your truck may also come in handy. A blanket or two and a couple pairs of water resistant gloves should also be in your car during winter months.
Office supplies: Having a small scissor, adhesive tape, a couple of paperclips, batteries, glue, pens and paper will come in handy. If you really want to be prepared, keep a few envelopes and stamps in your car as well.
Healthy snacks: Having a stash of snacks such as nuts, your favorite snack bar, apple sauce packets or rice cakes is a good idea should you find yourself stuck somewhere without access to food. These types of snacks don't spoil quickly. This has been a lifesaver for me! Keep bottled water in the trunk, too.
Other must-haves: A roll of paper towels and disinfectant wipes as well as a small umbrella will come in handy on a rainy day. You might want to keep an extra pair of walking shoes, socks and a jacket in a small bag.
All of these items can be kept in containers in your trunk. Pick and choose what works for you and your needs. For more ideas on car safety, check out Ready.gov, which has all kinds of advice for dealing with emergencies and disasters, big and small.
About the author: Jeanette Pavini is a two-time Emmy Award winning consumer reporter completely over 10,000 money-saving stories. She is a columnist for The Street's Retirement Daily, and a contributor to various news outlets and a guest contributor for The Today Show. Her work has appeared in MarketWatch, The Wall Street Journal Weekend and USA Today. She was the chief consumer reporter for CBS 5 News in San Francisco where her money-saving segments became the backbone to her 30-minute consumer show.