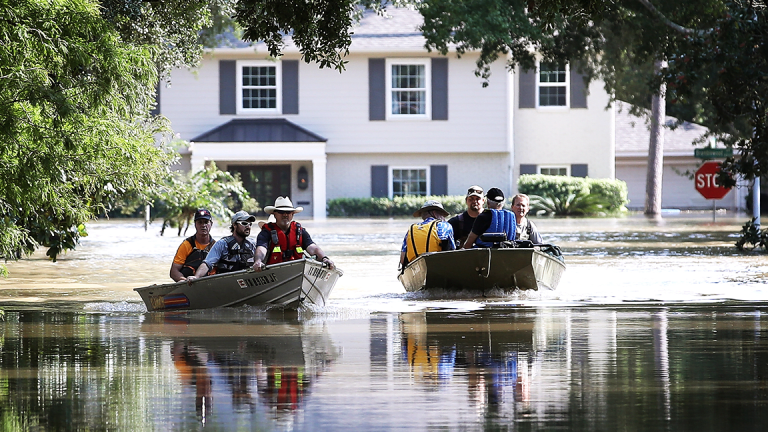 Be Prepared Before a Disaster Strikes
Jeanette Pavini has the safety tips you, your family and even your pets, need to be prepared for an emergency.
In the past few weeks I have received several notices regarding natural disaster preparedness in my area. Living in California, we are entering the time of year where we are on high alert for fires; and we're always thinking about earthquakes. Other parts of the country marked June 1 as the start of hurricane season, and the Midwest prepares for tornados and flooding.
Yet, with all the news coverage in recent months of natural disasters, many of us are still not fully prepared. We may have an emergency kit in the house, but unless it's up-to-date and working properly, it could be a waste. Being prepared and having a plan is especially important if you have kids, elderly relatives or family members with special needs.
Here are a couple of items that top the list of being prepared:
Let technology help you. Download apps from the Red Cross. You can find help with first aid and information on tornadoes, wildfires, hurricanes, earthquakes and floods. Make sure you download the apps into every family member's phone. This way you will all be receiving the same information.
Different threats, emergencies and disasters may require different plans. The plan for an earthquake may be different than your plan for a wildfire or a flood. Also, the time of day may need to be factored in. During the workday, are some family members at home, others at school or work? Would your family need a different plan compared to one where something happening during the nighttime hours when everyone is asleep?
Make sure your emergency kits include personal necessities. Think along the lines of an extra pair of prescription glasses, prescription medications, your insurance card and even a copy of your medical history. Have a phone charger and back up cell battery as well.
Check your emergency kits annually for expired items and to test batteries. Replace expired cans of food, drinks, medications and batteries. And one of the most important items to have in your kit: a whistle. Make sure it works and is loud. Take this Survival Kit Supply Quiz from The Red Cross.
Discuss an escape plan should something happen and you had no communication with your family. Pick a spot where you would meet with very specific instructions. Be sure to decide how you would take care of family members who would need assistance including children.
The Red Cross suggests having two different meeting places. One should be outside of the home for a sudden emergency and another that is outside of your neighborhood, should you have to evacuate. Remember, it may be impossible to communicate with family members so make sure everyone is clear on locations.
Local communities usually have plans in place in the event of a disaster. Check in advance to familiarize yourself and your family with these specific tips. Sign up for local alerts and warnings. Nixle, for example, provides an open communication forum that connects public safety, municipalities, schools, businesses and the communities they serve. Nixle enables real-time, two-way communication through text, email, voice messages, social media, and the Nixle mobile app. It's free for residents. Also check with your local city government and public safety agencies.
Have a designated out-of-town family member as an emergency contact. They will be able to help while your family is dealing with the immediate problems of a disaster. Have their contact info programmed into your phone and as a back-up, keep their number in your wallet.
In case your mobile phone isn't working, have a list of important phone numbers written out and stored in a safe place.
Just like police and fire departments do practice drills, you, too, should do a couple of trial runs. Make sure everyone is clear on what to do and what their responsibilities are. The last thing you want is a real disaster becoming your first practice run.
While you're thinking about it, it's always a good time to check the batteries in your smoke, carbon monoxide and radon detectors.
Don't forget your pets. If you and your family have to evacuate your home, check to see which emergency shelters accept pets, or where you can board your pet until it's safe to come home again. The ASPCA has a complete section on how to include your pets and livestock in your preparedness plan, including finding safe havens and emergency kits.
About the author: Jeanette Pavini is a two-time Emmy Award winning consumer reporter completely over 10,000 money-saving stories. She is a columnist for The Street's Retirement Daily, and a contributor to various news outlets and a guest contributor for The Today Show. Her work has appeared in MarketWatch, The Wall Street Journal Weekend and USA Today. She was the chief consumer reporter for CBS 5 News in San Francisco where her money-saving segments became the backbone to her 30-minute consumer show.