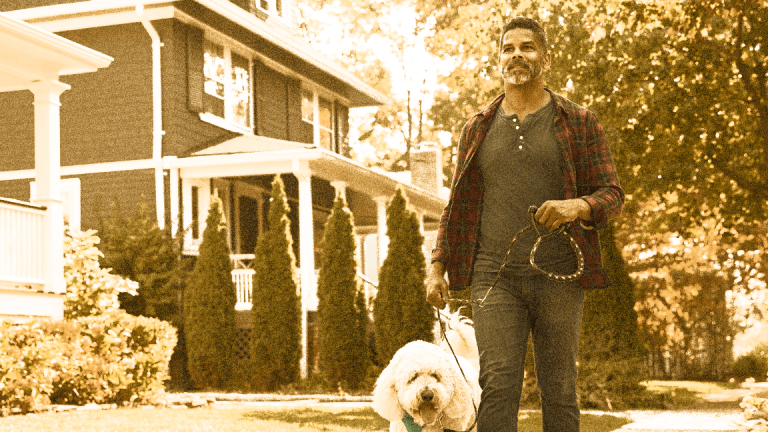 A Boomer's Best Friend
Jeanette Pavini digs up the physical and mental benefits of pet ownership. Arf.
I have always liked dogs but never owned a dog -- that is, until recently. Everything changed when my 28-year-old son said, "A dog would make this house more of a home." And then, as if the universe was trying to send me a message, I kept seeing social media posts from friends who do work with animal shelters. So, one Saturday night in November, I thought I would check out local rescue dogs. And there he was. A poodle mix that had been left to fend for himself on the streets of Los Angeles. I filled out the application with the intention of just going and meeting the little fella.
I had some concerns: Will he bark non-stop? Is he house trained? What if he's doesn't like to cuddle? But when I got to the adoption fair and the foster mother handed me this thin little dog, I fell in love. At the age of 55, I officially became a pet owner. His name is Puccini. I am now one of those women who asks people if they would like to see pictures of my dog and I rush home because I miss him.
At first I was worried if owning a dog would affect our plans for travel and the ability to come and go as we please. But we found a person who loves to take care of Puccini.
This is a good tip for anyone who travels and is considering adopting a pet: Find someone you trust and who can take care of your dog. It will make your life a lot easier. Sites like Rover.com can help you find a person in your area. Ask for personal recommendations from your friends, your veterinarian, and/or your dog trainer, and go about finding that person as if you were searching for trusted carers for a member of your family.
I connected with Philip Tedeschi, Rover.com's human-animal behavior expert and executive director of the Institute for Human-Animal Connection at the University of Denver to find out the role a pet plays as we near retirement.
Tedeschi says the social networks of retirees will weaken along with their health prospects and a pet is particularly significant for those in this group.
Question: How can companion animals augment therapeutic efforts?
Answer: They keep people healthier. Interactions between retired pet owners and their pets keeps people healthier across the board. Some of these health benefits include:
Decreased risk of coronary artery disease, a reduction in stress levels, and increased physical activity.
Lower blood pressure when a pet is involved in a task that can be stressful.
Increased beta-endorphin, oxytocin, and dopamine, among other health targets, in both humans and their dogs during time shared, demonstrating that time spent together is physiologically and psychologically beneficial for both species, especially when you, as the owner, have more free time than you did before retirement.
They prevent loneliness. Pets represent some of our most reliable and trustworthy relationships. "Evolutionary continuity" has contributed to dogs' ability to read human faces, emotions and interpret body language. They are highly emotionally attuned, especially to people they know and spend the most time with.
Question: What are the social and emotional benefits?
Answer: People with pets in general, compared to non-pet owners, have stronger support networks and are more involved in their communities.
They give owners purpose. The duty of having to provide routine care to another living being should be viewed as a "primary intervention." Aging people who have to feed an animal, be its custodian and help the animal stay physically active end up structuring their days more constructively than they would otherwise. Pets motivate people to care about the animal's health, which leads them to take better care of their own health.
Question: What are some of the physical health benefits for pet owners?
Answer: Pet walking contributes to a 50% increase in social connectivity, which in turn is good for the brain health of the pet owner. Noting the book "Walk a Hound, Lose a Pound," older adults who were pet owners showed a slower deterioration in their ability to perform activities of daily living than non-pet owners.
Purpose can be the key to overcoming inertia for many people. Especially for aging clients, it can get them out of the house and keep them circulating in the world. The human-animal bond, with its bi-directional needs, is good for the two-legged as well as the four-legged.
Question: What about the mental health benefits?
Answer: Dogs excel at pleasing you and being understood. Dogs and people started their connection for utilitarian purposes. Both offered each other tangible benefits. But today, that bond lives closer to places of the heart. This love connection has made each other highly attentive to each other. Although dogs don't send us emails or text message they have effective use of communication and language in the form of numerous cues. The use of eyes, mouth, tails and paws, body posture, vocalization, and more serve to express themselves and we are good and getting better at understanding. In turn, dogs have learned a lot about humans and the human world around them.
High on this list are dog's capacity to read human faces and body language to discern the emotional circumstances. Dogs have high levels of social-emotional attunement, especially with people they know. So, one of the ways to express love with dogs is to become an effective partner, communicator and respondent. Dogs for example know that the human hand is used to show or indicate things. For example, dogs recognize pointing (one of just a few animals that do). When we engage in a game, communicate and talk with our dogs and point to a toy or game or even to greet someone this is effective communication.
Finding the Pet That's Right for You 
It's important to find a pet -- dog, cat or other pet -- that's right for your lifestyle, your home, your abilities, your budget and needs. Check out the ASPCA's web site for tips on adoption, and resources for local shelters and adoptable dogs and cats in your area.
Don't forget that older dogs need homes, too, and often they are overlooked at shelters because they aren't as cute or attractive as a puppy. But older dogs have advantages: they are more mature and usually calmer than young dogs that need training and more exercise.
For me, Puccini has added so much joy and happiness into our lives. I walk more than I ever have on a daily basis and I have gotten to know some neighbors I would never have met otherwise. He's pretty much a dream dog and nothing beats watching him literally jump for joy when I come home.
In future columns, we'll look into the pros and cons of pet insurance and pet trusts.
Introducing TheStreet Courses: Financial titans Jim Cramer and Robert Powell are bringing their market savvy and investing strategies to you. Learn how to create tax-efficient income, avoid top mistakes, reduce risk and more. With our courses, you will have the tools and knowledge needed to achieve your financial goals. Learn more about TheStreet Courses on investing and personal finance here.