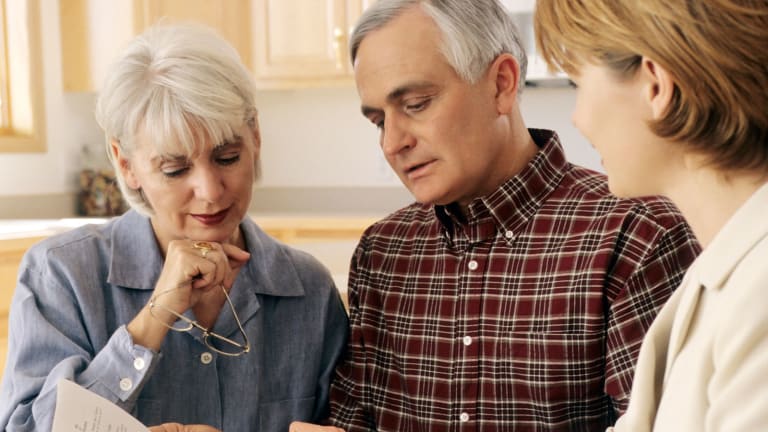 Critical Decisions You (or Someone You Care About) Will Face When Turning 65
If you (or someone you care for) is turning 65 soon, there are many decisions to be made, from Social Security and Medicare to working in retirement and healthcare. This is where you should start.
If you (or someone you care for) is turning 65 soon, there are many decisions to be made, from Social Security and Medicare to healthcare and working in retirement. This is where you should start.
If you're turning 65 this year, you're not alone. In fact, you'll be one of many reaching that milestone: Over the next 12 years, some 10,000 Americans will turn 65 every day. That works out to 3.65 million Americans a year, or some 43.8 million over the next dozen years.
And every one of those Americans will have to make some critical decisions -- it's all about timing.
"People turning 65 face a staggering number of decisions related to their health and financial security, and these complex decisions can have life-long consequences," Sen. Bob Casey, D-Pa., at a recent Senate Aging Committee hearing.
So, what are some of those decisions?
Enroll in Medicare
Well, high on the to-do list is enrolling in Medicare.
Medicare is, of course, the national health insurance program administered by the Centers for Medicare and Medicaid Services (CMS). It provides health insurance for people age 65 and older, younger disabled workers, and individuals with end-stage renal disease. According to Jim Borland, acting deputy director commissioner for communications at the Social Security Administration (SSA), the SSA is responsible for enrolling people in Medicare. Borland was one of several experts who spoke at the Senate Aging Committee hearing, Turning 65: Navigating Critical Decisions to Age Well.
Now, if you're already getting Social Security benefits, or railroad retirement checks, you'll receive information a few months before you become eligible for Medicare. And if you're already getting Social Security or railroad retirement, in most cases, you'll automatically get Part A and Part B starting the first day of the month you turn 65.
Retirement Is Complicated. It's never too early - or too late -- late to plan for and achieve your retirement goals . TheStreet's new premium subscription, Retirement Daily, will help you uncomplicate the world of retirement with the latest, news, research and analysis from TheStreet's "Mr. Retirement" Robert Powell and his team of experts. Learn more about Retirement Daily and get a free trial subscription.
Part A is hospital insurance which helps pay for inpatient care in a hospital or skilled nursing facility following a hospital stay. It also pays for some home healthcare, and hospice care. Part B is medical insurance which helps pay for services from doctors and other health care providers, outpatient care, home healthcare, durable medical equipment, and some preventive services.
If your birthday is on the first day of the month, Part A and Part B will start the first day of the prior month. Of note, you'll receive a 32-page Welcome to Medicare package that serves as your introduction to the program. This package is mailed about three months before your 65th birthday. In that package, you'll receive your Medicare card.
However, if you're not getting Social Security benefits, Medicare won't mail you any enrollment information.
Instead, you will have to enroll in Medicare during the initial enrollment period, which begins three months before the month you turn 65, includes the month you turn 65, and ends three months after the month you turn 65. And if you want to avoid penalties and/or gaps in coverage, experts often recommend enrolling at least three months before turning 65. You can enroll by calling Social Security at 1-800-772-1213.
(If you worked for a railroad, you will need to contact the Railroad Retirement Board (RRB) to sign up.)
After you enroll, you'll get your Medicare card.
Of note, Sen. Casey recently introduced the Medicare Beneficiary Enrollment Notification and Eligibility Simplification Act -- known as the BENES Act. The BENES Act would make sure every American receives a notice before they turn 65 that explains when to sign up for Medicare and what can happen if you delay.
Now, there's much to consider before enrolling in Medicare.
For instance, you'll need to evaluate whether to enroll in original Medicare (Part A and B) as well as Part D or Medicare Advantage. Part D is the Medicare prescription drug coverage which helps cover the cost of prescription drugs. Medicare Advantage, which is also known as Part C, includes all benefits and services covered under Part A and Part B and some plans include Medicare prescription drug coverage (Medicare Part D) and other extra benefits and services, including dental and vision care.
If you choose original Medicare, and have no other drug coverage that is as good as Medicare, you will need to join a Part D drug plan during the 7-month initial enrollment period (IEP) when you can sign up for Medicare Part A and Part B. What's more, you should also evaluate whether to purchase a Medicare Supplement Insurance, a Medigap policy, which is sold by private insurance companies to fill "gaps" in Original Medicare coverage.
Some also need to contemplate the interplay between Medicare and employer-sponsored health insurance. According to Medicare.gov, if you have questions about your current insurance, the best source of information is your benefits administrator, insurer, or plan provider.
Medicare Resources
More information on Medicare enrollment is available:
Another useful website is MedicareInteractive.org, powered by the Medicare Rights Center.
These publications explain how an individual who is not ready to apply for Social Security benefits but does want to enroll in Medicare can do so quickly and efficiently: How to Apply Online for Medicare Only and Retirement Planner: Applying For Medicare Only.
This publication, Retirement Information for Medicare Beneficiaries, provides information that can help an individual who has already enrolled in Medicare decide when to apply for Social Security retirement benefits.
The NCOA also offers an additional tool to help individuals navigate Medicare. My Medicare Matters is a free, educational website that helps visitors choose the best Medicare plan for their needs and make the most of their benefits.
Talk to a Real Person
But here's the thing: You might need to talk to a live human being before enrolling in Medicare.
"Understanding the A, B, C, and Ds of Medicare is an overwhelming, isolating experience if older adults go without help," according to Anna Maria Chávez, the chief strategy officer and senior vice president, external affairs of the National Council on Aging (NCOA), who testified before the U.S. Senate Special Committee on Aging in January. "Yet making sub-optimal choices when enrolling in Medicare can mean years of overpaying for coverage and even long-term penalties for late enrollment."
Read Chávez's testimony; and watch the hearing.
So, what are some options if you want to talk to a real live human? One resource: State Health Insurance Assistance Programs (SHIPs) offer local, personalized counseling and assistance to people with Medicare and their families. SHIPs can help you with things such as:
Your Medicare questions, including your benefits, coverage, premiums, deductibles, and coinsurance
Complaints and appeals
Joining or leaving a Medicare Advantage Plan (like an HMO or PPO), any other Medicare health plan, or Medicare Prescription Drug Plan (Part D)
Find links to state-specific SHIP websites. You can also contact local agents and brokers, but you should understand the pros and cons of working with such professionals.
Social Security
If you're turning 65 this year, 2018, and you have not yet filed for Social Security, there's a few things to know. Don't file just yet. Consider waiting a year or more. Your full retirement age, or FRA, is 66, not 65. So, if you file this year, you'll get 93.3% of the monthly benefit that you would get if you waited to file at FRA. Full Retirement Age is an important factor in claiming Social Security benefits; read more about FRA.
The first place to check for information, if you haven't already, is your Social Security Statement, which provides information on lifetime earnings as well as estimates of future benefits workers and their families may receive based on those earnings. You can access your statement at any time through your personal online account at My Social Security Account. You also receive an annual reminder to check the most recent version of your statements.
Borland also noted that the SSA currently mails statements to individuals aged 60 and older who are not receiving Social Security benefits and do not have a My Social Security Account set up. Among other things, you'll want to verify your earnings history and to inform SSA if your earnings need to be corrected.
Your statement, lists the benefit amounts that you are estimated to receive at age 62, at FRA, and at age 70. The statement also includes information on how work affects benefits; how a worker's claiming decision affects survivor's benefits; how to avoid a Medicare late-enrollment penalty; and information on average life expectancy.
If you haven't filed for Social Security, you'll want to become familiar with the SSA's publications, website, and other online tools. For instance, Frequently Asked Questions explain the effect that earnings, the age at which benefits are claimed, and the receipt of a non-covered pension may have on Social Security benefits.
The SSA also offers a variety of online calculators, including the Retirement Estimator, which allows you to input a few pieces of personal information and receive an estimate of benefits that would be payable if you were to claim benefits at age 62, at FRA, at age 70, or at any age in between based upon your actual earnings information.
"Choosing when to start receiving Social Security retirement benefits is an important decision that affects the amount that individuals receive for the rest of their lives," according to Borland's testimony. "Retirement claiming decisions can also affect the amount of the benefit that the worker's spouse will receive if he or she outlives the worker."
According to Borland, the Retirement Estimator also lets you enter different future earnings information and expected stop work dates, to help you decide the best time to retire. The SSA also offers a Life Expectancy Calculator to help people with their retirement planning. This calculator allows an individual to see average life expectancy based on individuals with his or her gender and date of birth.
If you haven't filed for Social Security, you might also check out some of the free online calculators that can help you and your spouse determine the best claiming strategy and how to maximize/optimize your household's overall Social Security benefits:
And here are five things you need to know about optimizing Social Security.
As you contemplate filing for Social Security, consider calling 1-800-722-1213 to speak to a SSA customer service representative or speaking to a rep face-to-face by contacting your local Social Security office. You'll get information about the Social Security and Medicare programs, and how the rules apply to an individual's situation.
"However, they (the SSA reps) do not attempt to persuade individuals regarding whether or when to file for benefits," according to Borland's testimony. "This is because our employees are not in a position to know about or discuss the personal circumstances -- such as financial resources, tax situation, health, and family longevity -- that may be important in deciding which age is best for that person to claim benefits."
You might also consider attending a pre-retirement seminar conducted by the SSA.
"Deciding when to claim retirement benefits can be complex, and a person should consider many factors when making his or her decision," according to Borland's testimony. "In addition to the monthly benefit amount, individuals should consider their personal and family circumstances, including current and future financial resources and obligations, and anticipated health and longevity.
What's more, Borland noted that married couples have two lives to plan for throughout retirement. "Married retirees must consider important information about Social Security protection for widowed spouses," he said. "A higher-earning partner who delays benefits will receive higher monthly benefits for his or her life. This delay may also result in higher survivor's benefits for a spouse if the spouse lives longer."
Look Forward to More Adventures
You'll need to think about living longer life than you might have anticipated and having higher daily costs. Consider a man reaching age 65 today can expect to live, on average, until age 84 and a woman until age 86, according to Chvez's testimony. What's more, one out of every four 65-year-olds today will live past age 90, and one in 10 will live past age 95. Also, the Elder Economic Security Standard Index calculates that people over age 65 with a mortgage need a minimum of $31,000 per year just to afford the basic necessities like housing, food, healthcare, and transportation, Chvez noted.
According to Chvez's testimony, living longer means increased chronic disease and rising health care costs. For instance, the National Center for Health Statistics reports that more than 85% of Americans aged 65 and over are coping with at least one chronic health condition, and 56% are coping with two or more. Chronic conditions include asthma, diabetes, heart disease, and arthritis. The good news, according Chvez's testimony, is that there are proven, cost-effective ways to help Americans successfully navigate life after 65.
Take Good Care of Yourself
According to Chvez's testimony, healthy behaviors can improve health and reduce expenses. "There is strong evidence that patients with chronic illnesses have better outcomes and lower costs when behavior changes are implemented, and these changes can be made only when patients have the confidence in their ability (self-efficacy) to effect change," she noted.
To that end, you might consider enrolling in Chronic Disease Self-Management Program (CDSMP), a six-week, interactive, small-group workshop -- which is also available online -- that helps participants deal with fatigue, pain, frustration, or isolation; maintain strength, flexibility, and endurance; manage and adhere to medications; communicate with family, friends, and health professionals; and eat healthy. Check out the NCOA's self-management programs.
On an individual level, Chávez noted that healthy behaviors are critical when it comes to preventing and managing chronic disease as you age. Older adults with chronic disease can stay healthier if they:
Exercise regularly: Physical activity boosts physical and mental health. A mixture of aerobic, strength and balancing building, and stretching movements are best for older adults.
Quit smoking.
Drink in moderation: For most older adults, moderation is defined as no more than one drink per day.
Sleep well: Getting at least seven hours of deep sleep each night is crucial for older adults.
Eat a healthy diet: Older adults should focus on foods that are high in nutrients and limit consumption of alcohol, caffeine, artificial sweeteners, and highly processed foods.
Manage stress levels: It's important for seniors to reach out to family and friends during rough spells and consider regular meditation.
Talk to their doctor: Older adults who have experienced any of the warning signs of depression or other behavioral health issues should talk to their doctor about treatment options.
Keep Your Balance
Falls are another pervasive and significant health concern for older adults, according to Chávez. "Like chronic conditions, falls can severely impact a person's quality of life and healthcare costs," she wrote. "One in four older adults falls each year. Every 11 seconds, an older adult is treated in the emergency room for a fall, and every 19 minutes, an older adult dies from a fall."
What might you do to prevent falling? Learn as much as you can about evidence-based falls prevention programs, including A Matter of Balance and Stepping On, the Falls Free Initiative, Falls Prevention Awareness Day, and 6 Steps to Prevent a Fall.
Behavioral Health and Social Connections
Good health is not only physical, but also mental, Chávez noted. For instance, one in four older adults experiences depression, anxiety, risk for suicide, or substance abuse, she noted.
What might you do, either for yourself or for an elderly parent? Consider using your local senior center. According to Chávez, "senior centers serve as a beacon for older adults seeking support and social connections."
She noted that almost 10,000 senior centers serve more than one million older adults every day. "Senior centers serve as a gateway to the nation's aging network -- connecting older adults to vital community services that can help them stay healthy and independent, as well as fun and friendships," she noted.
Know Your Resources
According to Chávez, older adults who are struggling economically might consider using safety net programs such as Medicare Savings Programs (MSPs), the Medicare Part D Extra Help/Low-Income Subsidy (LIS), Supplemental Nutrition Assistance Program (SNAP), Medicaid, and Low-Income Home Energy Assistance Program (LIHEAP). The NCOA estimates that low-income seniors are eligible for and not receiving more than $20.5 billion in aggregate annual benefits.
If you don't know how to apply and/or falsely think that other people need more help than you do, visit a Center for Benefits Access near you, visit BenefitsCheckUp, the nation's most comprehensive free, online tool to screen seniors with limited income for benefits, and visit NCOA's Senior Hunger Initiative.
Keep Working
Millions of older Americans continue to work past age 65 -- out of financial need or a desire to stay active, according to Chávez's testimony.
For instance, the Senior Community Service Employment Program (SCSEP) is the nation's oldest program to help low-income, unemployed individuals aged 55 and over find work.
There are other websites that older Americans can use to locate work too. Those include:
Dearth of Experts
There are now 49 million Americans who are 65 and older and currently, there are about 7,000 geriatricians in practice in the U.S., according Mehrdad Ayati, an adjunct assistant professor of medicine at Stanford University School of Medicine who testified before the Senate Aging Committee.
According to the Alliance for Aging Research, we should instead have 20,000 geriatricians -- nearly three times our current number -- just to accommodate the needs we have right now, Ayati noted.
What does this mean to you? Well, among other things, it's crucial that you work with healthcare providers that are trained in geriatric medicine and gerontology. Consider, for instance, as part of your Medicare annual wellness visit that your physician conduct a thorough geriatric assessment and evaluation that includes screening for depression, discussing nutrition, and screening for memory loss.
Ayati also recommends bringing together a team of healthcare providers, with a geriatrician at the center, who can work with family caregivers, primary care physicians, specialists, case managers, and other care professionals is of essence to ensure healthy aging. "This team can coordinate individual needs, synchronize the variety of short-term and long-term medical services, improve healthcare access and outcomes, support and improve communication resulting in improved individual well-being and health outcomes," he noted in his testimony. Also, ask your healthcare provider to conduct periodic evaluation of your drug regimen to avoid polypharmacy or over-medication, and even Drug Cascade Syndrome.
Ayati noted a lack of senior-friendly exercise centers in this country, but he suggested that staying physically strong is essential to preventing, slowing, or reversing the development of frailty. Of note, across the country, a growing number of YMCA associations offer something called Enhance Fitness, an evidence-based group exercise program for older adults that uses simple, easy-to-learn movements that motivate individuals (particularly those with arthritis) to stay active throughout their life.
According to Ayati, mental health is the most important aspect of healthy aging. He suggested that you look for programs at your local senior center or elsewhere that provide intellectual stimulation, offer adult educational programs, and provide community support for the seniors. "There is also a strong need for social engagement and interaction centers for the elderly," he noted.
Ayati also suggested that proper diet and nutrition are essential factors for health. What can you do? Learn about proper hydration, maintaining a balanced diet, practicing mindful eating, avoiding fad diets, and not relying on over-the-counter supplements and herbal remedies. Read his testimony.
Got questions about the new tax law, Social Security, retirement and/or investments? Email Robert.Powell@TheStreet.com.