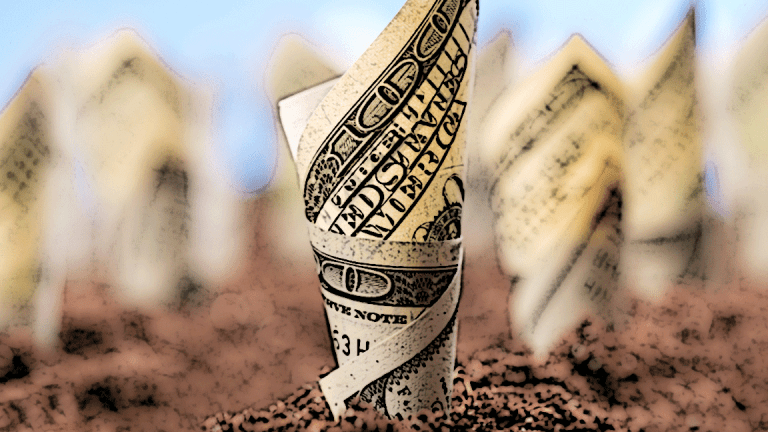 Question: There is a lot of discussion about income-generating investments being best for retirement accounts, given the tax treatment (REITS, MLPs, etc.). I was fortunate enough to retire early, at age 54, and need income-producing investments. Other than solid yield stocks what would be your recommendations to get 4-plus yields?
Answer: Let me start by suggesting that you read Income Seeker from TheStreet, which focuses exclusively on the sort of income-producing investments you seek. A recent issue, for instance, offered suggests that investors might consider, the following:
Senior floating-rate loans: these are issued by banks to less-than-investment-grade companies, but are very well collateralized and have very short durations. They can be purchased through ETFs or mutual funds. One example is SPDR Blackstone/GSO Senior Loan ETF (SRLN): yield 4.05%, duration 0.1.
Floating rate or fixed-to-floating preferred stocks: These are issued by corporations, and though called "stocks" are more properly viewed as bond equivalents. Though typically of long duration, there are a number that are either floating rate or have a fixed rate for a period before converting to floating rate. They trade individually or in funds or ETFs. Example of the former: Wells Fargo & Company (WFE.PRA), yield 6.17%, duration 1.7. Example of the latter: PowerShares Variable Rate Preferred Portfolio VRP, yield 4.36%, duration 3.5.
Meanwhile, Kerry Uffman, the owner of TWRU Private Wealth Management, suggests that you focus not just on income-producing investments. "The idea is to position wealth in the 'de-culmination' phase to capture high risk premiums by diversifying among asset classes that offer the higher risk premiums," he says.
According to Uffman, high-yielding stocks are going to be mostly large-cap stocks (not even large company growth stocks), small-cap stocks or emerging market stocks. "So over time you will miss out on capturing high risk premiums of these important asset classes by pursuing a high-yield investment policy," he says. "Pursuing capturing a high risk premium investment policy works well when a spending floor is built first for safety and the upside allocation is more a stock portfolio."
Uffman recommends reading Asset Dedication: How to Grow Wealthy with the Next Generation of Asset Allocation by Steven Hurley and Brent Burns.
Another adviser shares Uffman's point of view. "From the perspective of a retiree looking for income from their investments the idea of owning 'income-generating' investments intuitively makes sense," says Brian Fischer, a financial adviser with Evensky & Katz/Foldes Financial Wealth Management.
"However, when focused solely on those investments that generate income from either interest or dividends, one significantly reduces their investment opportunity set. With limited investments to choose from, diversification can quickly become an issue. Risk may unnecessarily increase, and tremendous opportunities may be missed."
Imagine, says Fischer, this: If stocks are an appropriate part of your portfolio, how would you feel if your U.S. equity allocation didn't include Amazon AMZN, Facebook FB, or Netflix NFLX over the past five years because they didn't pay dividends? "Ouch, talk about missing out on an opportunity," he says.
Building a portfolio with an incomplete toolbox, with only income-generating investments, can leave you with an incomplete portfolio, says Fischer.
The better approach? "A 'total return' approach, focused not only on interest and dividends, but also capital appreciation creates a complete portfolio uninhibited from limited investment options that may increase risk and limit opportunities," he says.
One last note: Uffman says MLPs should never go in to tax-deferred retirement accounts, such as IRAs, because of UBTI tax imposition. Read more about that here.
Got questions about the new tax law, Social Security, Medicare, retirement, investments, or money in general? Want to be considered for a Money Makeover? Email Robert.Powell@TheStreet.com.
Question: There is a lot of discussion about income-generating investments being best for retirement accounts, given the tax treatment (REITS, MLPs, etc.). I was fortunate enough to retire early, at age 54, and need income-producing investments. Other than solid yield stocks what would be your recommendations to get 4-plus yields? Subscribe for full article
Get Access to Our Exclusive Content
Already subscribed? Log In