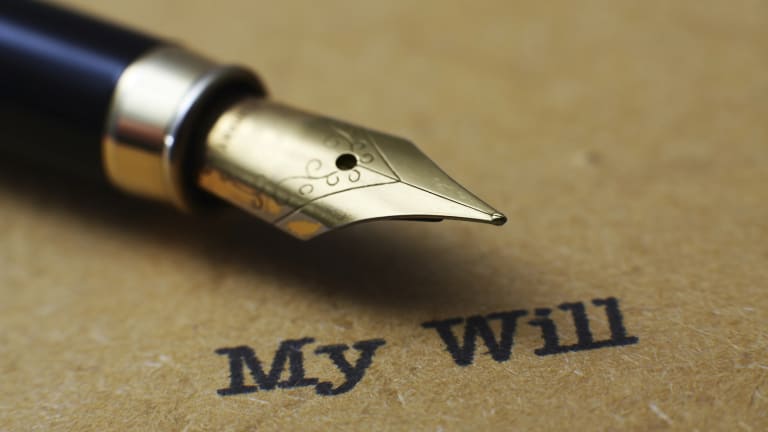 Ask Bob: Questions About Wills and Trusts
A reader wants to know if he can do a trust to replace a will and what are the pros and cons of a trust.
Question: I am interested in doing a trust to replace my will. I need an overview on the types of trusts and ballpark info on cost. Also, how to find a good trust lawyer, what are the pros and cons of trusts, and does a trust provide more privacy regarding who you are leaving your money to? Lastly, recommendations for finding/choosing an executor who is not named in the trust.
Answer: We asked John Scroggin, an Atlanta-based estate planning and tax attorney to answer your questions. Scroggin, among other things, has been inducted into the NAEPC Estate Planning Hall of Fame and U.S. News & World Report named him one of the 2018 Best Lawyers in America (Trust and Estate Designation).
He replies: It's extremely hard to provide you specific advice without more information. For example, what assets do you own? Are you married? Do you have children and/or grandchildren? What state do you live in? Here are some general insights to answer your questions:
There are many types of trusts, the use of which depends upon what you are trying to achieve. Trusts can be revocable or irrevocable. Trusts can provide for asset protection, marital benefits, protect financially immature heirs from squandering their inheritance and/or provide income tax benefits. But from the tenor of your question it sounds like you a looking for a revocable "living" trust to handle your estate planning needs. Such a trust generally has three central purposes:
To provide for the management of your assets upon any incapacity
To provide privacy on how you dispose of your assets (e.g., normally the revocable living trust is not a public document, while your Will is a public document.)
To avoid the cost of probate
For these objectives to work, the living trust must own most of your assets (excluding retirement plan and IRA assets) before you become incapacitated or die. It is also normally recommended that you have a will to pour any assets that you still own at death (e.g., your local bank account), into the trust.
There are other important aspects to your estate planning, including, but certainly not limited to:
A properly drafted medical directive and general power of attorney that provide for who will make medical decisions and asset decisions for you if you become incapacitated.
Properly drafted plan for beneficiary designations (e.g., insurance policies, retirement plans and IRAs). Failing to properly plan for these designations can create inadvertent conflicts and taxes.
Planning for how your personal property will pass. Our experience is that the single greatest source of estate conflicts is over the disposition of personal property (for example, that yellow Tweety Bird that sat in mom's kitchen for 50 years and can be purchased on eBay for $1.50).
If you own homes in different states, it's important to examine which state will be treated as your domicile state when you pass.
Finding a skilled estate planning attorney is an important first step in planning your estate. If you just need basic estate planning work and do not have a complicated fact pattern (for example, you are not in a second marriage with children from both your prior marriage and your current marriage, or you own a family business with a contentious cousin), talk with friends and neighbors about who they used.
If your planning is more complicated, here are some websites where you can locate local attorneys who specialize in the estate planning field. You can also contact your state bar association.
Here are some resources:
National Association of Estate Planners & Councils
Martindale.com Attorney Search
Costs can vary greatly depending upon the complexity of your needs and the skills of the attorney. Many attorneys will prepare estate planning documents on a fixed fee. It is recommended that you talk with at least two or three attorneys to see how you interact with them and how they bill.
A strong recommendation: Remember that you are trusting this attorney to plan for your incapacity, minimize possible family conflicts, minimize death taxes and income taxes and provide for the smooth passage of your assets when you die, so having the least expensive attorney (who may also be the least skilled) is not necessarily advisable.
Finding the right decision makers for your planning is an essential part of your planning. The decision makers include a primary named party or parties, with 2-3 successors in each position. Assuming you follow the advice in this article, you need at least:
A personal representative (in some states called an executor) to manage the estate administration
A trustee to manage the trust you create
A medical decision maker to handle your medical decisions upon your incapacity
A general power of attorney agent to handle your assets upon your incapacity
You can name one person or you can name co-decision makers (e.g., naming your wife and children as co-trustees). In looking for the decision makers, start with family, then consider close friends, then consider long-term professional advisers and then consider institutional decision makers. In many cases, institutions will not be willing to serve as decision makers under your medical directive or general power of attorney. Discuss all of your choices in detail with your estate planning attorney, including establishing processes by which decision makers can be removed and replaced and how they will be compensated.
There are lot of other issues that can blindside your planning and deplete the estate in costly conflicts, including:
Not properly planning for the passage of a family business or a family home.
Not updating your planning documents and beneficiary designations after a marriage, a divorce or the birth or death of an heir.
Not recognizing the statutory rights that your new spouse has to your assets, even if your will provides for a nominal bequest.
Not making sure that you adult children and elderly parents have medical directives and general powers of attorney in place.
Additional estate planning insights and planning documents can be found at Scroggin Law.
Got questions about the new tax law, Social Security, Medicare, retirement, investments, or money in general? Want to be considered for a Money Makeover? Email Robert.Powell@TheStreet.com.
Question: I am interested in doing a trust to replace my will. I need an overview on the types of trusts and ballpark info on cost. Also, how to find a good trust lawyer, what are the pros and cons of trusts, and does a trust provide more privacy regarding who you are leaving your money to? Lastly, recommendations for finding/choosing an executor who is not named in the trust.Subscribe for full article
Get Access to Our Exclusive Content
Already subscribed? Log In