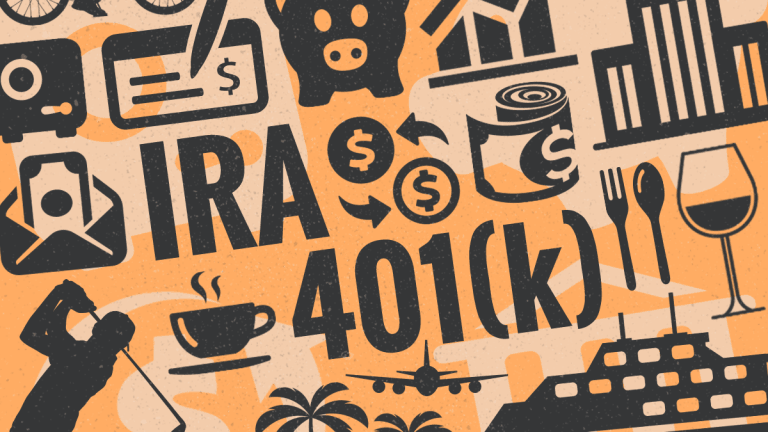 Ask Bob: IRA Withdrawal Strategies
A reader asks about managing IRA withdrawals while still in a lower tax bracket.
Question: Our gross income per year is $100,000, which includes my wife's city retirement and my Social Security. This does not include my RMD of about $10,000 a year that adds to our income and that we pay tax on. We do not need to withdraw money from our IRAs, 403(b) fixed fund or 457 Stable Value Fund. We have a significant amount also in a savings account.
Would we be wise/better off for the future if I withdraw $25,000 from my IRAs knowing that this amount adds to my taxable income, plus my RMD of about $10,000 making income about $135,000.
Am I better paying the taxes now if I withdraw say $25,000 versus just leaving in my IRA? Note: Since our income of $100,000 a year is guaranteed plus my RMD just adds to taxable income and my wife will start having RMDs in three years, are we better paying the taxman now versus later? I am 74 years old and my wife is 68 years old.
Answer: It sounds like the reader is in a fortunate and favorable position to have three sources of guaranteed income in retirement, says James Werner, a certified financial planner with Halliday Financial.
"The retirement income will continue to increase when his wife claims her Social Security, and she begins her required distributions in three years," says Werner. "If the reader feels his taxes may increase over time, it may make sense to take some taxable IRA withdrawals while in the lower tax bracket." 
On the federal return, for couples filing jointly, there is a 12% tax on taxable income from $19,050 to $77,400, and then a 22% tax on taxable income within the range of $77,400 and $165,00. (Keep in mind that taxes are progressive, so if the total taxable income is $100,000, the 22% tax will only apply to amounts over $77,400.)
Werner says the reader should consult with his tax professional to prepare an estimate of future taxes. A conversation with a Certified Financial Planner can also help provide guidance by coordinating a retirement income and expense plan. 
The reader should also check his state's tax law. As an example, N.Y. residents are exempt from state tax on the first $20,000 of IRA distributions. For some, it may be sensible to make withdrawals up to $20,000 from retirement accounts before age 70½, to spread out the state tax exemption over a longer period of time. If the reader wishes to take a withdrawal of $25,000 from the IRAs (assuming N.Y. residency), the strategy suggests taking $20,000 from his IRA account, and then $5,000 from the wife's IRA account. This way, the couple can capture a combined $25,000 withdrawal and avoid state tax on the withdrawal. If the $25,000 was taken from one of the accounts, then $5,000 would have been taxed by New York State. 
It may make sense to begin taking IRA withdrawals before 70½ if you believe your future tax liability may increase, says Werner. The tax liability increase can come from an increase in income, an increase in tax rates, or both. IRA withdrawals prior to 70½ can also be converted to a Roth IRA, which can offer future tax-free withdrawals. If you are over 70½, you must first satisfy the required distribution, and then any amount over the RMD can be converted to a Roth IRA.
Question: Our gross income per year is $100,000, which includes my wife's city retirement and my Social Security. This does not include my RMD of about $10,000 a year that adds to our income and that we pay tax on. We do not need to withdraw money from our IRAs, 403(b) fixed fund or 457 Stable Value Fund. We have a significant amount also in a savings account. Subscribe for full article
Get Access to Our Exclusive Content
Already subscribed? Log In