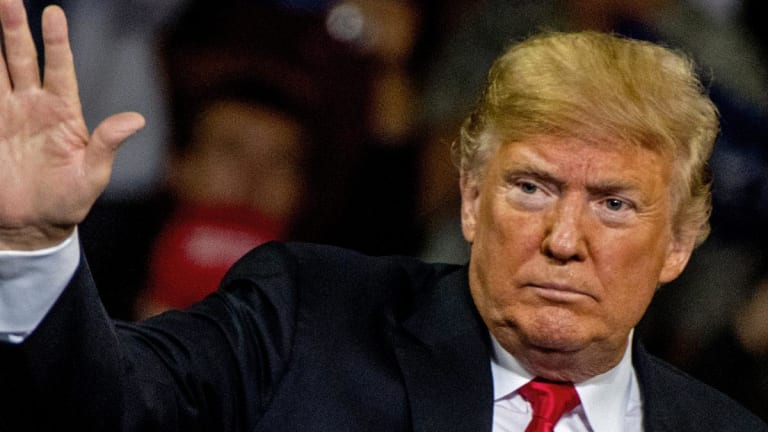 Zinke Replacement Expected Next Week
Secretary of the Interior Ryan Zinke is stepping down after continued scrutiny into his travel, political work and suspected conflicts.
President Donald Trump promised Saturday that a new Secretary of the Interior would be named next week, after beleaguered outgoing secretary Ryan Zinke said he's stepping down from the post as he has come under continued scrutiny into his pricey travel and suspected conflicts.
Zinke, the 52nd Secretary of the Interior, began his controversial stint in March 2017 but became dogged by investigations by the his department's inspector general as well as other probes.
Trump offered praise of Zinke Saturday, writing over Twitter that, "Ryan has accomplished much during his tenure and I want to thank him for his service to our Nation."
Later, Trump posted that "The Trump Administration will be announcing the new Secretary of the Interior next week."
It's unclear who will replace Zinke, an ex-Navy SEAL, and take over the federal agency. But deputy Interior Secretary David Bernhardt, a former oil and gas lobbyist, is likely to become acting secretary, according to Politico. 
The Department of the Interior manages a chunk of U.S. land, including public lands and minerals, national parks and wildlife refuges. The department employs 70,000 federal workers and also oversees conventional and renewable energy supplies on public lands and waters.
Probes into Zinke's political and other activities played into his decision to exit, according to a Twitter post by Zinke in which he criticized what he called "fictitious" allegations against him.
Over the Montanan's tenure, he is seen as helping Trump pull back environmental regulations and push for American energy creation, especially in oil and coal, but also wind.
"Secretary Zinke's record stands as a testament to the Trump Administration's America First focus," said Thomas J. Pyle, president of the American Energy Alliance in a statement that praised Zinke's role in easing permitting under the National Environmental Policy Act, reforming regulations on methane venting and flaring, and by expanding America's potential energy production.
"Zinke has unleashed American energy potential by tapping into the vast resource reserves on federal lands and opening up previously unexplored areas to development," said Pyle.
But other groups, especially those concerned about ethics violations and the environment, welcomed Zinke's departure.
"For months, we have had concerns about Ryan Zinke's decisions that harm national parks, their wildlife and our cultural and natural resources," said Theresa Pierno, president of the National Parks Conservation Association, who slammed his actions on national parks and protected lands and for "fast-tracking" oil and gas leasing processes in America's wild lands. 
Zinke's actions on a land deal in his home state of Montana and his refusal of a casino in Connecticut came under scrutiny by the Interior Department's inspector general, which referred the former case to the Department of Justice for possible prosecution, according to reports. But he's also come under fire for reducing national park land and for expensive travel including on military jets, and office remodeling on the government's dime, according to reports. 
Zinke, however, defended his reputation over Twitter, saying that "after 30 years of public service, I cannot justify spending thousands of dollars defending myself and my family against false allegations."
Save 66% with our '12 Days of Holiday Deals' Sale. Join Jim Cramer's Action Alerts PLUS club for investors and get our best deal of the year. Click here for details or to sign up.