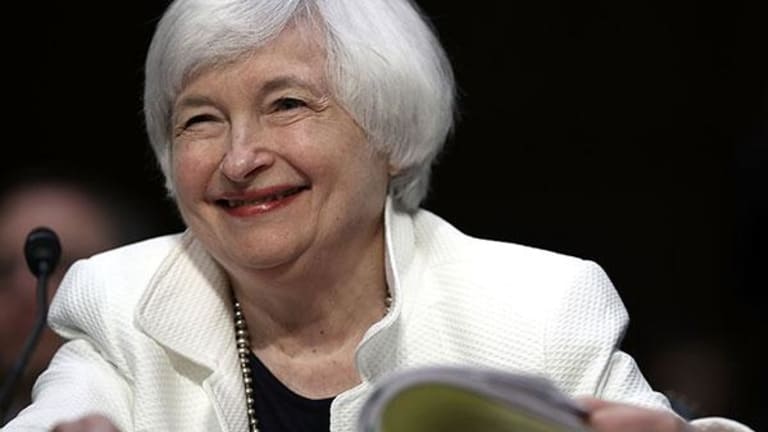 Yellen -- and the Economy -- Face Unmapped Territory in the Trump Administration
Experts on TheStreet's panel focus on what investors should know about Trump and the Federal Reserve.
Federal Reserve Chairman Janet Yellen has said she intends to serve out her four-year term, scheduled to end in February 2018. But given the difficulty of the tasks ahead of her -- from battling headwinds in the economy to battling policy upheaval in the White House -- she might consider cutting her tenure short, according to some of those who spoke at TheStreet's special live panel discussion held recently in New York.
Titled "How Investors Can Win," the discussion focused on ways investors can prepare for the incoming Trump administration. It also included lengthy discussion about the Federal Reserve.
The Fed Chair can be "more important than the president," said panelist Larry Siegel, the Gary P. Brinson director of research at the CFA Institute Research Foundation. 
The Federal Open Market Committee on Wednesday said it would raise its target for short-term interest rates by 0.25 percentage points to a range of 0.50% and 0.75%, citing labor market conditions and inflation. This marks the committee's first interest rate hike of 2016 and only its second hike since 2006. The Fed also anticipated three increases in 2017.
"When they're this low, I think raising interest rates does help the economy, because savers start to earn a positive real rate of return on their savings," Siegel said. "You have this perverse effect when interest rates are very low, which is that you have to save more and more in order to get the same income."
The zero-interest-rate policy implemented under the watch of Former Fed Chairman Ben Bernanke during the financial crisis has persisted for what critics say is an unnecessarily long time. But sympathizers point out finding the magic number isn't easy.
"Finding that balance is something that a talented Fed chair might be able to do. But where are we going to get a talented Fed chair? I don't think Janet Yellen is going to be renominated. What does Donald Trump think a good Fed chair looks like?" said Siegel.
Trump often criticized the Federal Reserve during the presidential campaign.
He accused Yellen of holding interest rates artificially low to aid Democrats and of creating a false economy. At a September debate with rival Hillary Clinton, he declared the Fed was "not doing their job" and contended the apolitical body was being "more political" than his opponent.
The self-described billionaire also said he would "most likely" seek to replace Yellen, even though he has no way of doing so unless she resigns before her term ends.
The chair of the Fed's Board of Governors is nominated by the president and approved by the Senate. However, the president has no authority to remove the chair.
Yellen acknowledged that she might not be appointed for another term. "It's a decision that I don't have to make and don't have thoughts on at this time," she said.
Also from this event:Here is why the president doesn't matter much for the markets
In the FOMC statement on Wednesday, the Fed reiterated that its stance on monetary policy remains accommodative, "thereby supporting some further strengthening in labor market conditions and a return to 2% inflation."
Lewis Altfest, CEO and chief investment officer of Altfest Personal Wealth Management, said during the panel discussion, held before Wednesday's FOMC meeting, that Yellen appears to be open to inflation.
"She's indicated that she would not be averse to having a little more inflation. And I think that she is going to slow as much as she can raising rates so that the wage rates that the average worker gets move up. And she doesn't care that inflation will pick up. At that point, she'll say this is a temporary phenomenon," he said.
"I think that Janet Yellen understands that we have a big problem in this country now. And that it isn't so much what Trump is -- he may or may not be the savior or a problem himself. But the middle-income, the working-class person hasn't gotten a fair shake -- for the way he or she has seen it -- since 2009, and really way before. That's why they took a risk on Trump," Altfest said.
More:See the full special report from our live panel discussion, "How Investors Can Win."
To be sure, wage growth, jobs creation and economic prosperity will depend on much more than Trump. Congress will need to play a role as well -- an area where it's fallen short in recent years.
"You had a Congress, in terms of their fiscal duties, that has been MIA the past eight years," said Barry Ritholtz, founder and chief investment officer of Ritholtz Wealth Management.
Trump said he plans to cut taxes and roll back regulations as president -- which, he says, will lead to 4% economic growth and the creation of 25 million jobs. Many economists dispute those results.
At the Wednesday conference following the FOMC meeting, Yellen said the committee had discussed the president-elect's economic plan and its implications.
"I would simply summarize by saying that all the FOMC participants recognize that there is considerable uncertainty about how economic policies may change and what effect they will have on the economy. And insofar as that will affect monetary policy, of course we will have to factor those policies along with many other things, including the global environment and oil prices and other matters. We will have to factor that into our outlook and figure out what is an appropriate response," she said.
Also from TheStreet's panel discussion:Value investing, growth in global markets could surprise to the upside in the Trump era.
While Yellen and the Fed will be responding to Trump's economic policies, they will likely ignore his social media habits.
The president-elect, famous for his Twitter affinity, has dinged Lockheed Martin (LMT) - Get Report , Boeing (BA) - Get Report and United Technologies' Carrier on the 140-character platform since the election, causing their stocks to take at least a temporary hit.
"When the president tweets, the market responds [in relation to a] specific company. Just let that sink in for a second. Is this going to be just a sort of razzle-dazzle distraction from other issues? Or is he going to be randomly threatening companies?" said Ritholtz.
The Fed also said it now anticipates U.S. GDP will grow 2.1% in 2017, 2% in 2018 and 1.9% in 2019.
"In the past, what's happened is that we've grown our way out of the problem. Time after time, we hear this sob story about we're never going to grow again," said Siegel. "I think the rate of growth in the far future is about equal to what the rate of growth has been in the past. ... That's what I think is going to happen after some of these problems shake out. But how to get from here to there is a mystery."
More:See the full special report from our live panel discussion, "How Investors Can Win."