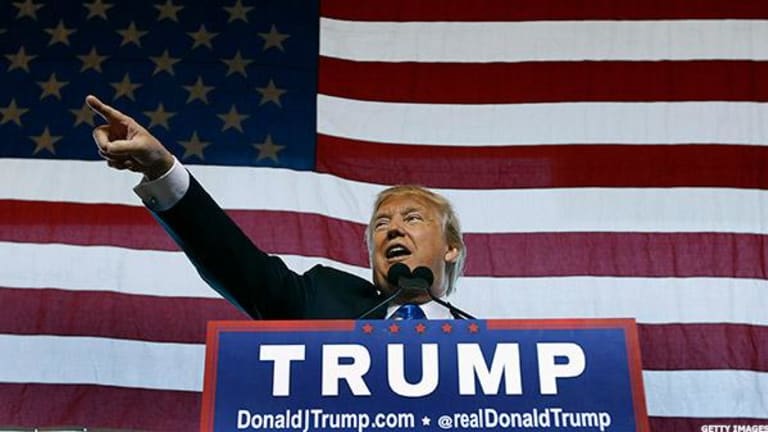 Donald Trump's camp says there's no way, no how he will release his tax returns while under audit. Tax lawyers say such a decision may make sense under normal circumstances, but these aren't normal circumstances.
The Republican presidential nominee's son, Eric, this week told CNBC that it would be "foolish" of his father to release his tax returns.
"There is no tax attorney in the world who will tell you to release your tax returns while you're under a standard, routine audit," he said. "You would have a bunch of people who know nothing about taxes trying to look through and trying to come up with assumptions on things they know nothing about."
The IRS is currently auditing his tax returns from 2009 on, an audit of his 2002-2008 returns has already been completed.
We asked a handful of tax attorneys how they would approach Trump's tax conundrum. They agreed it was a sticky situation.
"Speaking as a tax lawyer who represents taxpayers under audit, I would never advise a client whose returns are under audit to make those returns public," said Robert Kovacev, a tax lawyer with Steptoe & Johnson in Washington, D.C. "If you release a tax return to the public, what you are essentially doing is crowdsourcing the audit."
In releasing what Trump has described as his "very big" and "very beautiful" tax returns, the real estate magnate would open up his tax practices to millions of Americans and, perhaps more importantly, hundreds of tax lawyers eager to comb through the documents line-by-line. He might be under audit for three or four items, and a tax expert could spot another discrepancy in the mix.
"From a tactical perspective, he's just trying to save himself some money, because he doesn't want the IRS to be digging around on some issues that it hasn't yet found," said Scott Michel, a tax lawyer at Caplin & Drysdale in Washington, D.C.
Trump ally Newt Gingrich has some experience in this arena. The former Speaker of the House came under fire during his 2012 presidential bid when tax lawyers noticed in his 2010 returns that he had avoided paying Medicare tax.
And even if where there's smoke there's no fire, the IRS may feel inclined to act anyway. "My concern is that someone in the public would make an issue about something that's not really an issue substantively, but the IRS would feel political pressure to continue to investigate that issue even if there was no problem, said Kovacev.
Robert McKenzie, a tax lawyer at Arnstein & Lehr in Chicago who was one of the attorneys first to notice Gingrich's Medicare tax tactics, said Trump is performing a bit of a balancing act in protecting his private and business interests while potentially bearing some political costs, as most voters agree he should release his tax returns. As to whether he would advise Trump to release the documents, McKenzie said, "It would depend on what was hidden in there."
Trump's disclosure of his tax returns might intrude on his personal and commercial privacy, and citizen auditors could prove problematic, conceded Steve Rosenthal, veteran tax attorney and senior fellow at the Urban-Brookings Tax Policy Center, in a recent blog post. But he also emphasized that Trump is no longer a mere businessman trying to make his way in the private sector.
"Sure, a lawyer generally would advise a client to keep their return information confidential. But Trump is no ordinary client: he is a candidate for president. The issue is not whether he may pay more taxes if he discloses his return, but his fitness for office," he said in an email to TheStreet.
Laurie Kazenoff, partner at Moritt, Hock & Hamroff in New York, echoed the sentiment. "Mr. Trump's defense that he is under audit is not an excuse in his case and is distinguishable as follows: he is a Presidential candidate. He is held to a higher standard than the average person in that it is important that he be transparent -- disclosing his tax returns as filed is an important factor (among many others) when running for the highest office of the land. He should have nothing to hide," she said in an email to TheStreet.
Trump continues to walk the tax return tight rope, and it appears he will do so through November, calculating the business risk outweighs the political cost.
"From a legal perspective, I would say to him, 'You're making a fool of yourself by arguing that you can't release your returns because you're under audit, because that's just not true as a legal matter,'" said Michel.