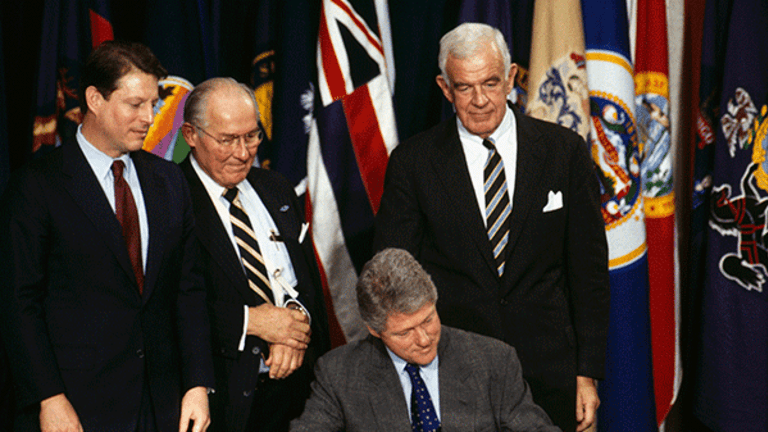 With Trump Renewing Vow to Renegotiate NAFTA, Here's Some of the Most Vulnerable Companies
The president's call to rework or scrap the trade deal with Canada and Mexico, in place since 1994, has far-reaching implications--from candy companies to railways.
On his second full day in office, President Donald Trump reiterated his campaign promise to renegotiate NAFTA, a move which would have a large impact across sectors. 
"We will be starting negotiations having to do with NAFTA," Trump said Sunday at a White House event. "We are going to start renegotiating on NAFTA, on immigration and on security at the border."
Secretary of Commerce nominee Wilbur Ross similarly said at his confirmation hearing that "NAFTA is logically the first thing we should deal with."
Trump added that he plans to meet meet with Canadian Prime Minister Justin Trudeau and Mexican President Enrique Pena Nieto, both of whom face domestic political pressure to preserve NAFTA.
The North American Free Trade Agreement is a trade agreement between the United States, Canada and Mexico that came into effect in 1994. The purpose of the agreement was to establish the freest possible trade across the three countries, including the elimination of most tariffs. Trump argued during his campaign that NAFTA was a "disaster," a break with the traditional Republican orthodoxy's support for free trade. He's singled out companies from United Technologies (UTX) - Get n.a. Report to Mondelez (MDLZ) - Get Mondelez International, Inc. Class A Report for moving any part of the production process overseas, especially to Mexico.
General Motors (GM) - Get General Motors Company Report was the recipient of one such criticism.
"General Motors is sending Mexican made model of Chevy Cruze to U.S. car dealers-tax free across border," he tweeted on Jan. 3. "Make in U.S.A.or [sic] pay big border tax!"
Unlike several CEOs who have faced such remarks from Trump, GM CEO Mary Barra said the company would not change its production plans, which are made years in advance.
Another car company, Ford (F) - Get Ford Motor Company Report , is faced with a similar conundrum. RBC Capital Markets analyst Joseph Spak wrote in a Thursday note that Ford's management "believe[s] administration may accomplish trade goals via tax reform." If instead Trump opted to renegotiate NAFTA or impose tariffs, "new investment stalls" and Ford would "need to figure out what to do with existing footprint."
Hours after Trump's tweet about GM, Ford canceled plans unveiled in April to build a $1.6 billion plant in Mexico, which Trump had attacked during the campaign.
At the Reuters Breakingviews "Predictions 2017" breakfast on Jan. 10, Union Pacific (UNP) - Get Union Pacific Corporation Report CEO Lance Fritz, who was largely optimistic about the forthcoming Trump administration, expressed some concerns about the possibility of decreased trade with Mexico.
"70% of our revenue is originated or terminated outside the U.S. 12% of our business is with Mexico. But I'm optimistic they'll get trade right," he said, noting that regardless, it's hard to unwind trade policies in place. Calling NAFTA a "home run" for increasing trade with Canada and Mexico, he said attempts by the Trump administration "to destroy that and replace it with a tariff regime" would be untenable.
Another rail company, Kansas City Southern (KSU) - Get Kansas City Southern Report , sought to placate investors who were concerned about the company's southbound cross-border traffic, which accounts for 29% of its revenue.
The president also mused about instituting a 35% tariff on goods made in Mexico, which Wells Fargo (WFC) - Get Wells Fargo & Company Report analyst Bryan Hunt wrote would particularly impact B&G Foods (BGS) - Get B&G Foods, Inc. Report and Constellation Brands (STZ) - Get Constellation Brands, Inc. Class A Report , both food companies with "significant operations in Mexico that import production into the U.S."
In a Jan. 5 earnings call, Constellation's management also played down the risk of Trump's proposed Mexico policies. CEO Rob Sands told analysts he was "working directly with our legislators to safeguard our ability to continue to cost effectively produce and sell" imported products. Imported Mexican beer accounted for 52.6% of Constellation's net sales and 63.5% of profits in its most recent fiscal year. 
Action Alerts PLUS, which Cramer co-manages as a charitable trust, is long WFC.