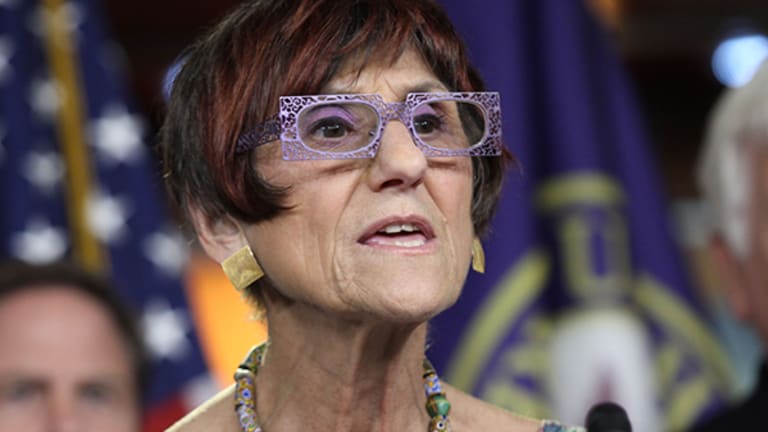 With New Treasury Department Rules, Is This the End of Tax Inversion Deals?
The 12-term congresswoman from Connecticut has been on the front lines among those on Capitol Hill seeking to discourage tax-avoidance cross-border mergers
The Obama administration's recent efforts to discourage tax-avoidance mergers is a welcome step, according to Representative Rosa DeLauro, A 12-term congresswoman from Connecticut that has been on the front lines among those on Capitol Hill seeking to limit these cross-border deals known as "tax inversions."
In September, DeLauro (pictured) and a group of six other Democratic lawmakers, sent a letter to Treasury Secretary Jacob Lew suggesting that the agency could take executive action to curb so-called "earnings stripping," which is when a U.S. unit reduces its tax bill by borrowing from its foreign parent and deducting interest payments in the U.S. -- one type of tax inversion. 
The agency subsequently did just that and a day later, a $160 billion deal to merge pharmaceutical giants Pfizer (PFE) - Get Pfizer Inc. ReportAllergan (AGN) - Get Allergan plc Report  was called off. Deep Dive: Tax Inversions: Explaining What They Are, How We Got Here and What's Next
These inversion deals and the government's response to them are part of a larger pattern of increased regulatory scrutiny by the federal government over mergers and acquisitions. Using data from the Federal Trade Commission and The Deal, a subsidiary of TheStreet.com, TheStreet has discovered a pattern of increased regulatory actions challenging mergers that dates back to the Reagan administration. Under President Obama, the FTC, DOJ and other regulatory bodies have challenged and blocked a higher proportion of U.S. deals than ever before. At the same time, deals are getting bigger and more complicated. Call it "Big Business vs. Big Government."
DeLauro took some time to speak with TheStreet about the Obama administration action and why she wants the Treasury Department to publish an annual list of companies that have completed inversion deals.
TheStreet: Your letter in September suggested that the Treasury Department could take administrative action to limit earnings stripping. Do you think you had an impact on their decision?
Rosa DeLauro: Everyone would like to think they made a positive contribution. I think I have. I've been speaking about it for many years. I will just tell you this is the first administration that has acted on it. They are not only hearing from me but it has become such a routine thing to see these inversion tax avoidance deals. The consequences are so grave in terms of revenue loss to the United States and our tax structure allows it to happen so I think I have played a positive role but there were others. The whole issue itself and the unfairness of it all has resonated.
TST: About 24 hours after the Treasury Department announced its administrative actions on inversions, New York pharmaceuticals giant Pfizer said it was going to scrap its $160 billion merger with Allergan. Is that it for inversions or will we still see more?
RD: I am a strong believer that we have to move with legislation to affect this. We also have to take a look at situations where the income has shifted and look at what that means. We have to take a look at that tax structure and see what we have to do to stop allowing this. Today it is still legal.
TST: You've urged Treasury to publish an annual list of inverted corporations, arguing that such a list could help hold "corporate deserters" accountable. The Treasury Department responded to you by saying that under current law Treasury and the IRS are prohibited from sharing taxpayer-specific information. Why?
RD: One of the first things we have to do is get the list of inverted corporations. We can't get a hold of it. I'm sure they [Treasury] has a list of inverted corporations. We have a mixed track record for enforcing an existing government contracting prohibition on inverted corporations and part of that is because it is difficult for some procurement personnel to find out whether a company is inverted. If we had a list we could get a sense of who is doing what.
-- For Banks, Era of 'Too Big to Fail' Is Also Era of 'Too Small to Succeed'
-- Will the Halliburton-Baker Hughes Deal Survive Government Opposition?
-- Obamacare Has Big Government Fighting Itself Over Hospital Mergers -- And Winning
-- Will the Next President Be as Tough on Mergers and Acquisitions as Obama?
-- Antitrust Regulators Are Getting Smarter and More Aggressive
-- Top Antitrust Regulator Debbie Feinstein Q&A
-- Tax Inversions: Explaining What They Are, How We Got Here and What's Next
-- Are Activist Hedge Fund Managers to Blame for Mega-Deal Failures?
-- Government Oversight on Mergers Is Taking Longer Than Ever, Delaying Deals
-- With New Treasury Department Rules, Is This the End of Tax Inversion Deals?
-- Treasury Department Was 'Targeting' Pfizer-Allergan Deal