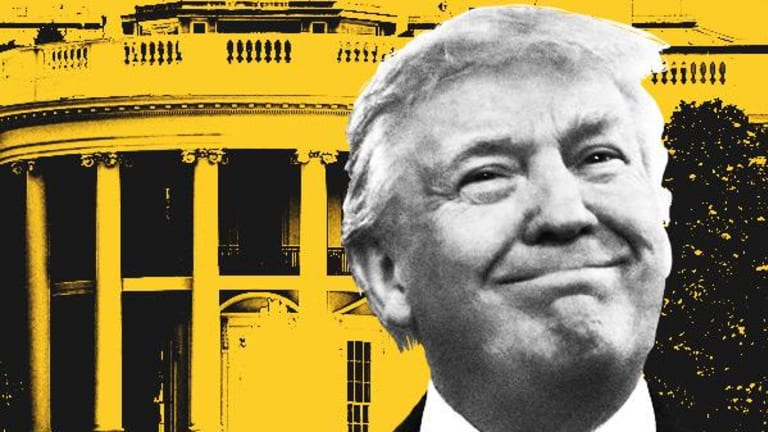 The Reckoning: With Comey Memo, Wall Street Finally Reacts to Trump
And now we know what President Trump needed to do to rattle markets -- or, rather, James Comey.
And now we know what President Trump needed to do to rattle markets -- or, rather, James Comey.
Now we know what President Trump needed to do to rattle markets.
Stocks tumbled on Tuesday morning in the wake of reports late Monday that the president asked James Comey, while still FBI director, to stand down on an investigation into one of his top national security advisers. A widening scent of scandal out of the White House and growing rumblings of possible impeachment appear to have finally unnerved investors who up to now have largely turned a blind eye to turmoil in Washington. 
"Investors have pretty much shrugged off a lot of the headlines, perhaps believing that this is business as usual and that this is what we signed up for," said Jack Ablin, chief investment officer at BMO Private Bank. "This perception of, or allegation of, obstruction of justice has changed investors' view that this could lead to impeachment."
The S&P 500, Dow and Nasdaq all fell more than one percentage point by mid-morning trading on Tuesday, with the Dow wiping off over 200 points. Safe-haven gold rallied 1.5%. The Vix index, which measures volatility and is often referred to as a gauge of investor fear, shot up more than 20% after hitting multi-year lows just days ago.
Comey in February reportedly wrote a memo that the president asked him to drop the FBI's investigation into former National Security Adviser Michael Flynn's contact with the Russian ambassador to the United States and discussions of U.S. sanctions. The New York Times was the first to break the news, which was corroborated by several news outlets. Trump fired Comey last week.
House Oversight Committee Chairman Jason Chaffetz (R-UT) in a letter to acting FBI director Andrew McCabe on Monday requested the agency turn over all documents it has about communications between Trump and Comey.
Legal analysts say Trump's request, if true, could potentially be considered obstruction of justice.
"There are a lot of unanswered questions," Speaker of the House Paul Ryan (R-WI) said in a press conference on Tuesday. He warned against rushes to judgment and emphasized the importance of Congress gathering the facts.
There are two ways to look at the market pullback in the wake of the Comey memo fallout, Ablin said.
"One is we have an expensive market that's probably out over its skis anyway, and so if an expensive market is looking for a catalyst for correction, this could be it," he said. "On the other hand, there's a lot of liquidity on the sidelines coming in, not the least of which is coming from the Fed."
Michael Mussio, president at wealth management firm FBB Capital Partners, said regardless of the White House drama, the market may be due for a market correction anyway.
"It's probably time that we saw something in terms of a pause," he said. "Could this be the catalyst? It could be, particularly if there are more memos and more digging in on different sides."
Peter Cohn, senior analyst at Washington, D.C.-based investment firm Height Securities, said Tuesday's market reaction is overblown. "If there's going to be any type of proceeding to attempt to remove Trump from office or even if things get to the point where he considers resignation, we are a long way from that point," he said.
Still, investors shouldn't expect smooth sailing, either. "It's going to be choppy for a while," he said.
Jim Cramer isn't sold on the market selling on Trump. Learn more at RealMoney.
Jim Cramer has a private investment club. Try Action Alerts PLUS for free.
More of TheStreet's top stories:
Here's How Home Depot Is Trying to Destroy Dying Sears