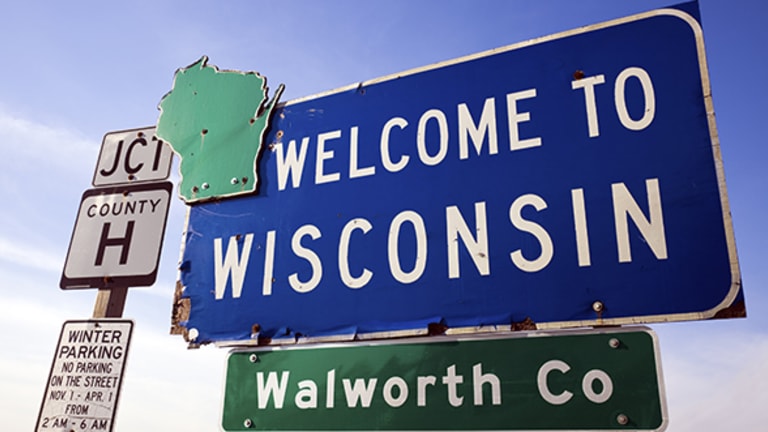 Trump, Sanders in Wisconsin May Show Democrats How to Win Back Congress
The popularity of Democrat Bernie Sanders and Republican frontrunner Donald Trump in Wisconsin is showing Democrats how they might recover from the losses suffered two-years ago in mid-term elections.
For Mark Pocan, a Wisconsin Democrat who represents liberal Madison and its adjacent counties in Congress, the 2016 presidential election is altering the political landscape.
Two years ago, Democrats in Wisconsin were slammed as voters handed Republican Scott Walker's anti-union, budget-austerity crusade a second term. Walker, bolstered by Koch brothers funding, defeated the little-known and under-managed campaign of Democrat Mary Burke with 52.3% of ballots, compared with her 46.6%. 
In the 2014 mid-term election, Democrats lost a net 13 congressional seats as well as governorships in solid-blue states like Massachusetts, Maryland and Illinois; today, there are just 18 Democratic governors. 
But in 2016, many of the issues that Pocan hoped would resonate with voters two years ago have taken center stage: frustration with stagnating wages and concerns that "free trade" agreements meant the loss of well-paying manufacturing jobs. Anger that neither party's leaders are sufficiently addressing the concerns of ordinary Americans has helped to fuel the unlikely campaigns of both Democrat Bernie Sanders and Republican Donald Trump.
"If you want to connect with real voters, you better talk about what they're talking about," Pocan said in a phone interview near Beloit, Wis. "This is finally now an election where everyone gets that, but I wish we would have gotten it a couple of years earlier.
In Wisconsin, the loss of manufacturing jobs still stings. General Motors idled its Janesville factory, which employed 1,200 people, in 2009, and only officially said in October that the 4.8 million-square-foot plant, which employed as many as 7,000 people in the 1970s, wouldn't be reopened. Chrysler closed the Kenosha Engine Plant in 2010, leaving behind 800 jobs.
But it's not just auto production where Wisconsin has lost manufacturing jobs. As a result of the 2008 recession, 163,800 jobs, approximately 5% of the state's job base, were eliminated, according to the Wisconsin Department of Revenue. The manufacturing, trade, transportation and utilities, as well as professional and business service sectors suffered the bulk of the job losses. In short, the state's middle class.
Trump held a rally on March 29 in Janesville, House Speaker Paul Ryan's hometown, in part to tweak the party's leadership which has been less than enthusiastic about his candidacy, but also to emphasize the former vice-presidential nominee's support for the Trans-Pacific Partnership, the multilateral 12-nation trade agreement that includes Japan, Malaysia and Vietnam.
The TPP, Trump said, "will make NAFTA look like a baby." And in a moment that must have heartened Wisconsin Democrats, the crowd at Trump's rally booed when he mentioned Gov. Walker, who earlier in the day had endorsed Cruz. The Texas senator held a narrow four percentage-point lead over Trump in Wisconsin, according to the weighted average of seven polls surveyed by Real Clear Politics. 
"People who are Democrats, Republicans and independents universally don't like the idea of a trade deal that can send jobs overseas," said Pocan, who has withheld endorsing a candidate until the primaries conclude in June. "The reason Donald Trump has this kind of interesting support is that part of his message is tapping into the anger around flattened wages, and the economy not treating everyone fairly."
That's also a sentiment that has helped to fuel Bernie Sanders' campaign, and his lead over Hillary Clinton among Wisconsin voters heading into its primary. The Vermont senator held a 2.6% lead above the Democratic frontrunner, according to Real Clear Politics. 
Sanders' populism, which led him to victories in neighboring Minnesota's caucus and in Michigan's primary in March -- which Michael Tomasky in The The New York Review of Books called "arguably, the biggest upset in the history of presidential primaries -- has consistently focused on economic issues: a tax regimen that Sanders argues affords loopholes for the country's wealthiest, trade pacts that have intensified income inequality and a campaign finance structure that allows the largest corporations to have outsized influence in who is elected and what gets passed in Congress.
Two years ago, Pocan said, Democrats failed to connect with voters on bread-and-butter issues of wages and opportunity. Sanders, and to a certain extent Trump, are showing Democrats across the country a formula that might work to help the party recapture the House and win back some state houses. 
"2014 wasn't a great year for us," Pocan said. "Our message could have been much more targeted on that part of the economy that got left behind during the recovery. This is finally now an election where everyone gets that."