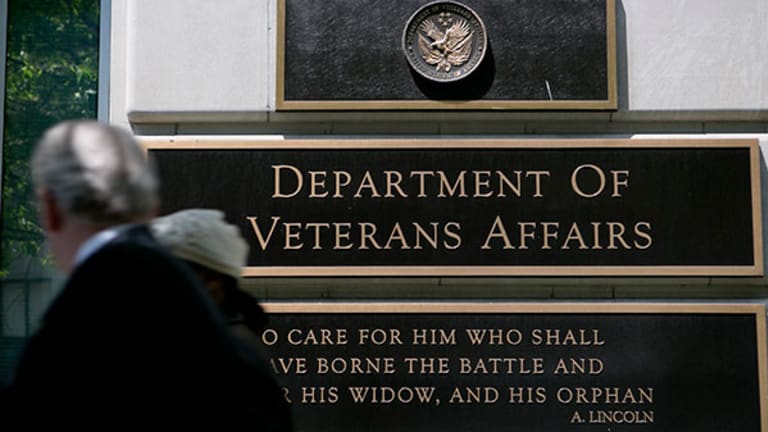 Will Veterans Affairs Nominee David Shulkin Privatize the VA? We Don't Know
If confirmed, Shulkin, the current Undersecretary for Health at the VA, would be the first non-veteran to hold the post and the first Obama administration alum in Trump's Cabinet.
President-elect Donald Trump's pick to serve as Secretary of Veterans Affairs, Dr. David J. Shulkin, has worked in the Cabinet office for 18 months. If confirmed, he'll have to grapple with the push by some, including possibly Trump himself, to privatize the VA.
Shulkin was nominated by Barack Obama and confirmed by the Senate in June 2015 as Undersecretary for Health at the Department of Veterans Affairs. If confirmed for his latest nomination, he'll be the first alumnus of the Obama administration to join the Cabinet.
An internist, Shulkin graduated from Hampshire College in 1982 and obtained a medical degree from Drexel University's medical school, then known as Medical College of Pennsylvania.
Shulkin will also be the first non-veteran to assume the post. The current Secretary of Veterans Affairs, Robert McDonald, graduated from West Point and attained the rank of Captain after serving primarily with the Army's elite 82nd Airborne Division. He was previously CEO of Procter & Gamble (PG) - Get Procter & Gamble Company Report .
Prior to joining the Obama administration, Shulkin led several hospital systems, including New Jersey's Morristown Medical Center and New York's Beth Israel Medical Center, now known as Mount Sinai Beth Israel.
"Sadly our great veterans have not gotten the level of care they deserve, but Dr. Shulkin has the experience and the vision to ensure we will meet the healthcare needs of every veteran," Trump said in a statement.
The appointment is puzzling in that Trump has long touted his commitment to veterans and criticized the VA for treating veterans "horribly."
That commitment has not been without controversy, however. Trump famously skipped a primary debate to hold a fundraiser for veterans, to which he said he contributed $1 million, in January 2016. Four months later, after The Washington Post and other outlets found that he had not contributed money to any veterans' charities, Trump gave the full $1 million to the Marine Corps-Law Enforcement Foundation.
In December, Trump floated moving the VA toward privatization, a move opposed by some veterans' groups such as the American Legion.
Former presidential candidate Dr. Ben Carson, a neurosurgeon whom Trump nominated to head the Department of Housing and Urban Development, wrote in a USA Today opinion piece in September 2015 that he would eliminate the Veterans Health Administration "to forge a 21st century veterans [sic] health care solution," including health savings accounts that would allow veterans to access non-VA medical facilities.
The American Veterans (AMVETS) volunteer organization, for example, said in a statement that it was "pleasantly surprised" by the nomination. Executive director Joe Chenelly said that while the group's "membership has been clear in its preference to have a veteran leading the VA," Shulkin "seems to legitimately 'get it.' "
Still, he hinted at opposition to a privatization effort: "This wise decision by President-elect Trump validates what we've long known and said--that the Veterans Health Administration is on the right track despite a prolonged, concerted smear campaign aimed at dismantling and privatizing veterans care."
AMVETS, the American Legion and six other veterans' groups wrote in an open letter to Carson that they "vehemently disagree[d]" with Carson's "dangerous proposal," which would "inevitably endanger the health and well-being of millions of wounded, injured and ill veterans."
The groups said that some of Carson's claims about the current state of the VA were "simply not borne out by the facts," and attacked the health savings account proposal as untenable.
"To suggest that disabled veterans could be sent out into the private economy with a health savings account card overlooks the fact that civilian health care providers have waiting lists of their own, that private practices often limit the number of government plan patients they accept due to low reimbursement rates, and presupposes that civilian doctors have the necessary skillsets and training to meet the unique health needs of military veterans," they wrote.
In contrast, another group, the Koch-backed Concerned Veterans for America (CVA), advocated for privatization in its response to the nomination. Executive director Mark Lucas said in his own press release that the group is "hopeful" that Shulkin can move the VA "in a new direction" despite his current employment with the group, which "has been failing veterans for years."
Lucas added that the CVA hoped to partner with Shulkin in reforms "such as empowering veterans to access care outside the VA when the VA is failing them." Unsurprisingly the CVA was not a signatory to the open letter to Ben Carson.
Shulkin's position on privatization is unknown, and a confirmation hearing has not yet been scheduled.
Action Alerts PLUS, which Cramer co-manages as a charitable trust, has no positions in the stocks mentioned.