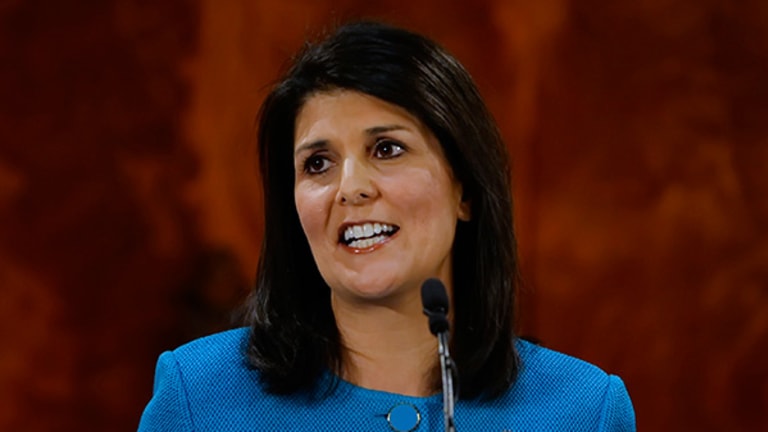 Will Donald Trump's GOP Listen to Nikki Haley?
The Republican governor of South Carolina's union-busting creds make her a strong establishment choice, but will that play in 2016, the year of Trump?
Republican South Carolina Governor Nikki Haley will deliver the GOP Rebuttal to tonight's State of the Union address in what many consider to be an audition for a potential vice presidential run for the 43-year-old telegenic Indian-American. Haley made national headlines earlier this year when she made the controversial decision to take down the Confederate flag from the South Carolina state House following the Ebenezer Baptist Church shooting that killed nine.
Haley has presented herself as the face of the New South: a Republican woman of color, who is not afraid to take on race issues and has attracted the type of cosmopolitan financial elite to South Carolina who are seen as key to keeping capital flowing into the state. That, along with her union-busting reputation makes her an appetizing choice for establishment Republicans for a national leadership roll.
But the establishment may be miscalculating in an election cycle where Donald Trump and his relatively extreme stances on the more visceral issues of immigration, economic management and foreign policy have captured the imagination of the GOP electorate. Is being tough on unions an issue that's going to excite the more xenophobic Republican rank and file?
Haley has made it very clear: Unions are not welcomed in the State of South Carolina. The state's union membership rate is the third-lowest in the country at 3.7%. As Haley puts it, employees don't need unions in the South because the culture of Southern hospitality makes employers more receptive to their employees.
"We don't have unions in South Carolina because we don't need unions in South Carolina," Haley said in 2014. She has also said, "We've fought against the unionization of South Carolina, cherishing the direct relationship between our companies -- who know how to take care of those that take care of them -- and their employees."
In 2011, Haley rose to national prominence by opposing an National Labor Relations Board's general counsel's complaint that found that Boeing illegally moved work from Washington State to South Carolina to punish Washington state workers for going on strike in 2008. Haley proved effective in painting trade union International Association of Machinists and Aerospace Workers as an outside force only interested because they want to see work transferred back to Washington State.
Haley has helped made defeating numerous attempts to unionize a central part of her political legacy. Shortly after her election, Haley appointed veteran union avoidance lawyer Catherine Templeton as Secretary of the State's Department of Labor. Additionally, Governor Haley has appeared in numerous TV ads against a machinist union drive at Boeing's massive 3,000-people plant in North Charleston. The ads were so effective that they were able to force the union to withdraw its request for a union election.
Haley's anti-union rhetoric is so strong that it could discourage unionized foreign and Northern manufacturers from relocating to the State. She has even publicly stated that she discourages unionized companies from even considering moving to South Carolina because she fears unionized companies would "taint the water" of South Carolina's non-union environment.
"You've heard me say many times I wear heels. It's not for a fashion statement," reads a 2014 Haley quote in the Detroit Free Press, a local paper for many of the biggest unionized employers in the country, including Ford and GM. "It's because we're kicking them every day, and we'll continue to kick them." 
"She is the most extreme anti-union Governor that I have ever seen in my 21 years," says Ken Riley, president of one of South Carolina's largest unions, the International Longshore Association Local 1422.
For African Americans union leaders like Riley, while Haley's gesture on the flag is welcomed, it's not nearly enough to repair the wounds of the South.
"You see Haley shifting on race issues because they attract all this rich Northern money and foreign money to come down here," says Riley. "But when it comes to labor, South Carolina is still very much the Old South".
But Riley isn't exactly Haley's target voter. Attracting companies while keeping unions out could help Haley present herself as a "forward thinking politician," anti-union public relations consultant Rick Berman told me recently.
But would it help her on the campaign trail? It didn't seem to help Scott Walker. Many pundits like Berman predicted that the Wisconsin Governor could use his success as a union-buster to win the GOP nomination, but Walker was forced to drop out in September.
Haley has claimed that South Carolina has one of the fastest-growing economies on the East Coast and that her state boasts one of the highest rates of out-of-state residents moving to the state; Walker isn't seeing the same kind of economic success in Wisconsin and has not made such claims. Yet, some question whether Haley's anti-union stance has actually hurt or helped the state's economy. Wages have remained stagnant under Haley while the flood of new money and gentrification into places like Charleston has priced many poor residents out of their neighborhoods.
"I would like for someone to put her in the national spotlight so that we can show what her real record of poverty wages has really meant to workers in this state," says Riley, adding that her anti-union rhetoric may not appeal to many white working-class voters drawn to the populist Trump. 
The bigger question for the Republican establishment that is giving Haley a big stage tonight in an important election year is whether she's the complete package for improving the GOP's presidential election chances in November.  
Mike Elk is an outside contributor.