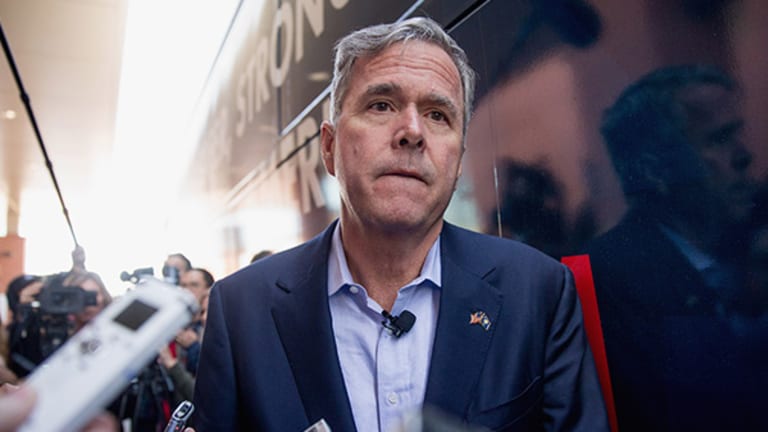 Publish date:
WikiLeaks Email Shows Clinton Campaign Knew Jeb Bush's Economic Message Worked, Just Not His Name
Jeb Bush's economic message resonated with voters -- sans his name.
Jeb Bush's economic message resonated with voters -- sans his name.
Editors' pick: Originally published Oct. 18.
Jeb Bush's economic message resonated with voters -- just as long as his name is kept out of it.
An email released by WikiLeaks as part of the continued dump of communications apparently from the account of Hillary Clinton campaign chairman John Podesta reveals the former Florida governor's ideas on the economy tested well with American constituents, including Democrats and minorities. One caveat: focus groups weren't told the message was his.
Democratic strategist and president of Lake Research Partners Celinda Lake wrote in an email to Clinton campaign adviser Minyon Moore that Bush's economic message had proven "remarkably strong" when tested for an unnamed client. She noted half of American Americans and Democrats and two-thirds of Latinos were receptive as well. While some thought it may have been too harsh, "the perspective on the economy has really worked," she wrote.
"Now we didn't tell people this was from [B]ush," she added. "But its [sic] a warning."
Moore appears to have forwarded the message to Clinton aide Cheryl Mills, who in turn sent the email to Podesta.
The chain includes what appears to be the message being tested:
Our economic recovery has been everywhere but in family paychecks for tens of millions of Americans. Working Americans have a right to be frustrated because they see only a small portion of the country riding the economy's up escalator; more of us deserve to get on. Americans are working harder than ever, more than ever, and earning less than they once did. The answer to closing this opportunity gap is smaller government, lower taxes, and less government involvement so our innovators and our small businesses can get operating again.
It mirrors the language he used in his "right to rise" speech delivered in February 2015 in Detroit.
The Clinton campaign has declined to comment on or confirm the authenticity of any of the WikiLeaks emails. Lake declined to comment on the email in question.
"The Hillary folks were correct in their analysis," said Tim Miller, communications director of Bush's campaign and partner at Washington, D.C.-based consulting firm Definers, when presented with the email. "I'm not surprised that the Democrats tested the message and saw that it resonated with voters."
His comments came with the clarification that he finds WikiLeaks to be "extremely repulsive."
The fact that the testing included African Americans, Latinos and Democrats indicates it was aimed at the general election, not the primaries.
While Bush may very well have proven a formidable opponent for Clinton in November, his candidacy failed to resonate with the Republican base. He got about 3% of the vote in the Iowa caucuses, 11% in the New Hampshire primary and 8% in the South Carolina primary, after which he dropped out of the race.
"We were trying to run a campaign that could actually win the presidency, but that happened to be at the expense of the primary in certain ways," said Miller.
What held Bush back among primary voters was not necessarily the centrism of his messaging, economic or otherwise, but instead two main factors: his disposition and his name.
Miller said the "dynasty effect" counted against Bush among GOP voters turned off by his president father and brother. Moreover, the base was attracted to more anger-driven candidates, something Bush was not.
"Primary voters who were looking for fire, brimstone and anger, and that's not Jeb," said Miller.
But it is Donald Trump.
His ability to channel the Republican base's rage propelled him to victory in the primaries. In the general election, not so much.
"Donald Trump had a message that was popular with the base of the party but it is not doing nearly as well with the general electorate. This speaks to the difference between the primary electorate and the general election electorate," said Ryan Williams, a Republican strategist at FP1 strategies who worked on Mitt Romney's 2008 and 2012 campaigns.
Trump currently trails Clinton by about 7% nationally, according to a RealClearPolitics average of polls.
The Clinton campaign was aware Bush's message would have been difficult to contend with in the general election, the WikiLeaks email suggests. But he didn't have a chance to get there.
"The fact that Jeb's economic message resonated is not surprising...it was written with middle-class general election voters in mind," said Jon Seaton, a Republican strategist who worked on presidential campaigns for George W. Bush, John McCain and Lindsey Graham. "He just never had a great path to get to a place where those voters would be in play."