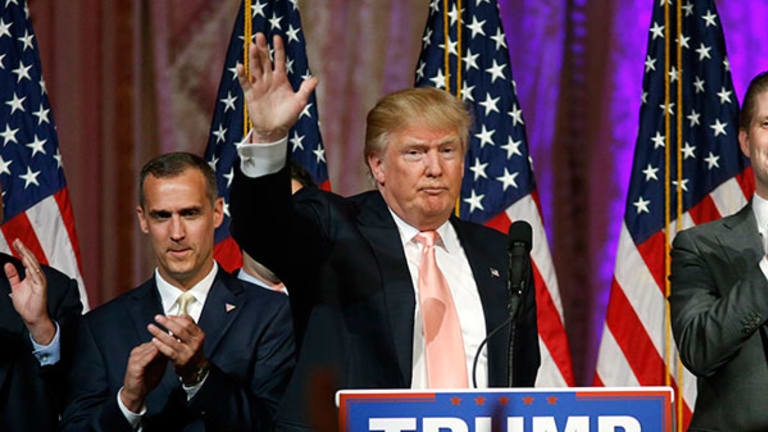 Why Would Any Elected Official Endorse Donald Trump? Reasons Vary
Elected Republicans haven't exactly been flocking to get in line behind Donald Trump this election season, and those who have are doing so for very specific, strategic reasons.
Nearly two-thirds of the U.S. electorate has an unfavorable view of GOP frontrunner Donald Trump; could backing him draw similar ire from voters? It's a risk that a few politicians have decided to take.
As the field of GOP contenders has been whittled down and Trump continues to hold a commanding lead, despite his polarizing personality, he has managed to pick up a handful of endorsements. Thus far, most appear to be strategic bets.
U.S. Representatives Chris Collins of New York and Duncan Hunter of California became the first sitting members of Congress to back the real estate magnate in February. Governors Chris Christie of New Jersey, Paul LePage of Maine and Rick Scott of Florida have endorsed Trump as well, as has Senator Jeff Sessions from Alabama and a handful of other members of Congress from Tennessee, Pennsylvania and New York.
"I don't think that any of them woke up a week ago and thought Donald Trump was a wonderful person and a great candidate," said Gary Jacobson, professor of political science at the University of California San Diego, in a phone interview.
As to why they're jumping on the Trump train now, it is largely a tactical decision with the details varying, depending on who we're talking about.
"The key is what is their goal for the endorsement? Is it because they truly like him and his platform? Is it because they might want something in the administration should he win?" said Susan MacManus, professor of political science at the University of South Florida. 
Duncan Hunter
Per Jacobson, Hunter's endorsement aligns with his own political persona.
Hunter represents California's 50th District, "one of the most conservative Republican districts in the country." It is also located in the southern part of the state near the Mexican border.
"He has no worries that there are enough moderates there to desert him for a Democrat if he associates too strongly with Trump. He has been hard-nosed on immigration throughout his career, so supporting someone who is even more hard-nosed is not inconsistent with his past positions," said Jacobson, who resides in California's 52nd District, which borders the district Hunter represents. "He represents the kind of constituents that do like Trump."
Chris Collins
Something similar is true of Collins, who represents New York's 27th District in the western part of the state.
The district is generally regarded as a fairly safe Republican one, said Jeff Koch, professor and chair of political science and international relations at the State University of New York Geneseo, which is located in the district Collins represents. He added that the demographics of the area are also those that tend to favor Trump -- predominantly white constituents of modest incomes.
"I don't think [Collins] really has much to fear or gain in terms of his own electoral prospects," said Koch. "At the end of the day, in terms of his reelection, it's not really going to matter."
Jeff Sessions
Alabama's Sessions, who in February backed Trump and currently is the only U.S. Senator to have officially endorsed the real estate magnate, enjoys a comfortable cushion of popularity in his state that leaves him relatively free of risk, said Quin Hillyer, a long-time conservative columnist from Mobile.
"I know a lot of people that are extremely disappointed in him for endorsing Trump, but I don't know that it puts him at any long-term political risk," he said.
Chris Christie
"Some of the high-profile endorsers are not doing particularly well in their home states," said Barry Burden, a professor of political science at the University of Wisconsin Madison. "These politicians don't have a lot to lose at this point."
Such is the case of Governor Christie, who in February endorsed Trump after suspending his own White House bid. While the decision appears to have hurt his standing in his home state, because he is ineligible for reelection (New Jersey governors are limited to serving two consecutive terms), it doesn't make much of a difference.
In the wake of the endorsement, six New Jersey newspapers joined forces demanding the governor resign. "We're fed up of his continuing travel out of state on New Jersey's dime, stumping for Trump, after finally abandoning his own presidential campaign," they wrote.
A March poll from Farleigh Dickinson University's survey research center PublicMind indicated that Christie's Trump endorsement negatively impacted his approval rating. According to Krista Jenkins, professor of political science at the university and executive director of PublicMind, pollsters saw a six-point drop in Christie's approval in the days after he announced his endorsement of the GOP frontrunner.
"I think it's clear that, in New Jersey at least, his endorsement of Trump has certainly not helped him at all," said Jenkins. However, she noted that Christie has "struggled in the state for quite some time," with his approval ratings stuck in the 30s. "He's clearly looking beyond this position that he's in now, and he's looking at his next job."
Rick Scott
Florida Governor Scott, like Christie, is subject to a limit of two consecutive terms and therefore has little to lose in backing Trump as well. Moreover, he waited until after his state's primary to announce his decision, endorsing Trump the day after Florida voted.
"I think that was a factor," said Burden, adding that Scott, like Trump, is a businessman who likes to cast himself as an outsider. "I think he saw that Trump was a potential meal ticket, because he was going to win the state."
Hardest Decisions to Come
For many politicians endorsing Trump up to now, the decision has been relatively easy -- their constituents like the GOP frontrunner, they are popular enough on their own, or they don't have a chance at reelection anyway. But for those who haven't yet jumped on the Trump train -- or come out against him --there lies a bumpy road ahead.
"There will be some Republicans who say, 'I can't support the guy because of who he is and what he represents,'" said Jacobson. "There will be others who calculate their political futures depending on whether or not association with him is a positive or a negative, or whether holding your nose and being a party loyalist is a plus or a minus."
Many Republicans are becoming increasingly concerned that a Trump nomination might significantly hurt down-ballot candidates and put the party's congressional majorities at a significant risk. There is some evidence to suggest that could be the case.
A recent poll from Public Policy Polling indicates how Trump may hurt U.S. Senator Richard Burr's chances at reelection in North Carolina: 48% of voters say they are less inclined to vote for the incumbent if he backs Trump, compared to just 22% who say it would make them more likely to vote for him.
"If Trump gets the nomination, every Republican candidate will be asked [what they think of Trump], and it will put some in a tough spot," said Hillyer. "Anybody who wants Republicans to keep Congressional majorities should hope that Trump is not the nominee."
Of course, not everyone agrees.
Republican Senator Ron Johnson, who is in a tight race for reelection against Democrat and former Senator Russ Feingold in Wisconsin, said in a recent interview with CNNhe believes Trump at the top of the ticket might help the party's prospects overall.
"Certainly, I hear a lot of support because what Donald Trump is saying resonates with an awful lot of people when it comes to the incompetence in Washington, D.C.," he said.
Senator Johnson appears to already be foreshadowing his answer to the Trump question, and moving forward, others will have to do the same.
"We're in uncharted territory. Republicans have never really faced a situation like this," said Burden. "There's a lot of soul-searching going on."