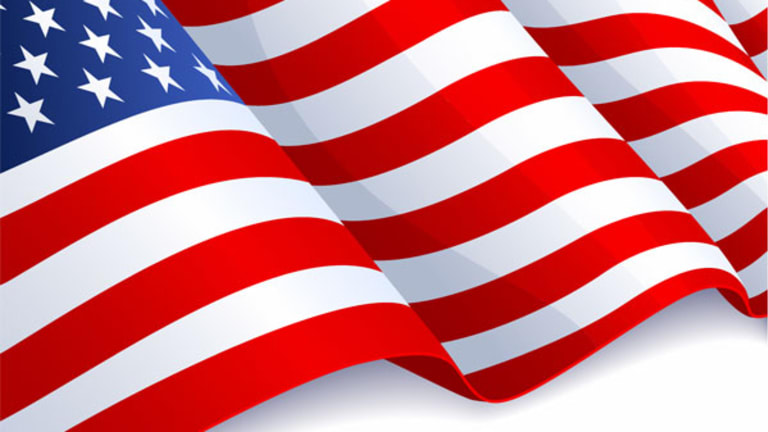 Why Romney's Wrong on China
Politicians have two choices: to start a trade war with China as Mitt Romney hinted at at the CNBC debate Wednesday night or embrace the country as a growth opportunity.
NEW YORK (
TheStreet ) -- Presidential candidate Mitt Romney made it clear during Wednesday's CNBC Wednesday debate that he sees China as an enemy instead of an opportunity -- a strange stance for a businessman to take.
"I will crack down on cheaters like China," said Romney. China is "killing jobs in America," he added.
The U.S. has a $217.4 billion trade deficit with China and Congress has two options: call China names, impose higher taxes on their imports and threaten a trade war or look at China as a financial opportunity that will help the U.S. economy grow.
The one big thing China can offer the U.S. is a middle class. According to the Organisation for Economic Co-operation and Development, the global middle class could grow to 3.2 billion by 2020 and 4.9 billion by 2030, with almost all of the growth coming from Asia. By 2015, 44% of China's population will be middle class, according to Credit Agricole Securities.
Wells Fargo says that by 2025, 62% of China's population will live in cities and they will have money to spend. The average minimum wage has soared 20% from 2009 to 2010, household income is growing 9% a year while consumption is growing 11% and they are buying U.S. products.
In China's trade data for October, the country imported 28.7% more than a year ago and the rate of import growth from the U.S. grew the fastest, up 20.5%.
China's thirst for our goods represents only 0.7% of U.S. GDP, but many experts say that will change.
"We're seeing China grow at 8.5%-9% plus a year and that is probably going to continue for a number of years," says Lorraine Tan, director of equity research, Asia S&P Capital IQ. "I think that is going to be positive in terms of demand for a number of U.S. products and that will actually help provide some buffer to activities and businesses in the U.S. particularly as other developed countries are beginning to see slower growth."
U.S companies benefit the most. Names like
Coach
(COH)
,
Tiffany
(TIF) - Get Free Report
,
McDonald's
(MCD) - Get Free Report
,
Starbucks
(SBUX) - Get Free Report
and
Yum! Brands
(YUM) - Get Free Report
, not to mention all the industrial companies that are expanding there, are all taking advantage of China's hunger for U.S. products.
Yum! Brands had 4,000 stores in China at the end of 2010 with the number of stores growing 14% year-over-year and total sales popping 29%. China contributed 22% of Yum's revenue in 2010, up 90% from 2007. "I think mid-teens growth in China
for Yum is achievable for the next few years," says Jim Yin, industry equity analyst at S&P Capital IQ.
McDonald's is newer to the China boom and is overcoming the hurdle that most Chinese prefer chicken over beef, but slowly China is becoming more important to the company's strategy. Yin estimates that 3.2% of McDonald's total revenue came from China in 2010 and that China is third or fourth in its current growth strategy, but it will take more prominence in the future.
"I think growth in the Asia region can grow in the high-single digits, low-teens in China, and McDonald's overall can grow in the 6%-7% for the next few years," says Yin. "I think they will probably represent a big chunk of the growth."
McDonald's is adding 200 stores this year and next , and in five years plans to double the amount of stores to 2,000. Compare those figures to the U.S. market where McDonald's only opened 73 stores.
Just because U.S. companies are growing gangbusters in China doesn't mean automatic job creation in the U.S. McDonald's and Yum! Brands did not return calls for comment on where the money they make in China goes, but there is a trickle-down effect.
U.S.-based fast food companies doing business in emerging markets will need to import soft commodities, like beef, wheat and corn, in order to grow their chains. "China has not been self-sustaining in a number of resources, including soft commodities as well as hard commodities," says Tan.
Tan also says that there is still a substantial portion of product development and intellectual property that are based in the U.S. "The leadership in that area is still going to come out of the states." Anecdotally, Tan says there have been reports of
Apple
(AAPL) - Get Free Report
sending one
FedEx
(FDX) - Get Free Report
plane worth of products over to China every week. Apple itself said in its third quarter conference call that revenue from Greater China was 2% in 2009 and now 12% in 2011.
The Commerce Department and the Labor Department couldn't say specifically how many jobs were created in the U.S. as a result of U.S. business activity in China, but Josh Feinman, chief economist with Deutsche Asset Management, says it's possible that departments like accounting, marketing and development will have to grow to support the company's growth trajectory elsewhere. "Indirectly anything that helps economic activity anywhere is going to help growth and create possible employment opportunities."
Tan also says that the U.S. benefits from China's large trade surplus in other ways too. "China has this huge trade surplus and reserves and it will need to do something to balance it out and buying US debt" is a way to do that.
China has loaned the U.S. $1.1 trillion dollars as of August 2011, which could pay for almost all social security and medicare in 2012.
As Jon Huntsman, the former ambassador to China, countered in the CNBC debate Thursday night, slapping tariffs on Chinese products and crying currency manipulation is not a good idea. "We've had a 40-year relationship with China. It's a troublesome and problematic relationship; very, very complicated ... But longer term, we're just going to have to do business the way we've always done."
--
Written by Alix Steel in
New York.
>To contact the writer of this article, click here:
Alix Steel
.
Related Articles:
Do Gold Prices Have Room to Rise?
Disclosure: TheStreet's editorial policy prohibits staff editors and reporters from holding positions in any individual stocks.