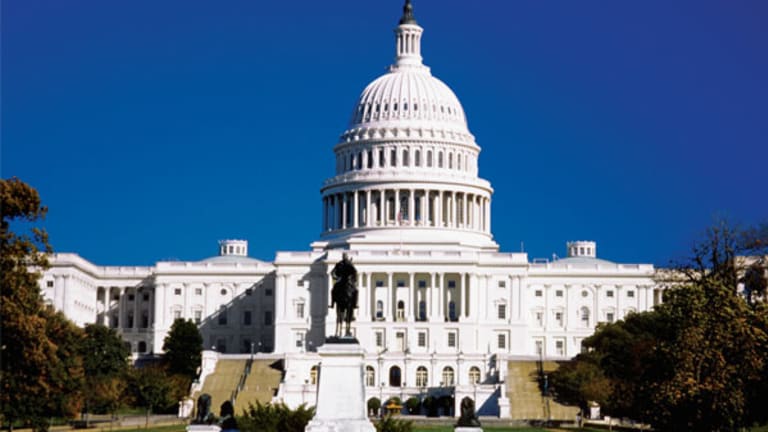 Publish date:
Why Mitt Romney Is a Shoo-In as GOP Nominee
Romney's rather bookish manner could be an asset; just look at the rise of technocrats in Europe.
Romney's rather bookish manner could be an asset; just look at the rise of technocrats in Europe.
The following commentary comes from an independent investor or market observer as part of TheStreet's guest contributor program, which is separate from the company's news coverage
.
NEW YORK (
) -- There has been a lot of kerfuffle in the last few weeks about problems plaguing Republican presidential hopefuls. Sexual harassment allegations plague Herman Cain. Rick Perry royally botched last week's GOP primary debate. As a result, new frontrunners are bubbling up among the slew of Republicans vying for the White House.
But while the scandals and soundbites make for good TV, the fact of the matter is that we have a long year between now and Election Day 2012 -- and no matter what distractions pop up, the economy and government spending are still going to be the biggest issues at the ballot box.
For that reason, former Massachusetts Governor Mitt Romney is a shoo-in as the Republican nominee.
Also see: Debt Supercommitee: doomed from the start
Romney, while never a clear favorite, has been consistently at the front of the pack.
A
Bloomberg
poll released late Monday shows him in a statistical dead heat with businessman Cain, Texas Representative Ron Paul and former House Speaker Newt Gingrich when it comes to the Jan. 3 Iowa caucuses that formally start primary voting. But what differentiates Romney from the rest of the group isn't his politics or his record of being scandal-free. Rather, it's his Wall Street ties and big-picture economic experience.
Consider that Lucas Papademos, the interim Greek prime minister, is a former economist at the Federal Reserve Bank of Boston, a former governor of the Bank of Greece and vice president of the European Central Bank. He, like Romney, may not be the most charismatic leader out there. By many reports he's shy and a better listener than orator. But in these crazy times, Greeks seem to agree he's the right man for the job.
Next up in Europe is Mario Monti, who takes over Silvio Berlusconi's post as premier after time spent as an economist and adviser to
Goldman Sachs.
(GS) - Get Goldman Sachs Group, Inc. (GS) Report
While those with investment banking ties were maligned during the financial crisis, it appears that such a pedigree is now sought after considering that bond markets currently hold just as much sway (if not more) over the eurozone as legislators.
Also see: Shine a light on Capitol Hill insider trading
The only replacement in European leadership without hardcore economic experience is Spain's Mariano Rajoy, who's favored to win the prime minister post in a vote this weekend. Though a career politician, Rajoy is widely seen as rather dull. But after some of the antics that the eurozone has endured, Spaniards are happy to just get a stand-up guy in office, even if he doesn't crack jokes.
Newt Gingrich and his "Contract with America" (revived for the 2012 election as "21st Century Contract with America") helped fire up the GOP base, thanks to social issues. Ron Paul is one of the few politicians in recent memory who has been unwaveringly on-point with his libertarian ideals for over 30 years. But the old line that "it's the economy, stupid" is really all that matters.
Romney was co-founder and head of the spin-off company
Bain Capital
, a private equity investment firm tied to some of the biggest names on Wall Street. As governor of Massachusetts he dealt with deficits and budget shortfalls.
Also see: It's time to privatize the Postal Service
If Cain can shake the sexual harassment scandal, he at least has some legitimate business chops to fall back on. In addition to leadership posts at businesses like Burger King, Pillsbury and Godfather's Pizza, Cain has experience with the Federal Reserve Bank of Kansas City in the 1990s.
But as the Cain campaign continues to veer off the rails in wake of alleged misconduct, it appears that Romney alone will have the economic background necessary to win the confidence of the electorate.
He may not be as affable as Perry. Many hardcore social conservatives may bristle at his record in Massachusetts as governor. And, of course, it's a bit of a leap to assume that the average American is going to download Romney's160-page economic plan for creating jobs and read it word for word.
But the rise of economists and business insiders in Europe shows that you don't have to be Mr. Popularity to win popular support. In these tough economic times, Romney's rather bookish manner could actually be an asset.
Americans just want someone who understands the economy and the government's role in creating job growth. And like it or not Republicans, Romney is the best option right now on the GOP primary ballots.
Jeff Reeves is the editor of InvestorPlace.com. Write him at editor@investorplace.com, follow him on Twitter via @JeffReevesIP and become a fan of InvestorPlace on Facebook . As of this writing, he did not own a position in any of the aforementioned stocks.
More From InvestorPlace
Get the latest IPO date and IPO offering news for the hottest picks on Wall Street
5 best Black Friday electronics deals of 2011
Why Wal-Mart is better than Target
This commentary comes from an independent investor or market observer as part of TheStreet guest contributor program. The views expressed are those of the author and do not necessarily represent the views of TheStreet or its management.