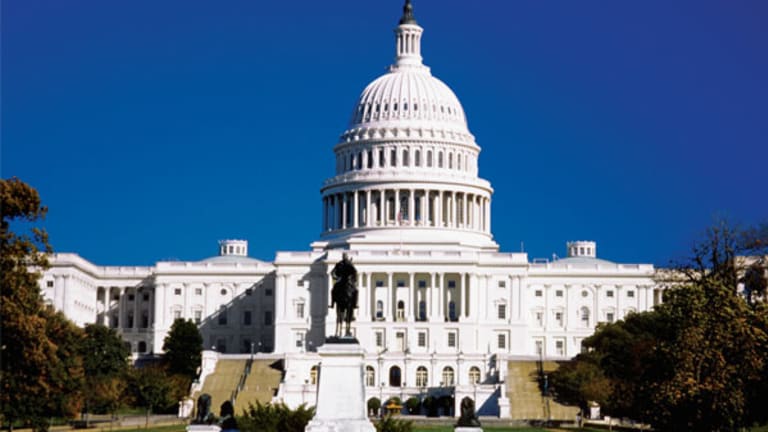 Gallup Poll Matters Most to Outsider Candidates
Gallup polling may matter to third-party presidential hopefuls as much as ballot access.
Gallup polling may matter to third-party presidential hopefuls as much as ballot access.
NEW YORK (
) -- The next time you receive a call from Gallup, you may want to take it seriously.
Gallup, designated by the Commission on Presidential Debates (CPD) to select the five major polls that ultimately determine who may attend the pivotal election debates, allows respondents in early polling to identify their favorite presidential candidate without a predetermined list of names.
This is potentially the biggest hurdle for third-party candidates who hope to make a legitimate run at the White House.
"We at Gallup use several different procedures to determine which candidates to include, and part of that is empirical data -- we ask people open-endedly in each election who you are supporting," said Dr. Frank Newport, editor in chief at Gallup.
Gallup's polling procedure is done totally independently of the Commission, Newport said.
The catch is that for a presidential hopeful to qualify for the debates,
the candidate must meet three criteria: constitutional eligibility, enough ballot access to have a mathematical chance to secure an Electoral College majority, and a level of support of at least 15%.
The CPD set those guidelines last October and said the 15% support would be determined by five selected national polling organizations. The commission left it up to Gallup to choose which polls would be included.
Once the five polling organizations have been picked, it is out of Gallup's and the CPD's jurisdiction as to how each organization conducts its polls.
Newport offered a view of Gallup's own process.
After Gallup polls people open-endedly, the organization takes several other steps to reach a conclusion on which candidates it will repeatedly mention as choices for president.
"We look to see what percent of support is volunteered for a candidate to see if we're missing something," said Newport.
Newport said Gallup has already done that this year and included the Libertarian and Green candidates in at least one poll to see how well they would perform in other polls when they were included by name.
The next step Gallup takes is name awareness or name ID. In other words, the organization added the names of Libertarian Gary Johnson and the Green Party's Jill Stein -- both of whom have qualified to receive federal matching funds -- to see if they had any significant name ID among voters.
Finally, Newport said they use their editorial judgment.
The other polling organizations may have a different routine.
For example, a CBS/New York Times poll -- which previously has been one of the five major polls used in an election year to determine that 15% threshold -- didn't include Johnson in
its survey released Sept. 16, 2011.
Fox News, after having excluded the former New Mexico governor from most of the debates it hosted last summer,
allowed Johnson into a Sept. 22 debate because he managed to poll 1% among other organizations.
Third-party candidates must find a way to be specifically named by a polling organization if they are to have any hope of receiving 15% support in national polls.
"Typically if
polling organizations don't include a third-party candidate it's highly unlikely that that third-party candidate is going to be polling 15% in other polls," said Newport.
Gallup has not officially named the polls that will be used for the 2012 debates, but previous election years have included Fox News, CBS/New York Times, NBC/Wall Street Journal, ABC/Washington Post and Gallup/USA Today.
Ultimately, the reason a third-party candidate who polls in single-digit percentage territory may be left off a polling organization's survey is because of time and money. Many organizations poll daily.
"Yes, it is a criteria of space, time and expenses -- one of the criteria we use," said Newport. "In theory we could go on for five minutes listing a very long list of candidates and asking people who they would vote for, but when we do polling we need to move quickly and expeditiously."
-- Written by Joe Deaux in New York.
>Contact by
.