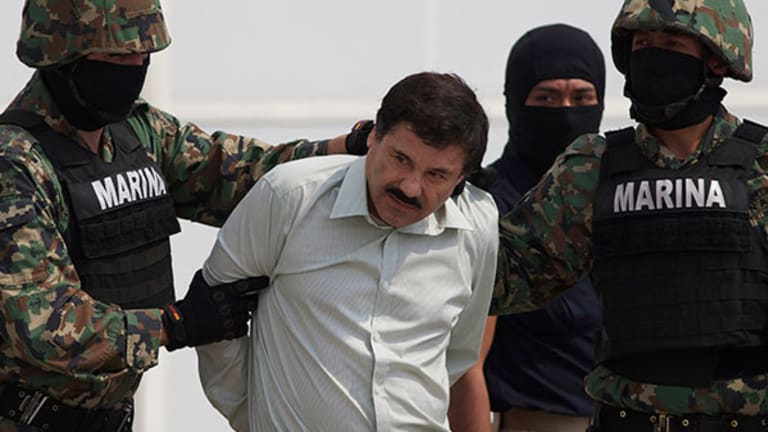 Why 'El Chapo' Guzman Bust Was a Mistake
Sinaloa drug cartel chief Joaquin "El Chapo" Guzman was brought to justice. Here's why that's a bad thing.
This story has been updated from 1:30 p.m. EST with comments from U.S. Attorney General Eric Holder and Secretary of Homeland Security Jeh Johnson.
NEW YORK (TheStreet) --When a notorious criminal like Sinaloa drug cartel chief Joaquin "El Chapo" Guzman is brought to justice, it's time to celebrate, right?
Maybe not so much if you read this Department of Homeland Security analysis of the impact of death or arrest of key drug traffickers.
"While the continued arrest or death of key DTO leadership may have long-term implications as to the control and viability of a specific DTO, there is no indication it will impact overall drug flows into the United States," it concluded, after studying drug seizure data across the southern U.S. border between from January 2009 to January 2010.
So the positive effect in terms of reducing the flows of drugs into the U.S. is zero. We didn't really need the Department of Homeland Security to tell us this. Would anyone really want to try and argue that the death of Colombian kingpin Pablo Escobar -- or any slightly less notorious drug lords since -- decreased the flow of drugs into the U.S.?
What's worse, it likely only increases the amount of violence over the short term as turf wars ensue to fill the power vacuum left behind following Guzman's capture.
Mexican President Enrique Pena Nieto seemed to grasp the futility of the drug war when he took office in 2012.
"He said we need to focus on citizen security which was a smart move," argued Sanho Tree, drug policy fellow at the Institute for Policy Studies, a Washington D.C.-based think tank.
"Focus on kidnapping, extortion -- these things where other criminal elements as well as drug traffickers have expanded -- and Sinaloa wasn't really into that as much as the others. Sinaloa as a cartel was actually less violent than the others, although they're perfectly deadly, so why go after Sinaloa? Simply because of volume? Many people argue that you go after the Zetas, the Templars, some of these other cartels that use violence as their one and only method of control, whereas Sinaloa's always been -- they'd much prefer to give you a bribe over a bullet. But if you don't take the bribe they'll definitely use the bullet."
Still, Tree argued, "If you're stuck with drug traffickers it seems to me that's the kind of drug traffickers you'd want. You can induce better behavior amongst these criminal elements by going after the most problematic ones."
While Mexico's drug war rages, north of the border the push to legalize marijuana continues.
Guzman's arrest attracted substantial attention in the U.S. in recent days. The Sinaloa Cartel had been designated a "Significant Foreign Narcotics Trafficker" by the U.S. Government.
In a statement released on Saturday, U.S. Attorney General Eric Holder lauded Guzman's arrest.  "Today's apprehension of Joaquin 'Chapo' Guzman Loera by Mexican authorities is a landmark achievement, and a victory for the citizens of both Mexico and the United States. Guzman was one of the world's most wanted men and the alleged head of a drug-running empire that spans continents," he said. "We are pleased that we were able to work effectively with Mexico through the cooperative relationship that U.S. law enforcement agencies have with their Mexican counterparts. We look forward to ongoing cooperation, and future successes."
Secretary of Homeland Security Jeh Johnson also praised the Mexican Government. "The operation led by the Mexican government overnight to capture Joaquin 'Chapo' Guzman Loera is a significant victory and milestone in our common interest of combating drug trafficking, violence and illicit activity along our shared border," he said, in the joint statement. "We congratulate our Mexican partners in this achievement and we will continue to work collaboratively with them to ensure a border region that is safe and secure, for the communities and citizens of both our nations."
Disclosure: TheStreet's editorial policy prohibits staff editors, reporters and analysts from holding positions in any individual stocks.