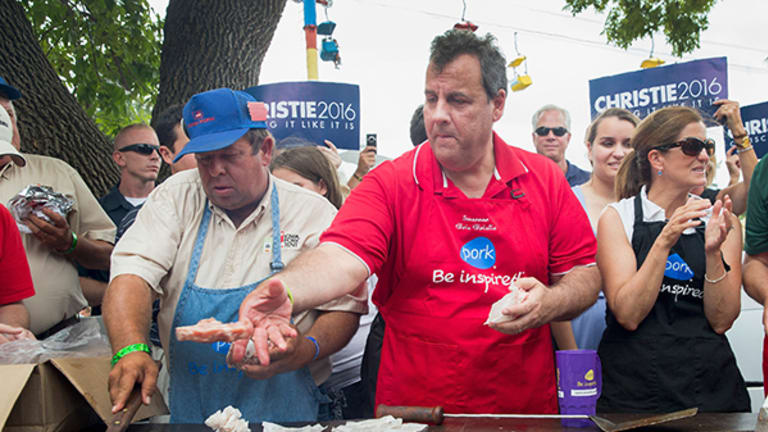 Why Chris Christie Has No Chance of Becoming President
Just telling it like it is: Christie's track record as New Jersey governor has been less than stellar, and another brash candidate has also stolen a lot of his thunder.
New Jersey Governor Chris Christie first shot to fame as contender for the White House after a fiery keynote speech at the 2012 Republican National Convention in which he insisted Americans need to "take our country back."
Unfortunately, 2016 is not looking to be Christie's year.
According to a recent Quinnipiac University poll, Governor Christie was tied with former Pennsylvania Senator Rick Santorum in 11th place with just 1% of the vote among likely Iowa caucus goers.
Christie's lack of popularity this year has several causes.
The first is that his actual track record with the New Jersey economy is far from stellar, calling into question what he would do as the next POTUS. The current 5.6% unemployment rate in New Jersey is worse than the national average of 5.1%. Not helping the state's job situation has been the closing of multiple casinos in Atlantic City.
In a report earlier this year from Chief Executive magazine, New Jersey was ranked the 47th best state in the country to do business. In his five years as Governor, the state's credit rating has been slashed nine times -- New Jersey has one of the country's worst credit ratings, according to ratings agency Standard & Poor's, just ahead of California and Illinois.
Christie did manage to gain a controversial economic win, however. New Jersey's Supreme Court recently ruled that Christie can cut $1.6 billion from state pension funding, giving the beleaguered state some temporary financial relief. New Jersey's pension system has about $83 billion of unfunded liabilities, and was funded at only about 44% in fiscal 2014.

Meantime, a high-profile political gaffe has drowned out what Christie would like to do for the economy if elected. Dubbed "Bridgegate," Christie's administration got sucked into some hot water in 2013 when it closed three toll lanes on the George Washington Bridge, allegedly as an act of retribution against the Democratic mayor of Fort Lee who refused to support the governor's bid for re-election.
The Governor continues to maintain that he was not involved, and was found to not have committed any wrongdoing following an internal probe. However, former aides have said he was aware of the incident that caused big-time traffic jams on the bridge and risked public safety for about a week.
As a result, people are questioning his credibility. "Certainly the Bridgegate situation has weighed down his candidacy considerably," said Katie Packer Gage, a consultant at Burning Glass Consultants.
Gage, who in 2012 served as deputy campaign manager of the Romney for President campaign, added "This year, there are so many great alternatives that I think people have looked at Christie and said yeah, I kind of like him, but he has got some real baggage -- look at how many good options there are."
Retired Democratic Congressman Barney Frank is also critical of how Christie handled Bridgegate and believes the high-profile debacle has hurt Christie's chances of gaining the Republican nomination. "When he was U.S. Attorney for New Jersey and people were accused of crimes, was it his approach to call in the people who were accused and ask if they did it? And then say fine, go home, everything is fine?" said Frank. "This is a man who got elected in part because of his great skills and toughness as a prosecutor."
As noted, the polls have not been kind to Christie. According to Gage, the brash billionaire Trump is preventing candidates such as the equally tough-talking Christie from getting his messages across.
"He sort of blocks out all of the sun from the other candidates," said Gage.
Governor Christie declined to comment for this article.
The next Republican Presidential debate starts at 8 p.m. ET tonight! Tune in to TheStreet.com for stories, videos, and more, and make sure to follow us at @TheStreet on Twitter for live commentary during the debate.