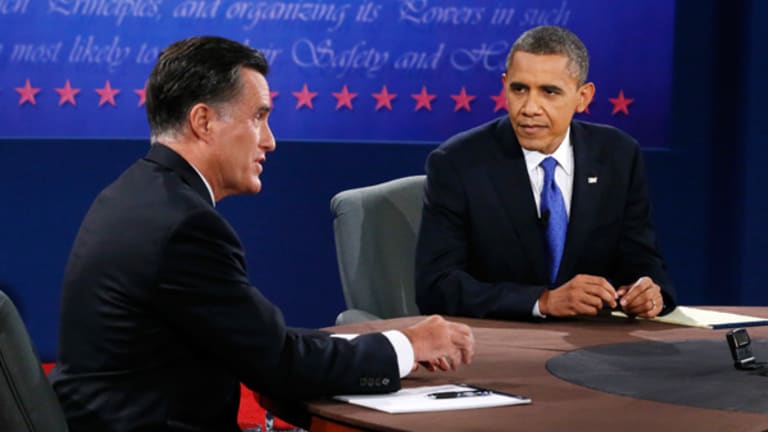 Who Won the Final Presidential Debate?
The final presidential debate of 2012 was on Monday evening. <I>TheStreet</I> asked experts in various fields who they think won Monday's debate and the three debates overall.
Updated from 9 a.m. EDT with comment from former Hillary Clinton spokesman
NEW YORK (
) -- President Barack Obama and Republican nominee Mitt Romney stuck by a buy-and hold-approach to the final presidential debate Monday night, as neither candidate wanted to produce a major gaffe amid a tightening race.
TheStreet
spoke to experts from different fields to gauge who they thought really won the debate, and also looked at what pundits and writers from other news outlets concluded. Here's what they had to say in their own words.
Michael Gayed, chief investment strategist at Pension Partners, LLC:
"Debate
was probably a non-event, though it looks like Obama came out ahead. I doubt it will significantly alter the odds of him winning over Romney, and futures seem to agree given little reaction. The uncertainty in markets now is a microcosm of the uncertainty over who will win the presidential election. I'm just glad now I get my weekday nights back."
David Henry, communications department chairman at University of Nevada-Las Vegas:
"None of the presidential debates that have been televised have really been debates in the tradition of, say, Lincoln-Douglas, where there were three-hour debates and they consisted of three speeches, and these are sound bites and they play not to make mistakes. The challenges for both of them were very different. ... Tonight's debate seemed to me to be a lot like the last one in terms of Obama doing better, but Romney still doing well. ... I think the real key was that people have always -- even on issues where they thought Obama was having trouble leading or making policy -- when it was head to head on who do you like more ... on something called the likability scale, that Obama was always much higher than Romney, and in the last couple weeks that has closed. Partly after the second debate when they were almost uncivil to one another, that hurt both of them on the likability measure and I think tonight they were aiming to try and recoup some of that. ... Obama's closing statement was when he was as presidential as he's been in any of the three debates. ... Do I think that this will be looked at in four years or eight years or 12 years as a high point like
Ronald Reagan's 'are you better off four years ago?' or
Bill Clinton's use of the town hall? I don't know if anything from the three debates stands out this year."
Tim Burke, Democratic Party chairman of Hamilton Country, Ohio:
"I was pleased with President Obama. I thought he was strong tonight and I thought he articulated an American foreign policy, and I thought he was able to come up with some real problems with Romney's position and Romney's inconsistencies. I think particularly on the Middle East he was able to point out a series of Romney's inconsistencies and how Romney has said at one point he agrees with the president's position and at other points disagrees with the president's position on the same issues. As the president pointed out, you can't establish a foreign policy like that; you have to be consistent both in terms of sending a signal to your own people, and to foreign governments. ... The president's strength -- the kind of thing we saw four years ago on the campaign trail -- and Romney's weaknesses. It's exactly the kind of rallying point we need for the last two weeks. ... Some of the numbers we were seeing the night before that first debate -- and I'm not sure that all of these polls were ever accurate -- but the suggestion that he was up by as much as 11 in the state of Ohio ... and going into tonight's debate he was at half of that. Still, a five-point margin in the state of Ohio is pretty nice, I'll take that on election night happily. But that's the difference between a win and the potential for a huge win. I still think Obama's going to win."
Carlos Lopez-Cantera, majority leader for Florida House of Representatives:
"I think President Obama has crossed that line too many times
when he didn't seem too presidential, and he just reverts back to the same talking points that he's been attacking Gov. Romney on for the entire campaign. And I think the American people have heard his talking points enough and too many times in these debates -- it seemed like president Obama was talking as if he was running for president for the first time. ...They should have dedicated one whole one-and-a-half hour debate just to the deficit and the debt of this country, because it is that important. I think an MBA who has run companies and balanced budgets ... and been an executive in a state where he had to cross party lines to get things done -- you know, someone who has a record of doing things, versus (this is no dig a lawyers) a JD who has no record of working across party lines, has no record of balancing a budget. ... I think
Romney's highlight moment was just being able to keep his cool, show that he has a vision, show that he has experience and show that he would not be an apologist for this country. ... The foreign policy conversation, I think, is important in governing and it's important for this nation, but I believe a large sector of the audience tuned out because it's not something they feel in their day-to-day economy."
Phil Singer, former spokesman for Hillary Clinton's 2008 presidential campaign:
"The debate confirmed that this race is as tight as a tick. Obama showed that he's the better choice but there was no game changing moment."
Ryan Call, Colorado Republican Party chairman:
"Mitt Romney really demonstrated that he was confident and presidential; definitely if someone is measuring up the respective candidates, he demonstrated a command of knowledge of the issues, but also a little bit of that sunny optimism we seem to be lacking in today's political discussions. ... Definitely
he gave a clear vision for the economy and job creation, came across as a very experienced and competent executive, someone who could really get the job done. ... I think the key takeaway is there doesn't seem to be anything that's going to shift the momentum back dramatically in Barack Obama's favor. I just don't think there was anything in tonight's performance or the second debate that really would cause someone to lack confidence in a Mitt Romney presidency. ...
Obama seems to be centering his entire campaign for reelection on how you should not like Mitt Romney as opposed to why he deserves to be retained in office. ...
Obama, obviously, being the commander in chief has got pretty good command of the intricacies of foreign policy. I think his somewhat condescending remarks about bayonets and horses and our military will come back to haunt him, because he really did come across as pretty condescending and out of touch with what the modern military needs are."
Tanweer Akram, senior economist at ING Investment Management:
"I think both candidates are viable candidates, and the markets would be comfortable with both Obama and Romney ... but I don't think you really found out any new information about the candidates. I think the market also realized in these debates that the president and the governor tend to be a bit more rhetorical. ... I think for the security issues and concerns about Middle East stability Obama and Romney are right that the use of force should be the last option in the Middle East. ... I think both candidates realize that the U.S. also supports regimes and depends on regimes that are not very democratic, like Saudi Arabia or the United Arab Emirates, and it's not clear that it is in the U.S. interest to have instability there, even though those regimes are undemocratic. ... I think it would not be very prudent to declare China a currency manipulator; that would be a bad start of the relationship. It's quite important for the U.S. -- it's true that they have four, five, six exchange rate review -- but they have shown flexibility, they need to do more. I think the best way to convince China to move away from a regime of quadi-fixed exchange rate is not to declare it as a currency manipulator, but to show it's in China's own interest to have flexibility in its currency and that its currency appreciates as a way of combating inflation and helping increase consumer spending and domestic demand in China. ... I think citizens of the U.S. are disappointed about the low growth under President Obama and the lack of progress in the job front. It's not clear that Romney stands really much better, and he does not give us the details to convince that Romney
is a superior alternative and
has superior knowledge of policy making."
The New York Times
:
"Mr. Romney tried to set himself apart from Mr. Obama on Iran, but ended up sounding particularly incoherent. At one point he said he would indict President Mahmoud Ahmadinejad on genocide charges. He gave no clue how he would do that; like many of his comments, it was merely a sound bite."
The Wall Street Journal
:
"Mr. Romney won this economic debate going away because he doesn't have to defend the miserable record of the last four years. He could even invoke Iran President Mahmoud Ahmadinejad's claim that America's soaring debt makes us weak. That's a critique of the Obama years that most Americans would agree with."
The Daily Beast's
:
"After the first truly epic implosion in the first debate, Obama has clawed his way back in the following two, in my view. He has marshalled his arguments as potently as possible; he brought the themes of his candidacy together compellingly. ... For Romney, he made no massive mistakes. No Gerald Ford moments. And since the momentum of this race is now his, if now faltering a little, a defeat on points on foreign policy will be an acceptable result."
Politico's
:
"It's not a surprise that Obama was aggressive -- he clearly believed, based on what he has seen in polls, that he needed to be. And he did win on points, scoring some cleaner arguments against Romney on pure policy grounds. ... What's more, while Romney declined to actually distinguish a number of his own positions from Obama's, it was ultimately a tactical benefit for a candidate who has spent the general election hoping to disprove the idea that he's an extreme warmonger."
-- Written by Joe Deaux in New York.
>Contact by
.