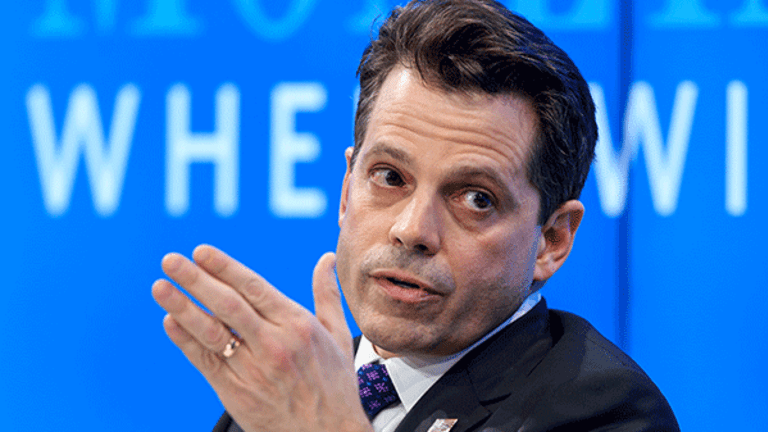 Meet Trump Adviser Anthony Scaramucci, an 'Unapologetic Defender of Wall Street'
The Skybridge Capital fund of hedge funds founder will serve in the White House under President-elect Donald Trump.
Updated from Jan. 16 with details on Skybridge sale
As TheStreetfirst reported, Trump confidante and Wall Street veteran Anthony Scaramucci has sold his business Skybridge Capital. Now, he can get to work for his new boss. 
The hedge fund of funds founder told reporters last Friday that he will join the administration of President-elect Donald Trump as an adviser who will liaise with businesses and local governments within the United States.
"One of my other personal goals though is to get all of the American people to see President Trump the way I see him," Scaramucci said. Washington Post reporter Robert Costa compared Scaramucci's role to that of Valerie Jarrett, a close adviser to President Barack Obama and head of the White House's Offices of Public Engagement and Intergovernmental Affairs. Scaramucci said this comparison is "probably an overstatement."
The Trump transition team, of which Scaramucci (seen in the interview with TheStreet below) is a member, has confirmed the appointment.
Scaramucci previously supported Michigan governor Scott Walker and former Florida governor Jeb Bush, once calling Trump a "hack politician" who deserved to be president of "the Queens County Bullies Association." He's since become a close adviser and fierce defender of the president-elect, who named Scaramucci to his transition team executive committee.
A graduate of Tufts University and Harvard Law School, Scaramucci previously worked for Goldman Sachs (GS) - Get Free Report , where he was famously hired, fired and rehired within two months. In 2005, he founded Skybridge Capital, where he served as co-managing partner along with CIO Raymond Nolte. 53-year-old Scaramucci, better known as a marketer than an investor, left the day-to-day operations to Nolte.
Trump has railed against both hedge funds, which he said are "getting away with murder" from the carried interest tax loophole, and Goldman Sachs, which he claimed had "total, total control" over opponents Ted Cruz and Hillary Clinton.
Scaramucci, obviously, is pro Wall Street. "I'm an unapologetic defender of Wall Street," Scaramucci told TheStreet in an interview (above video) last October. Along those lines, he is also bullish about one of Wall Street's most lightening-rod figures: his friend and fellow hedgie Steve Cohen.  
"I do predict that if Steve Cohen does decide to open up, and my prediction is that he will, he will get hit with all of the money he possibly will want or need," Scaramucci said to TheStreet. Cohen is the former owner of hedge fund SAC Capital, which shut down after pleading guilty in the biggest insider-trading scandal in history. As part of Cohen's settlement with the SEC, he was barred from managing outside investors' money until 2018.
Meanwhile, New York-based Skybridge had $12 billion in assets under management as of Nov. 30. 
His most important business, however, is probably Skybridge's annual SkyBridge Alternatives, or SALT, confab. Featured speakers at this year's SALT conference range from Carlyle Group (CG) - Get Free Report co-CEO David Rubenstein to singer Jewel, who was nominated for four Grammy Awards between 1997 and 2011.
Scaramucci also holds a small piece of the New York Mets and is a co-founder of Midtown steakhouse Hunt & Fish Club, which Bloomberg once panned as "a tater tot party lubed with truffle oil and aioli."
Just like Trump, Scaramucci isn't scared to make headlines.
Scaramucci, the sixth Goldman Sachs alum to join the Trump administration, accused President Obama of "whacking Wall Street like a pinata" in 2010. In October, he compared the Department of Labor's new fiduciary rule to the 1857 Supreme Court decision Dred Scott v. Sandford, which held that descendants of slaves could not be U.S. citizens no matter their slave or free status. (He defended the remark by saying that the fiduciary rule "discriminate[s] against a class of people...deem[ed] to be adding no value" by "the left-leaning Department of Labor.")
"Mooch," as he's known, is well-liked on Wall Street. Vocal Hillary Clinton supporter Whitney Tilson of Kase Capital Management, for example, wrote a congratulatory message to Scaramucci in which he said he prayed "that you are right and I am wrong: that [he's] the man you think he is, and that you and other advisers will be able to influence him positively."
Action Alerts PLUS, which Cramer co-manages as a charitable trust, has no positions in the stocks mentioned.